The new Manker MK41 is the subject of my review today.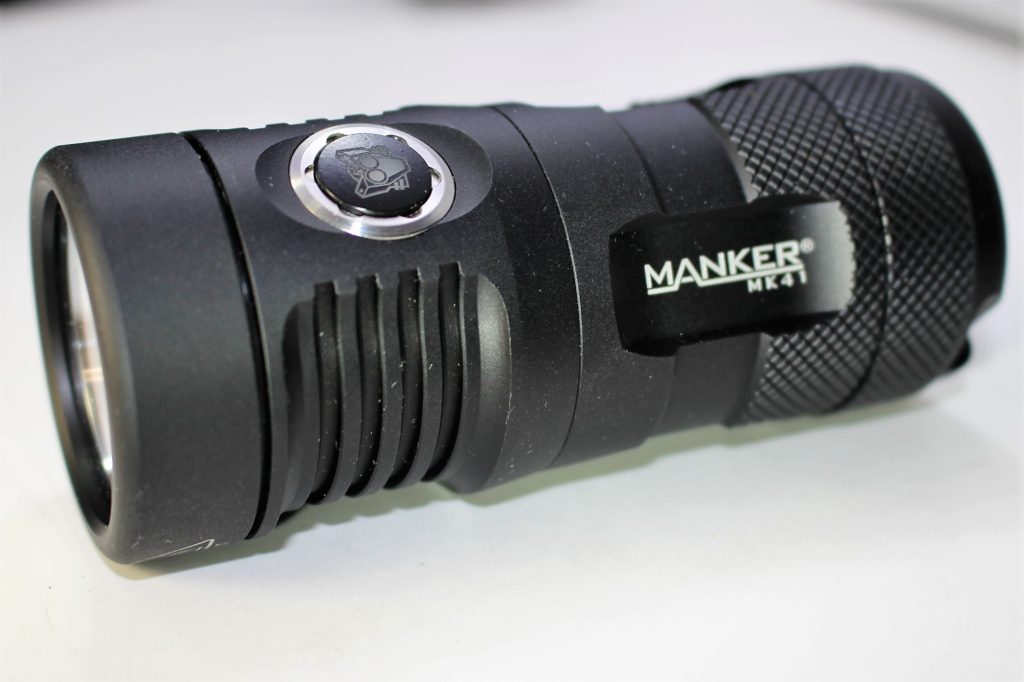 It seems I've amassed quite a few of their flashlights over the last year or so. It all started with their U11.  Now, several lights later, the Manker MK41 has appeared, and first impressions are pretty good.
This is a powerful, yet compact flashlight, and comes in several different variations of both LED, and tint. Read on, and I'll discuss them in detail.
Plain Box, Useful Accessories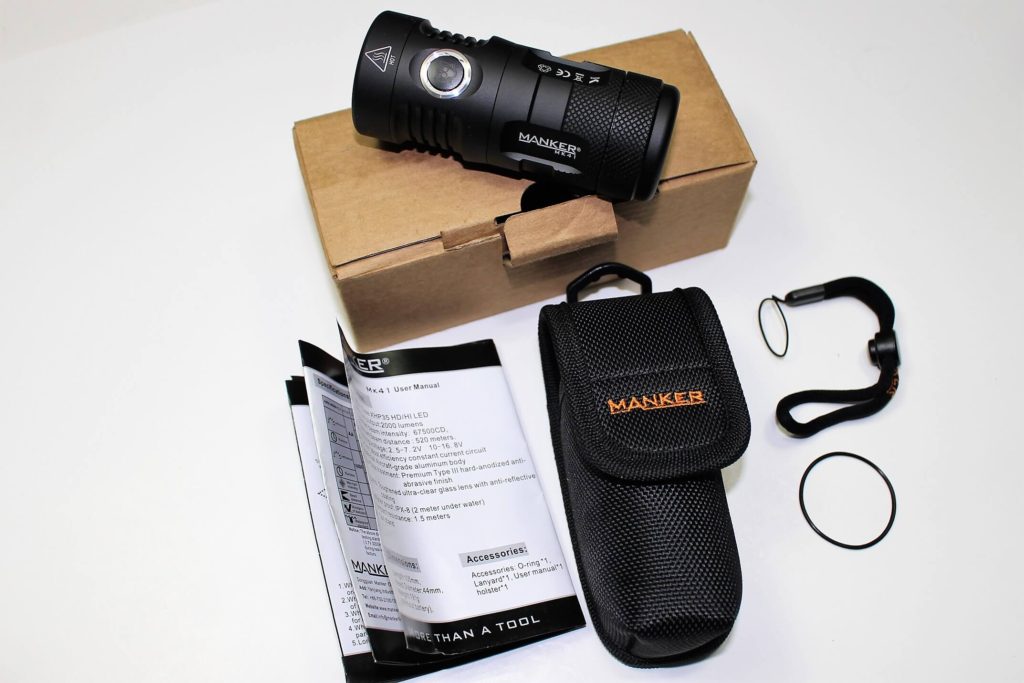 From the photo, you can see that the MK41 comes in Manker's usual recycled brown box with an outer sleeve (not pictured) that features their name and a drawing of the flashlight.
The light itself comes "packaged" within the hefty belt holster you see pictured. Included is a user manual and a spare o-ring.
Specifications
Length; 4.1″
Weight; 285 grams (with batteries)
Batteries; either 4 – AA (or NiMH) or 4 – (3.7v) 14500 lithium-ion
Features
It's a CREE XHP35. But, the light is available with two different versions of the LED… 'HI' (high intensity) and 'HD'. It ALSO comes in two different LED tints; cool white and neutral white. The version I have here is 'HI' and neutral white.
Body material; Aircraft-grade aluminum
Lens; Toughened ultra-clear glass with AR coating
Waterproof; IPX-8 (underwater for 2 meters)
Impact resistant; to 1.5 meters
Beam distance; 'HI' 520 meters — 'HD' 420 meters
An efficient constant current circuit keeps output as high as possible
Battery Options, Output and Runtime
As you can see from the diagram, the output is variable depending on the type of batteries used, and whether your version is an HI or HD.
The highly variable output for moonlight is user selected when powering with AA's. For that, you can choose between twenty one different output levels, ranging from LESS than 1 lumen, all the way up to 5 lumens!! Keep in mind, when using lithium batteries, moonlight is NOT user selected, and is quite bright at either 60 or 75 lumens depending on the LED bin-type.
Operating the Manker MK41
Place your batteries into the tube according to the diagram within the cap. Line up the prongs, and screw it down tight.
The side-switch controls all functions.
One quick press will activate the light in moonlight mode. A HOLDING press turns it off. Once on, each quick press will advance to the next mode. The sequence goes in BOTH directions. Moonlight>Low>Medium>High>Medium>Low>Moonlight… and back again.
To activate turbo mode, you must DOUBLE-CLICK, which you can do from ANY mode, or while it's turned off. Once it's in turbo, each quick click will cycle through the emergency modes. The sequence is Strobe>SOS>Beacon>Dragon breath. To avoid going through them, HOLD the button (while in turbo) to switch it off.
While the light is on, the side switch illuminates — constantly. The color of the switch indicates battery power. BLUE means more than 75%. PURPLE indicates 50% (and under) RED — less than 20%.
Engineering Mode 
What engineering mode does, is add the ability to set your own level of brightness for 'moonlight mode'. There are TWENTY-ONE different brightness levels to choose from — which range from 0.1 to 5 lumens.
To begin the process, click the switch …. as quickly as you can, FOUR times …. from any mode. Doing so will put the light into moonlight, where you can now press the switch for as many times as the output will increase. If you click past the last choice, it'll start from the beginning again. Once it's set, it even retains the setting through battery changes!
Photo Gallery
Operational Notes and Impressions
Here's a statement for which I don't think anyone will argue with. The Manker MK41 is someone new and different! It's the first flashlight I've ever seen, that can operate on FOUR 14500 batteries! And, the fact that it can reach the output it does, when using AA batteries, is also nothing short of amazing!
Speaking of output. I've tested it using both types of cells, and I cannot see ANY (naked eye) difference between NiMH and lithium. So naturally, as an all-purpose flashlight, I see no reason to bother with lithium's. I think people who like standard-battery flashlights will go crazy over the MK41!
The other advantage to standard batteries, is the uniqueness of moonlight mode, and the choice of twenty-one different settings.
Given the way the design of this light adds flexibility, I'm recommending it! I'm also quite impressed with the way Manker has created a line of very unique flashlight products.
Interested? Then click here to see if it's available on Amazon.
Please follow Lightsngear and like us: