I previously reviewed the U11… excellent flashlight! Now it's time to take a look at the U11's smaller cousin! Introducing the Manker E14.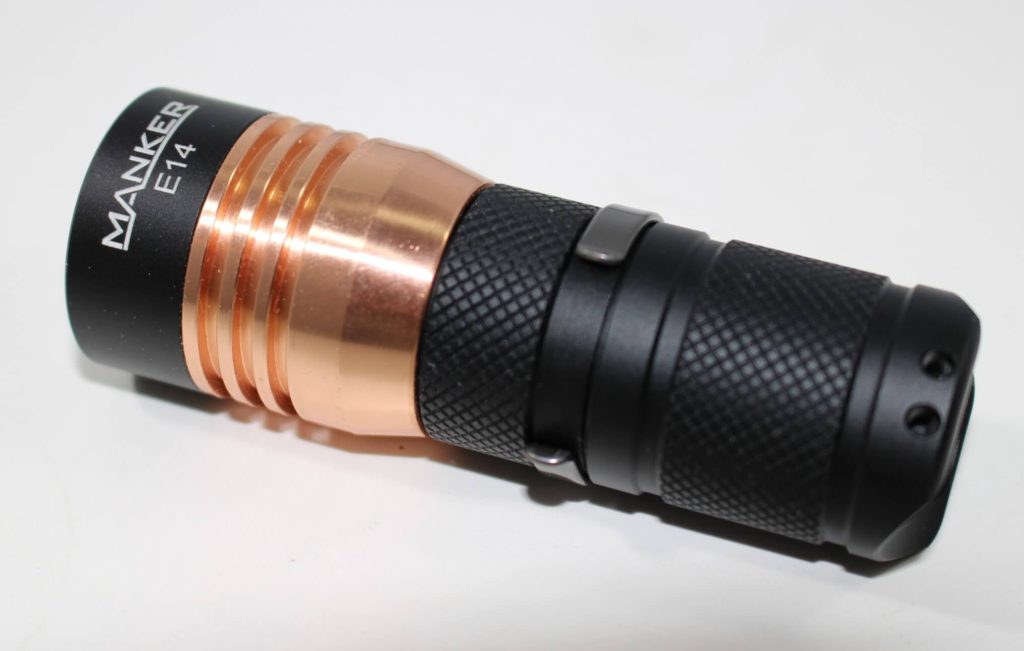 Big Stuff In A Tiny Package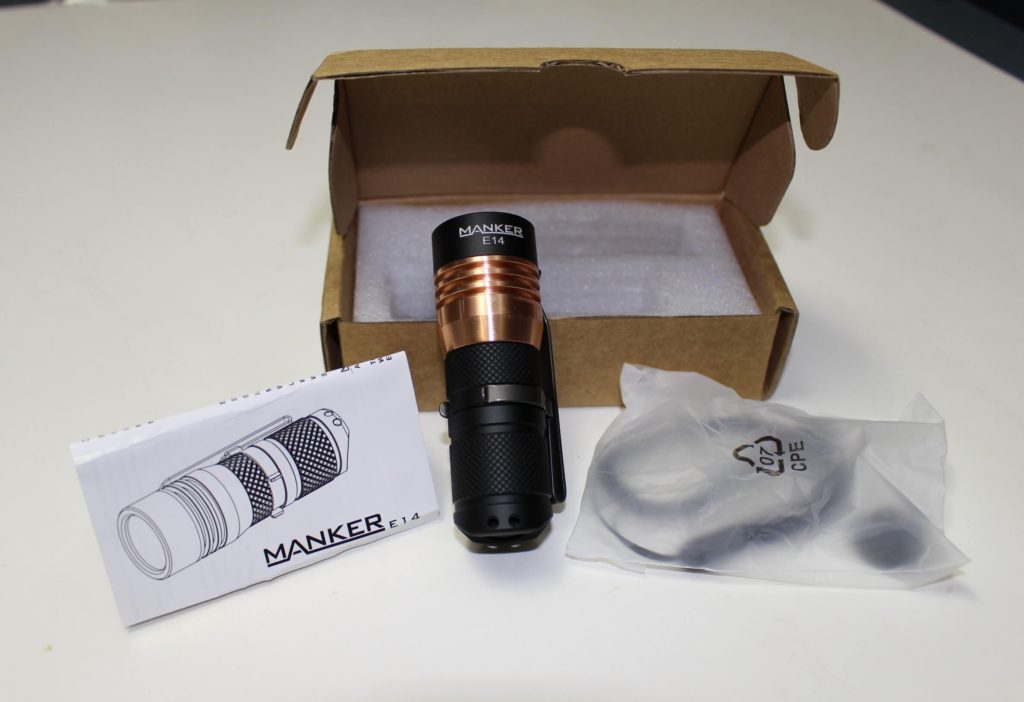 So what you have here is the Manker E14, plus a comprehensive manual, and an accessory package that includes a lanyard, a pocket clip, a spare tail cap cover and a spare o-ring.
Pretty Impressive
The length of the E14 is only 3.1″!  The weight (with an 18350 battery) is 119g (4.20 oz) which is heavier than most flashlights of this size.
It's waterproof to IPX-8 — meaning it's submersible to 2 meters.
It's made from aero grade aluminum alloy and copper.
It uses a highly intelligent driver which regulates output and provides extra stability on low modes.
The E14 is available in two different LED configurations. One is an XP-G2 which is rated to provide up to 1600 lumens. The other is a Nichia 219b. In each LED configuration, there are actually FOUR LED's. The tint on the Nichia version is extremely warm, and the output is rated at 1400 lumens. The XP-G2 tint is cool white.
It's impact resistant to 1 meter.
It uses just ONE battery. Either a rechargeable 16340 or an 18350 (IMR preferred).
There are two groups of working modes. Group 1 has 7 modes and group 2 has 4 modes. There are also 4 hidden modes – (3 are flashing).
Features mode memory (by default; set to off)
Let's Talk Modes
As with the previous Maker flashlights I reviewed, the E14 has two separate operating "groups". Group One has 7 constant lighting modes. They are;
Moonlight
Low
Medium 1
Medium 2
High 1
High 2
Turbo
Group Two has 4 regular modes. They are;
In addition; there are 4 "hidden" modes. They are; (in order of appearance)
Turbo
Tactical strobe
Battery voltage check (blinks once for every 25% of battery power)
Bike flasher
Battery life on a charge isn't too bad…depending on the mode used most. On turbo, don't count on more than 15 minutes!! Plus, the heat generated by the light when using it on the high modes can be so intense, that you WON'T want to do that for too long.
On medium 2 and high 1 mode, about 90 minutes of continuous use is pretty fair.
Manker E14 Operating Procedure
By default, the light is set to Group One (with memory turned off).
When you turn it on, it'll be in moonlight. Each VERY LIGHT touch of the button thereafter, will advance to the next mode. If you do nothing, it will continue in that sequence indefinitely. Whatever mode you turn it OFF in, it will return to moonlight the next time it's switched on.
If you want to activate mode memory (so it always returns to the last mode used), you'll need to "turn it on". Here's how you do that.
Turn the light on (in moonlight) then lightly and VERY quickly…press the button about 15 times. This MUST be done in rapid succession. This is essentially ramping through each of the 7 modes, twice. Once you've finished that sequence, the light will turn off…pause…and BLINK TWICE. It will pause again, and BLINK TWICE a second time. It is between the second set of blinks that you need to click the light OFF. If you've done it correctly, mode memory will now be activated. Just so you know, this might take some practice the first time!! If you let BOTH sets of blinks go before you click…it won't work. You must shut the light OFF BETWEEN the second set of blinks.
Group One, of just 4 main modes, is entered by doing the 15 taps I spoke of above. Then clicking OFF during the FIRST set of double-blinks.
To reach any of the 4 hidden modes, you need to be on the lowest mode of the group you're set to. It's then that you press and HOLD (then release) the switch…but only for 1.5 seconds. You'll know it's correct when turbo appears! If that's not the mode you want, press, hold and release again, and strobe will appear. Want the bike flash mode? Do it TWO MORE TIMES. I know this might sound like a pain…but it's much faster to do it, than it is to explain it.
Please note; when memory is activated, the E14 does something I don't think I've ever seen a similar flashlight do. It memorizes the FLASHING modes! So if you have memory turned on, and use the light in the bike flash mode, it should resume that mode next time you turn it on!
Other Options 
Due to the small size of the E14, battery runtime is a tad short. But, there's an option available to extend runtime by using an 18650 battery instead of the smaller 18350.
Enter the Manker E14 extension tube!
With the tube, the length of the flashlight increases to 4.4″ I haven't tracked the difference in runtime between the two battery types, but typically an 18650 will offer close to two hours on high mode.
Let's Look At The Beams
Each picture may be viewed full-size by clicking on it
What's MY Take On the Manker E14?
The Manker E14 is as good as any midget-size EDC flashlight that I've ever owned.
Once you get the hang of setting it the way you want, it's simple to use and has some nice features.
The tail button is so easy to press, that cycling though the modes can be done very quickly.
The tint color on the Nichia version (which is what I have) is beautiful.
If you're specifically looking for a light that throws the beam a fair distance… the E14 isn't for you. For that, I would recommend the Manker T01. However, for for close up illumination indoors, and for up to 50 feet in front of you outdoors… the E14 is superb.
GearBest supplied the E14 for testing purposes. To check out the light on their site, click here! Prefer Amazon (which actually comes with an extension tube and an 18650 battery?)… then click here!
Questions or comments?? Don't hesitate to let me know!
Please follow Lightsngear and like us: