I've been familiar with the existence of Folomov flashlights, but have never owned one… until now. So today's review, is for the Folomov 18650S.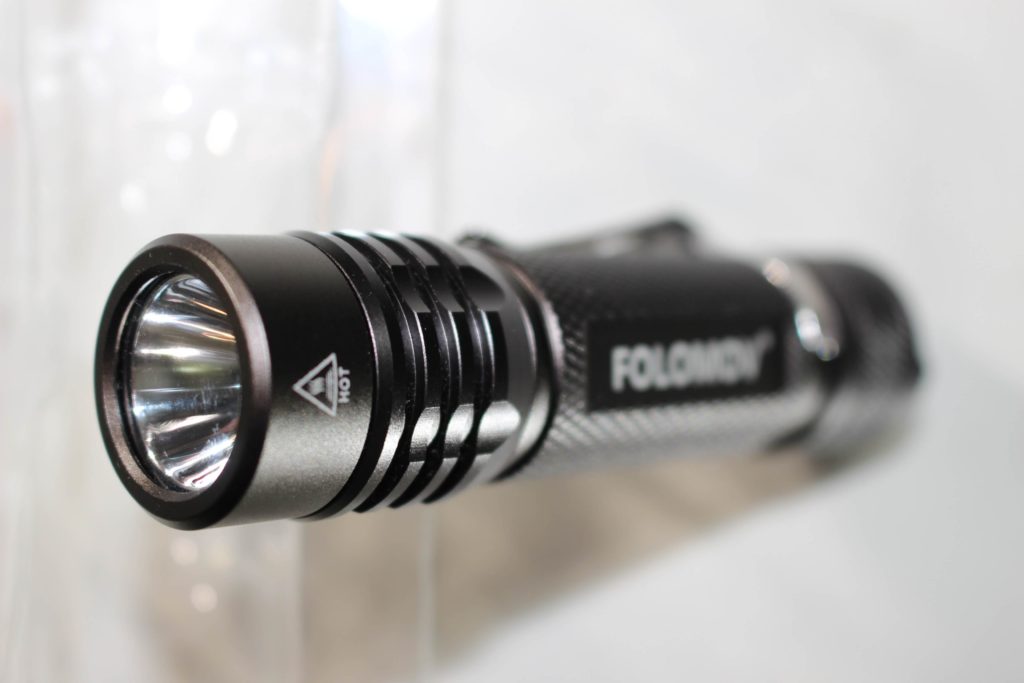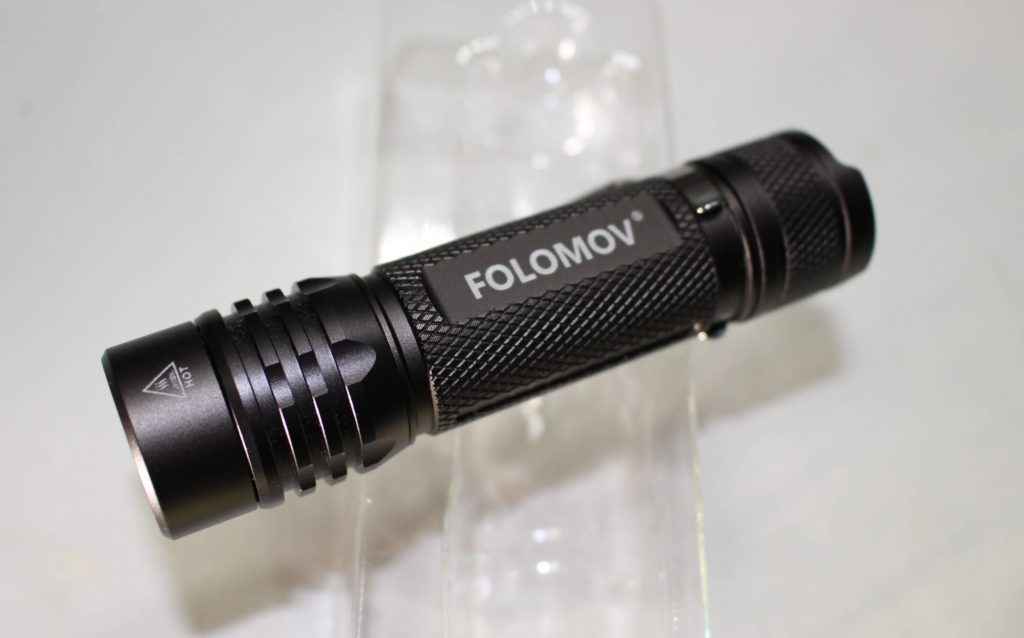 Box and Contents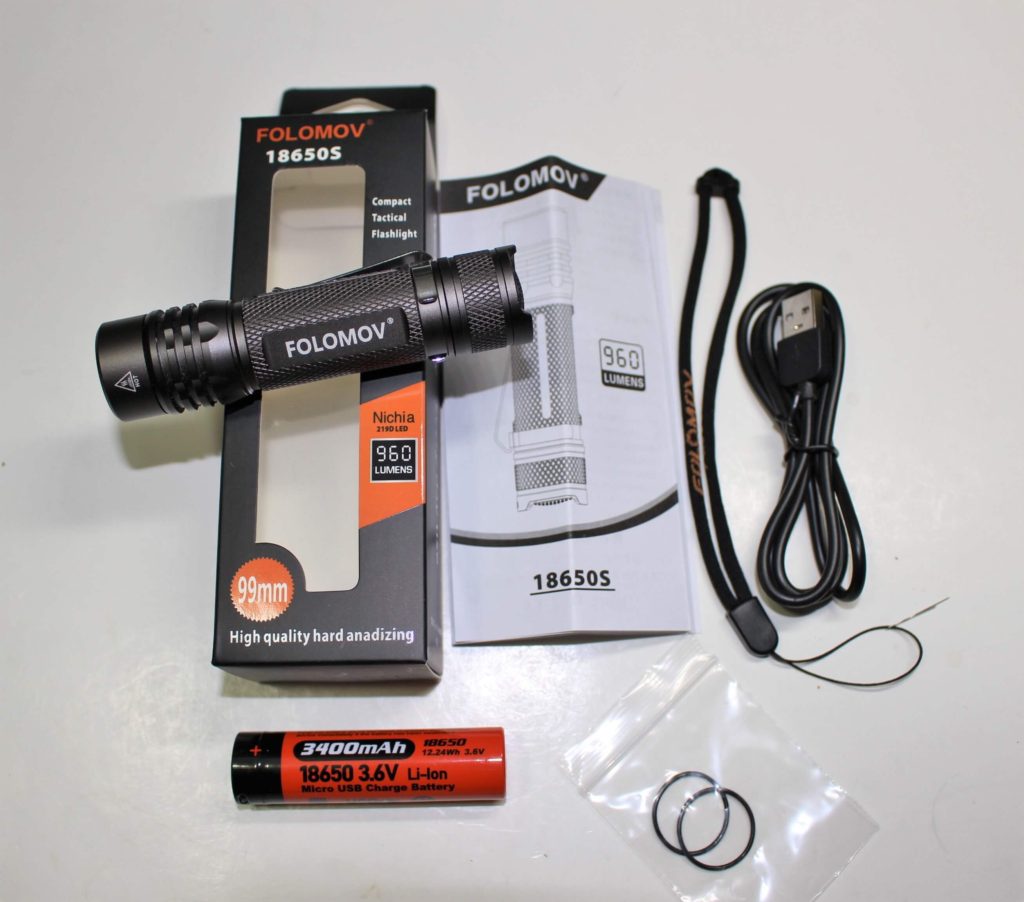 The Folomov doesn't skimp on extras. Accompanying the flashlight are two O-rings, a user manual, a USB charging cable, a lanyard, and a 3400mAh 18650 battery. Please note the battery itself is USB rechargeable, not the light.
Specifications
Weight; 3.43 oz (w/battery)
Length; 3.9″
LED; Nichia 219D
Beam distance; 170 meters
Body; hard anodized aero-grade aluminum
Impact resistant; 1 meter
Waterproof; IPX-8
Battery; (1) 3.6v 18650 (included) No other battery sizes can be used
Folomov 18650S Features
Two operating modes
Countdown timer
Lock-out mode
Low voltage warning
Three emergency modes
Mode memory
Modes and Output  
There are two operating modes; Illumination & Tactical.
Illumination is the "general" mode which features;
Moon mode – 0.5 lumens
Lowest – 10 lumens
Low – 50 lumens
Medium – 160 lumens
High – 320 lumens
Turbo – 960 lumens
Strobe
SOS
Beacon
Tactical provides (tactical) operation in two modes;
The Basics of Operation
"Illumination" mode is what most users will prefer. It works by just pressing the switch. Advancement of the modes is bi-directional. This means whichever way it's going… low to turbo, or turbo to low, it'll reverse when it hits the limit. A holding press turns it off.
To access the flashing modes, click twice (either off or on). Strobe will be first… then another two clicks for SOS, and a third set for Beacon… which is cool because it looks like you're watching the beam of a lighthouse!
In "Tactical" mode, the only choices are Turbo and Strobe. With a quick press of the switch, you'll get "tactical" turbo. If you want constant turbo, hold the switch for 1 second. *Double-click for Strobe.
*Please note that the manual is incorrect. It states that Strobe is NOT available in "tactical" mode. 
To switch from one mode set to the other, turn it off, and click the switch seven times consecutively. A series of blinks confirms the change. When changing back from 'tactical', the light will come on as soon as you begin the seven clicks. This is fine and it won't disrupt what you're doing.
Lock-out Mode
To lock-out the light which avoids accidentally turning it on your pocket, click three times. Click three times again to unlock.
Low Voltage Warning
It WOULD be helpful if the Folomov 18650S were to indicate low voltage by "blinking", but instead it just progressively lowers the output. Around 3.8 or so will lose turbo, and by the time it reaches near 10% capacity, you'll be left with just the two lowest modes.
Countdown Timer
If setting the light so it turns off automatically is something you'll jump for joy over, then here's how to do it.
While it's on… click the switch three times. It'll flash once. It will now turn OFF in three minutes. Want it on longer?? Then here's what you do. Each time you click "three times" consecutively…the turn OFF time will be extended an ADDITIONAL three minutes. So if you want a SIX minute shut off, click three times…twice. (I.E.) three clicks, wait for the blink…then three clicks again, and wait for TWO blinks. If you want a NINE minute shut off, then do three sets of three clicks, and wait for THREE blinks. You can continually do this up to a maximum of thirty minutes. Sounds like fun huh?? 😯
Charging the Battery
The included 18650 is USB rechargeable. Naturally you can charge it any way you want, but if choose to go the USB route, once the cable is connected, a tiny red indicator on the top of the cell will illuminate. A separate indicator will turn green when it's finished.
Cool Beams
Folomov 18650S; The End Result
We have a cool little flashlight, in the Folomov 18650S. Most lights of this size aren't tactical, but that's where the Folomov differs. As much as I prefer small lights with a side switch, the tactical tail is nicely designed and easy to click regardless of how you choose to hold the light.
The Nichia 219D LED, produces a nice color temperature and a well proportioned beam.
One thing I wish it had, was direct access to turbo. Only when in "tactical" mode can turbo be activated instantly, and it takes seven clicks to get there.
The countdown function is interesting, but the jury is out on its practicality.
Other than that there are no particular complaints I have or issues that I can see.
Recommendation
The recommendation here, is if the Folomov 18650S looks like the light for you… then please visit its product page on Amazon. 
Please follow Lightsngear and like us: