The FT series from Astrolux has presented us with some very intense, heavy duty flashlights. Today's light, the Astrolux FT03, comes out of the gate with as much raw power as the first two. So, let's have a look 😉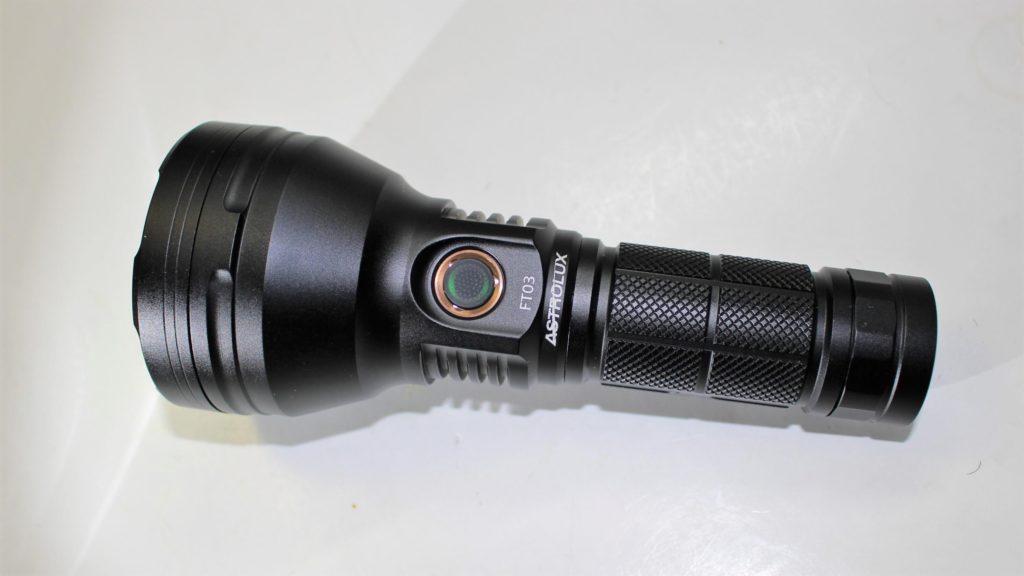 FT03 and Accessories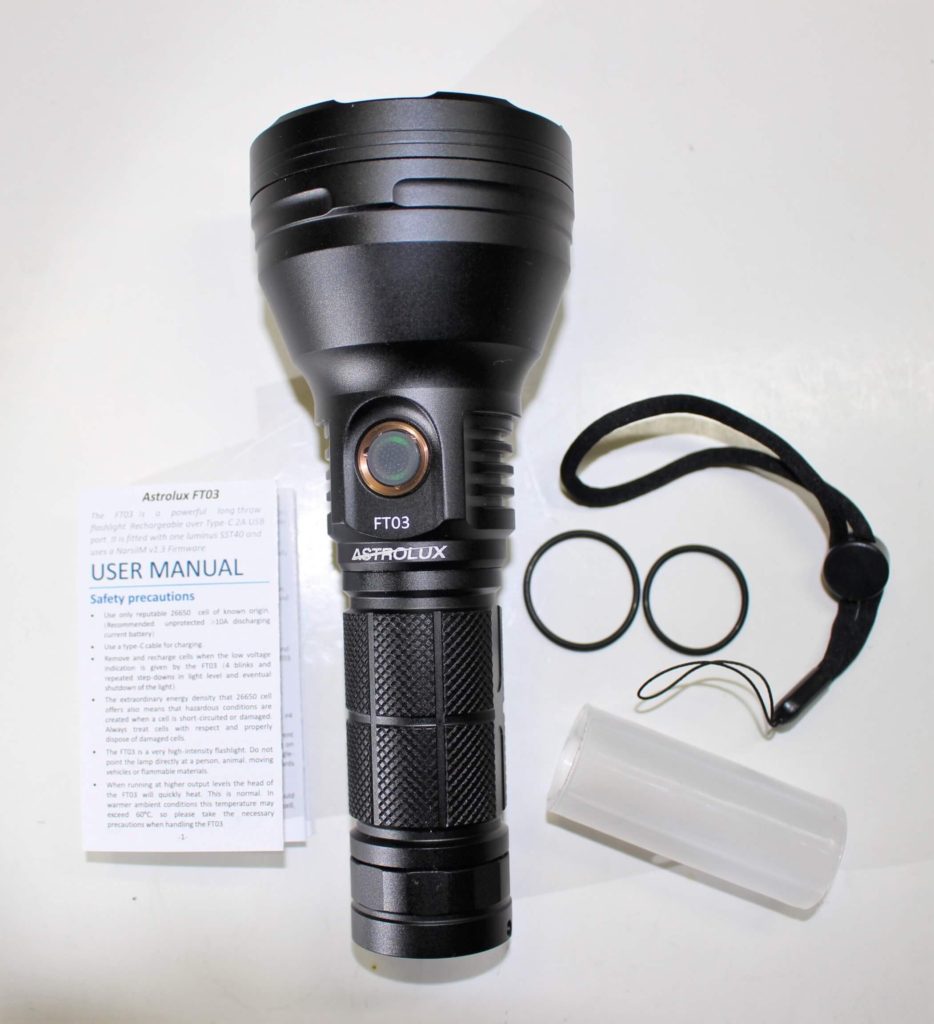 A big flashlight needs a big box, and that's what you get here. Accessories are a little sparse, but include a clear battery adaptor tube, user manual, and a lanyard/o-ring package. It can run on 3 different battery types (see below) but none are included. It's also USB rechargeable (Type C) but no cable is included.
Specifications
Length; 6.07
Width; (barrel) 1.3″ (head) 2.7″zx
Weight; (without battery) 10.38 ounces
LED; Luminus SST-40-W
Max Output 2400 lumens
Beam distance; 875 meters (956 yards)
Impact resistant; 1.5 meters
Body; Aluminum alloy; TypeIII hard-anodized
Moisture resistance; IPX-7 (can immerse in 1 meter depth for 30 mins)
Astrolux FT03 Features
Two separate mode sets (user programmable)
USB rechargeable
Toughened glass lens w/AR coating
Smooth reflector
Mode memory
Instant access to highest and lowest output
Battery voltage indicator
Power switch doubles as a "standby" indicator
Battery Acceptance
The FT03 can run on three types of batteries. ONE 26650 is the intended power source. Other possibilities include either ONE 18650 (adapter tube included) or ONE 21700 (with an adapter "base/cup" sold separately).
Default Operation
Like most Astrolux flashlights, the FT03 has an extensive (optional) user-programmable interface. Ramping is the DEFAULT setting, which comes with several useful extras. These include instant access to the lowest and highest output, as well as electronic lock-out, a battery voltage checker, and a momentary mode where "turbo" is the only selection.
So to use it in its simplest form; click the switch for instant light. To ramp up, press and hold. To reverse direction, release the switch and press again. Once it's going in one direction, you can keep going back and forth if you want. One quick click turns it off.
Here's how the other options work;
Instant turbo; double-click (while on or off)
Instant low (moonlight); while off, press & hold the switch for 1 second
What's handy about the "instant" modes, is that selecting either does not cause mode memory to erase (or forget) the setting you were using previously 🙂 
To check the battery; click three times. It'll blink the volts from 1-4, and the tenths if it's below 4 volts. Both the beam and the switch will flash simultaneously
Lock out; click four times. It'll blink to confirm. To un-lock, click four again
Momentary turbo; click five times. To cancel, loosen and tighten the tail
Strobe is also part of the FT03, but is disabled by default. It CAN be enabled of course, as well as a choice of strobes.
The "Mode Set" UI
From switching to the Mode Set, you'll have many different settings from which to choose, and the ability to "click" through the modes as you would any other non-ramping flashlight.
Advanced Operations
If the basic ramping operation suits your needs… that's fine. But, if customizing your light makes you feel more in control, then the FT03 might be just what you need!
By following the sequence described in the manual, you can;
Activate strobe (within ramping) and choose whether you want a police, and bike mode strobe
Choose between seven levels of "moonlight"
Choose from twelve different "mode sets" (low, medium, high, etc) or accept the pre-programmed default
Decide how you'd prefer an automatic stepdown from internal heat to occur
USB Charging
Internal charging is pretty quick. The port on the Astrolux FT03 is for a USB-C cable. Once connected, as as long as the battery is below 4 volts, charging will begin and is indicated by the switch lit up in red. When complete, it turns green.
Check Out that Beam!
Summarizing the Astrolux FT03
The main objective of this flashlight, is to cast its beam as far as possible…AND to be ultra-tough at the same time. Taking those two attributes into consideration, it wins! Mind you it's not the ONLY flashlight that throws well, but it certainly stands up to several others.
To say the FT03 is a full-featured light, is an understatement. Although for as customized as it can be, it can also be as simple as the user wants it to be! What can be simpler than pressing the button and watching the output go up and down to the exact level that you need. But again for someone who wants to mold it into a unique tool that only does a certain number of functions…the capability is there.
Whereas I like what the FT03 does, and is capable of doing, the usefulness of the intensely focused beam has its limitations. I would say, as a general flashlight, it fails… because that's NOT what it's made for. From MY point of view, it's a "specialized" flashlight. It's much better for outdoor use, than indoor. Now, in an emergency….or if you were stranded somewhere…it COULD be a lifesaver!
As for the Mode Set UI, it can be a bit daunting at first, and the manual makes it appear a bit more confusing than it is. Once you get the basic premise of how to use the switch, it's a matter of trying to decide what you think will work best for you.
To make the Astrolux FT03 your own, follow this link to Banggood.com
Please follow Lightsngear and like us: