As far as focusing-head flashlights go, they're usually confined to the cheapest products on the market. This time however, the Lumintop Zoom, shows that with a certain amount of quality, you can get a "zooming" flashlight that's actually worth buying!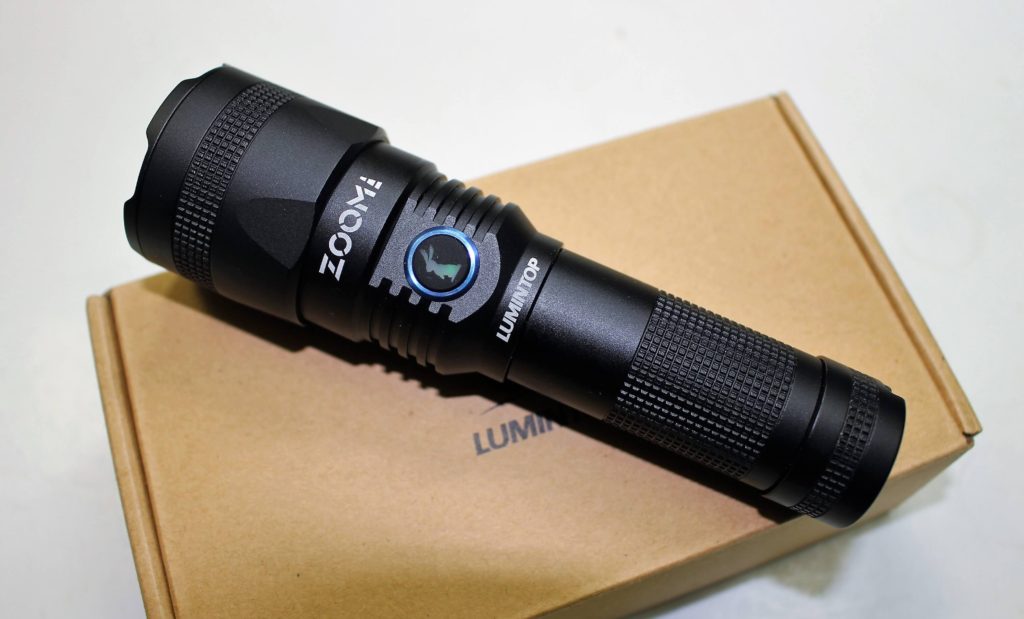 The Box and Accessories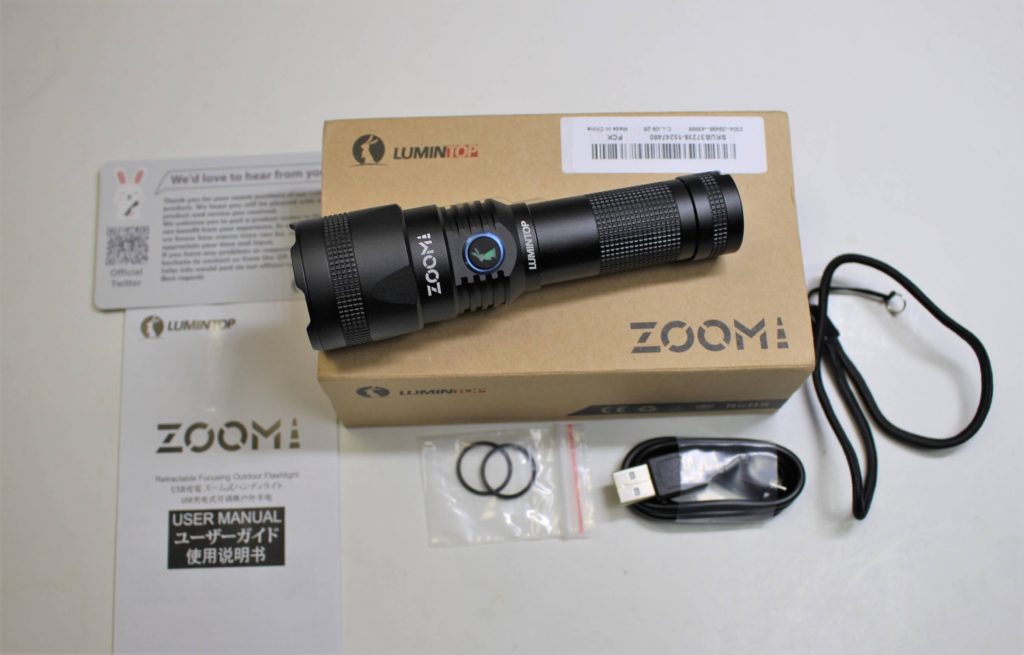 Lumintop usually delivers enough accessories to make the package worthwhile. Here, you get a user manual, a USB charging cable, two spare O-rings, warranty card, and a lanyard. The manual claims there's a 18650 battery included, but my package did not have one.
Specifications 
Weight; 6.19 ounces
Length; 4.9″ (5.3″ extended)
Beam distance; 210 meters
Impact resistant to 2 meters
Water resistance; IP65 (splashing water only)
Battery; (1) 18650, (2) CR123, (1) 21700 w/separate tube
Features
Uses a CREE XP-L HD LED
Focusing mechanism and optical lens allows for beam adjustment
Internal charging port
Body made from aircraft-grade aluminum alloy
Mode memory
Illuminated side switch for easy operation
Modes and Output
There are four regular modes plus Strobe & SOS.
Low; 10 lumens for 88 hours!
Medium; 200 lumens for 6 hours
High; 400 lumens for 2.5 hours
Turbo; 850 lumens for about 2 hours **
** The flashlight has over-heat protection which causes it to downshift to 'high' when left on 'turbo' for an extended period
Standard Operation
The Lumintop Zoom has a single side switch, which also illuminates in green when the light is in 'standby mode'.
To switch on, give the button a quick press. To turn off, press and hold for 1 second. While on, click to change the mode. In the standard sequence, it'll go low, medium, high. For Turbo, you need to double-click…and can do that from any of the three modes. It's a bit deceiving because during the double-click, it goes "dark" before it hits Turbo. A single click from Turbo returns to the previous mode.
To activate Strobe, start with the Lumintop Zoom, OFF, then press and hold the button for three seconds. Clicking during Strobe will turn on SOS. A holding press will turn it off.
As always, mode memory will make sure that when it's turned on, it'll be in the last mode used.
Tighten it Up!
At any time during any operation, the head may be adjusted by about 3/4″ either forward or backward to alter the shape and coverage of the beam. (refer to the photos above) Beam distance is reasonably good when fully focused.
One of the many complaints that people have with generic, low-quality, focusing flashlights, is the "squared" shape of the fully "zoomed" beam. Admittedly, it's pretty useless, but unavoidable due to the length of the zoom. In contrast, because the Lumintop Zoom is a higher quality light, the zoom length is shorter, and therefore produces a more useful (rounded) beam.
Lumintop Zoom Beam Pictures
Electronic Lock-Out
There's also an electronic lock-out to ensure it won't be popping on when you least expect it. To lock it, start from OFF, then press and hold for five seconds (it'll seem like an eternity). Naturally before it locks, it needs to activate Strobe for a second…which seems dumb…but whatever. When it finally DOES lock, it blinks twice to confirm. To unlock, repeat the procedure.
USB Charging
As with any other rechargeable flashlight, connecting the USB cable will start the process of charging a 18650 battery internally. The charge is pretty intense, using close to a full 2A current as long as it's connected to a 5v/2A plug. While charging, the power switch will glow RED…then changes to BLUE when finished.
Summarizing the Lumintop Zoom
I admit to being somewhat of a flashlight snob, so focusing lights have always been something that I've turned my nose up at. But this is based mainly on the poor quality that most focusing lights are subject to. But as I said, since the Lumintop is BETTER quality, it simply does a BETTER job at basically doing the same thing.
What's better about the Lumintop Zoom?
It's brighter
It has mode memory
The LED is more efficient
Higher quality components
As far as focusing flashlights go, this is pretty good. My suggestion if you'd like one, click the following links… but there's a good chance it might not not be available because I think Lumintop has discontinued it. There will be alternative suggestions if it isn't. Click the  following link for the Banggood.com page. If you prefer to use Amazon Prime, then please CLICK HERE.
Please follow Lightsngear and like us: