Today's review is for the Sofirn C8F. The C8 model has been reincarnated a few times across different manufacturers. This version from Sofirn definitely adds some uniqueness to the line.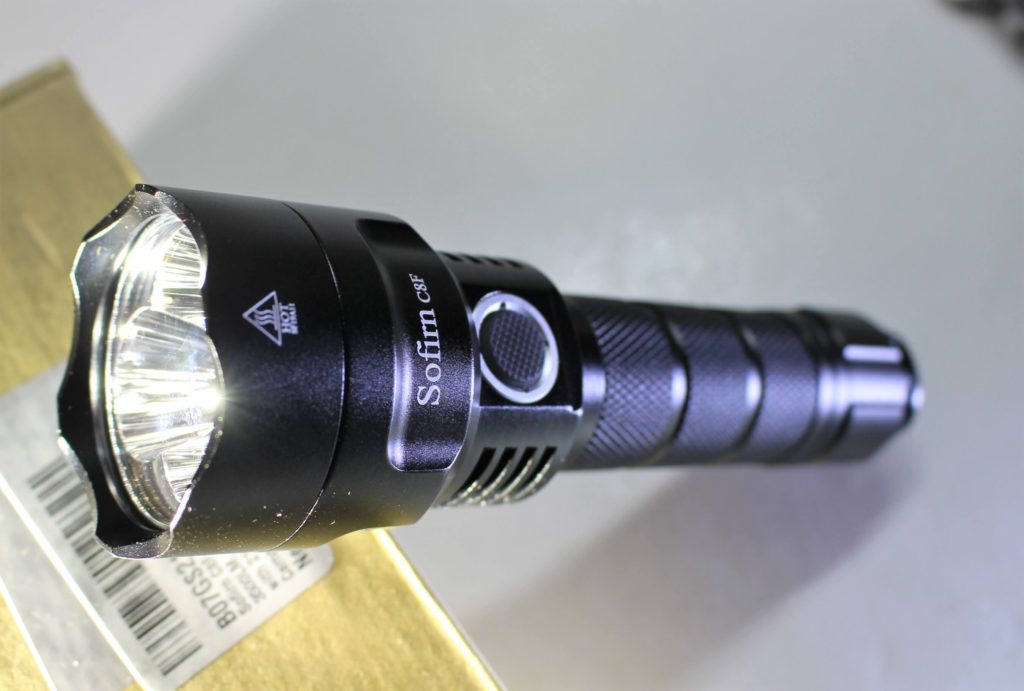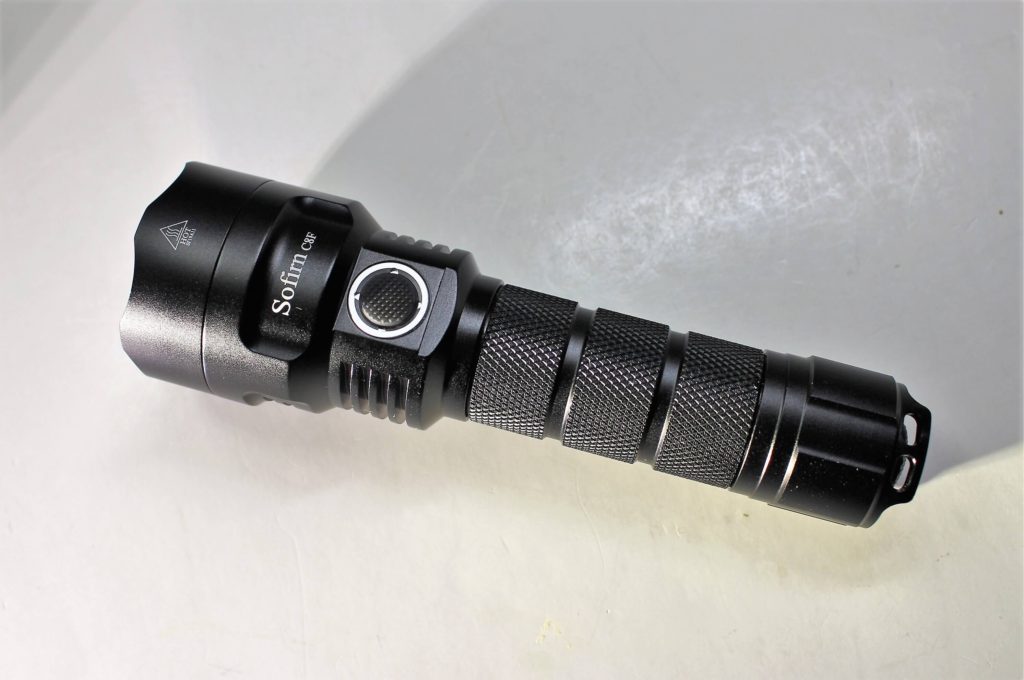 The Sofirn Accessories
A low profile recycled brown box contains the C8F and a myriad of accessories. This includes a user manual, a USB charger, a standard charging cable, a high capacity 21700 lithium battery, a 18650 battery tube, and a packet with two O-rings plus a lanyard.  😀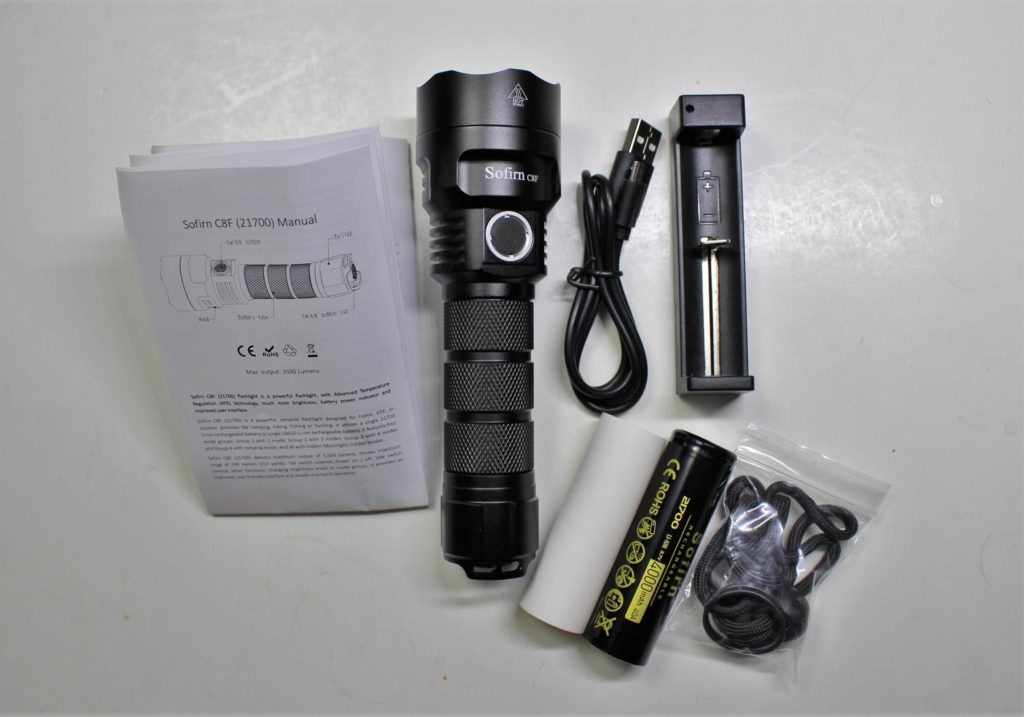 Specifications
Length; 5.8″
Width; 1.7″ (head) 1.0″ (tube)
Weight; 9.25 ounces
Working voltage; to 4.2 only
Beam distance; 300 meters
Impact resistant; 1 meter
Waterproof; IPX-8 (submersible to 1.5 meters)
Body; 6061 aluminum alloy w/hard anodized finish
Flashlight Features 
Three CREE XP-L LED's
Two battery options
Four programmable operating groups, (which includes ramping)
Two switch operation — with tactical tail switch
Battery voltage indicator
Mode memory
Direct access to special modes
Advanced temperature regulation
Modes, Output and Battery 
The Sorfirn C8F has FOUR separate operating groups. Within each group is direct access to Moonlight (at 1 lumen), and Turbo (at 3500 lumens) The available modes of each group, are as follows;
Group 1; Medium — 500 lumens
Group 2; Low — 100 lumens, Medium — 700 lumens, High — 1800 lumens
Group 3; Eco — 10 lumens, Low — 100 lumens, Medium — 500 lumens, High — 1800 lumens
Group 4; Ramping only — from 1 lumen to 3500
In addition to the "groups" is Moonlight at 1 lumen and Turbo at 3500.
Runtime on low is rated at 30 hours. Medium is 5, high for 90 minutes, and turbo about 45. These figures were reached with a 21700 battery.  Keep in mind that turbo output is likely to drop as the driver temperature rises about 100° F.
The Sofirn C8F was made for a 21700 rechargeable lithium battery and includes one for convenience. With the included clear tube however, a single 18650 can also be used. The main difference over using the 21700, is runtime… which is a bit longer.
Since the maximum running voltage is 4.2, only single 3.7v batteries can be used. DO NOT use two battery configurations such as 16340, 18350 or CR123's.
Operating the Sofirn C8F 
As soon as the tail cap is tightened over the battery, the green indicator under the switch will light up for five seconds. To see how this subs as a voltage reader, refer to the next heading.
Both tactical, via the tail switch, and side switch operation are available.
Begin by clicking the tail, then pressing the side to change the mode. Your option to turn it off, can be by either clicking the tail again, or doing a holding press to the side. At this point, you don't need to use the tail if you prefer not to. For momentary (tail cap) operation, the light needs to completely off. This means OFF from the side, and from the tail. By half pressing the tail, light is "momentary".
By default, group 3 should already be enabled when you first use the light. As described above, group 3 offers the most modes.
To switch the groups, (which are changed in numerical order) RAPIDLY click the side switch FOUR times. If you've done it fast enough, the beam will flash twice to confirm. So to clarify, if you want group 2, and it's currently in 3, you'll need to perform the "four clicks" three times. It's too bad it doesn't blink the "group number" it's going into. Instead TWO blinks are used for each one.
Ramping Mode
Group 4 is for ramping only. So once activated, press and hold the side switch to smoothly raise or lower the output. If you wish to change direction while ramping, you need to do it within 1.5 seconds of releasing the switch. If you wait longer than that, it'll continue in the same direction. When ramping upwards, it'll blink when Turbo is reached.
Instant Access Modes
Moonlight mode can be accessed at any time, in any group. Just press and HOLD the side while it's off.
Similarly, turbo can also be activated whenever you want… with a "double-click" from anywhere, meaning it can be on or off.
For strobe, do a TRIPLE-click… which again doesn't matter whether it's on or off, or which group it's in.
Battery Voltage Indicator 
The illuminating ring surrounding the switch gives you an indication of battery power each time the light is turned on. If battery voltage is between 3.4 and 4.2 volts, it'll be a solid green for five seconds. Under 3.4 it flashes in red. If it's less than 3 volts it'll flash rapidly in red. If critically low it'll just shut off.
Beam Check
Sofirn C8F; In Conclusion
This is a cool flashlight  😛
First and foremost I like the LED's and the beam they produce. As perhaps you can see from the photos, it's not highly focused, but more spread out.
Switch operation is very good. I don't use the tail switch much, but if the concept of "tactical" light is important to you, then I'm sure you'll appreciate it.
I think the groups is a nice idea, and to include ramping in the mix was very insightful. The only annoyance could be for those who can't decide which one they like best, since you need to remember which group you're in, to know which one you're going into!
The only complaint I have, is wishing the battery indicator gave more indications other than the two it does. The reason being, that turbo won't last much past 4 volts, but it'll still say there's plenty of power. (just not enough to produce 3000 lumens)
The little charger is the typical type they always supply. It's okay in a pinch and has a little LED to show charging status.
Recommendation
If the Sofirn C8F looks appealing to you, or, from you, as a gift… I suggest you visit its Amazon product page.
Please follow Lightsngear and like us: