I'm becoming more familiar with Sofirn flashlights. Previous reviews include the SP32. So far, even as a cheaper alternative to some of the bigger brands, I'm finding their quality to be reasonably good. This brings us to today's review of the Sofirn C8A.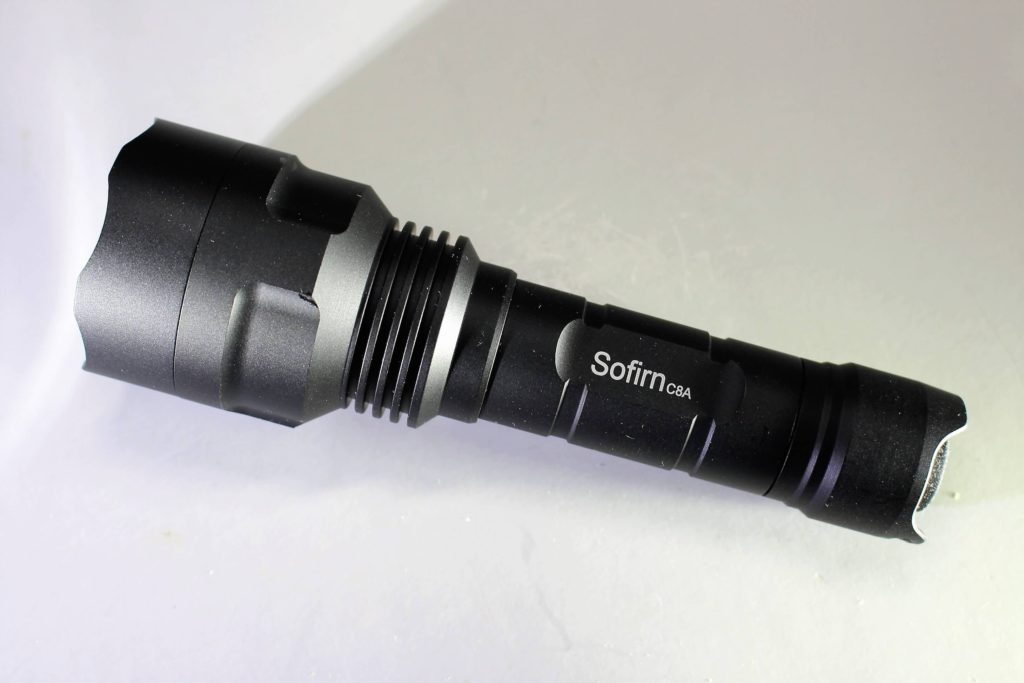 Full of Accessories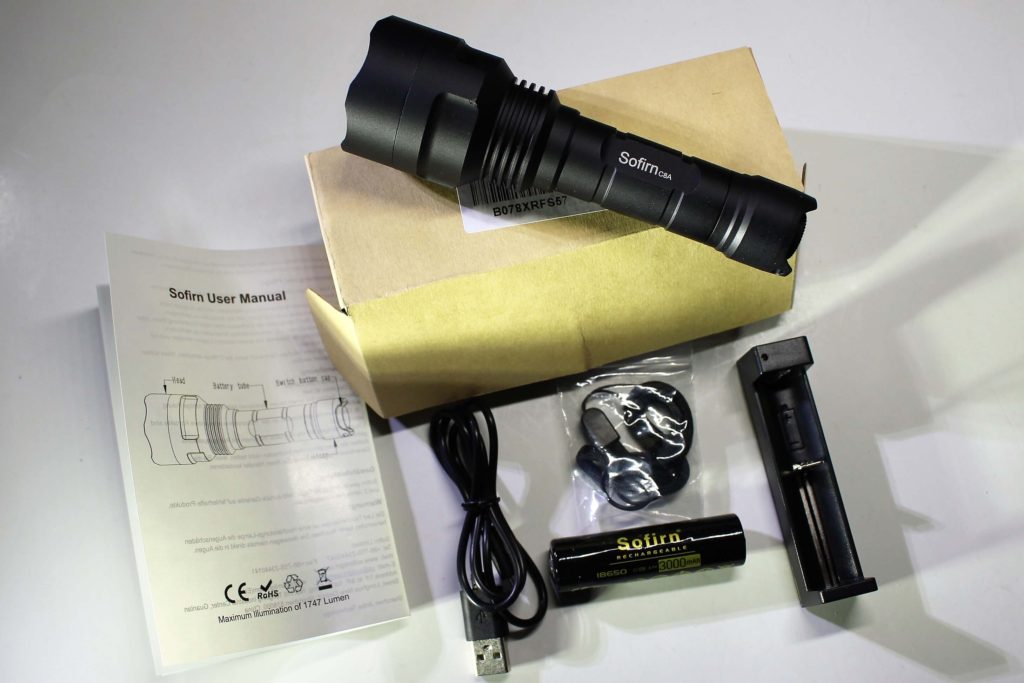 Without much identification, the Sofirn comes in a plain, unassuming box. The flashlight is bubble-wrapped, and is accompanied by a simple lanyard, two o-rings, a USB charging cable, a generic one-slot USB travel charger, AND a 3000mAh Sofirn 3.7v rechargeable 18650 battery. All-in-all, this is pretty good  🙂  In due course, I'll explain each item in more detail.
Stats and Figures 
Length; 5.5″
Width (at head) 1.7″
Weight (w/battery); 183 grams
LED; Cree XP-L2
Working voltage; 2.8-4.2
Battery acceptance; 1 – 18650 (included)
Impact resistant to 1 meter
Beam throw distance; 200 meters
Sofirn C8A Features
Body; Aircraft-grade aluminum alloy, with TypeIII hard-anodized finishing
Lens; Toughened glass with anti-reflective coating
Waterproof to 2 meters for 30 minutes (IPX-8)
Two separate operating groups
Mode memory
Low battery indicator
Modes and Output
Group 1
Low; 90 lumens
Medium; 595 lumens
high; 1747 lumens
strobe; 1050 lumens
Group 2
moonlight; 1 lumen – 33 days
low; 90 lumens – 10.5 hrs
medium; 595 lumens – 95 mins
high; 1050 lumens – 30 mins
SOS; 1050 lumens – 110 mins
Simple Operation 
From insertion of the battery, give the rear switch a full click. As with most others lights, a half-press advance the mode. The sequence is lowest to highest. Default appears to be Group 1… without 'moonlight'.
To change to Group 2, contrary to what the manual says, half-press the switch three times very quickly (with the light on). A couple of flashes and a return to 'high' mode will confirm the change. Changing groups is the same regardless of which one you're changing from.
For Strobe, you can be in either group. To access it, double-press while the light is on. Another soft press returns to the previous mode.
For SOS, Group 2 is required, and the only way to access it, is to cycle through each regular mode first. It's the last stop before returning to 'low'.
Mode memory always recalls the previous mode used.
Low Battery Flash
The Sofirn C8A will always alert you when the battery is getting low. As 2.8 volts is approaching, you'll get a slow flash for about one minute. If you ignore it, it'll automatically shut off.
Using the Charger 
Connect a USB cable to the front end of the charger. With the battery inserted positive end up, a small red indicator will jump into service. Once finished, it'll turn green.
On the back of the charger, it indicates an input of 0.75A… which is pretty accurate. The good part about the little charger, is its portability. Using it in the car or while travelling is a snap, and since the battery is secured with a spring, other sizes of rechargeable batteries can also be used.
The Included Battery
The Sofirn 18650 battery is labeled as 3000mAh. In an initial capacity test, I got a reading close enough to 3000mAh, to give it two thumbs up for quality  😀 It's also circuit protected, which is very important.
Behold the Beamshots!
The Verdict
I have no particular gripes about the Sofirn C8A. It's a flashlight that's assembled with quality components, and sold at a price that should be agreeable to most consumers. It has basic modes, and is extremely bright on 'high'.
Offering the two 'groups' is convenient I suppose, but the only real difference between the two, is the addition (or elimination) of 'moonlight' mode. In my opinion that's the most useful setting of the two, since moonlight is there if you want it, and so are Strobe and SOS.
It's a bit long for the average pocket, and because of the large head, going in tail first is probably required.
One thing to note. The working voltage ONLY supports ONE 18650 battery. This means no alternative battery source, such as 2-CR123's are accepted. If you attempt to use two smaller batteries…. you'll BLOW the LED!  
If you'd like to add the C8A to your own collection, please visit its Amazon product page.
Please follow Lightsngear and like us: