Sofirn is a little company I'm not too familiar with, however, they DO have a website…. and wouldn't you know, a new flashlight to talk about! Here is the Sofirn SP32, a single-18650 battery light, with enough shining power to cause any living creature you point it at, to run for cover!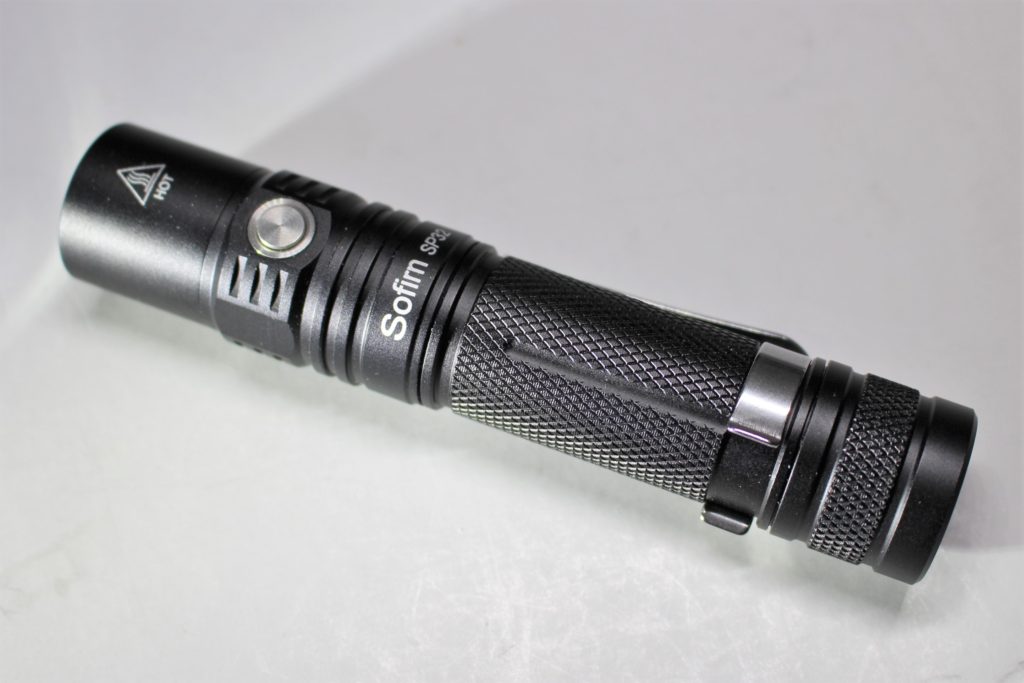 Product Packaging
In the Sofirn box is the SP32 flashlight, a lanyard, two spare o-rings, a user manual, a USB charging cable, a small 18650 USB battery charger AND a Sofirn 2800mAh 18650 battery. A pocket clip is already attached  😀 
Sofirn SP32 Stats 
Length; 4.8″

Width; 0.9″

Weight; 3.97 oz (112.6 g) — battery included

LED; Cree XP-L2 V6

Battery; 1x 18650 (included) or 2x CR123, 2x 16340, or 2x 18350

Beam Distance; 200 meters

Impact Resistant to; 1 meter

Waterproof to; 2 metes (IPX-8)

Maximum Working Voltage; 8.4
Modes and Output
Lower-Low; 3 lumens

Low; 15 lumens

Medium; 119 lumens

High; 392* lumens

Turbo; 956* lumens

Strobe; 956 lumens
*Due to expected heat build up, turbo lowers to high (automatically) after 3 minutes. Similarly, high mode lowers to medium if the light is left on for 30 minutes of continuous use. 
SP32 Features 
Mode memory

Machined w/aircraft-grade aluminum-alloy

Premium type III hard anodized, anti-abrasive finish

Toughened, AR coated glass lens

Low battery warning signal

Low Voltage Protection
Flipping the Switch
Insert the battery plus-side forward and apply a HOLDING press to the side-switch. Once on, a single press advances the modes. A HOLDING press is required to turn it off. Mode memory will turn it back on in the same position it was turned off in. It even remembers the last mode used, after a battery charge (or switch)! 
For strobe… anytime… DOUBLE-click the switch, either while OFF, or ON in any mode. A single press during strobe turns it off (if it was activated from OFF) or returns to the previous mode, if activated while ON. Easy-peasy huh!? 
Low Voltage Signal
As battery voltage reaches 3.0 the light will flash a few times, then return to the mode it was in. If you don't charge, or swap out the battery, it won't alert you again until the voltage drops to 2.8. At that time it'll flash continuously for about a minute… then shut off completely. 
Battery and Charger
The Sofirn SP32 comes with a complimentary 18650 battery and USB charger.  
To use the charger, plug the accompanying cable to the unit, and the other end to a USB power source. As soon as a connection is made, a small LED on the unit will light up in green. As charging begins it'll change to red. It'll turn back to green when finished. Charging current on the unit is pretty good at around 600mA. 
The battery is of good quality. It has an added protection circuit, and is very close to the capacity stated on the label. 
General Observations
In my opinion the Sofirn SP32 is a lot of flashlight for the money! It's a little cheaper than most of the other major brands, and its lower price is reflected by omitting a "bell & whistle" here and there, which ARE usually present on the bigger brands. 
The compromise for a feature or two, is that it comes with its own quality 18650 battery, and a half decent little USB charger. I can't emphasize enough how much BETTER this flashlight is, considering cost, performance and accessories, than some of these other "package" deals that litter the Internet! 
The side switch is responsive and easy to use. Unlike more expensive lights, it doesn't illuminate as a locator or a warning signal, but as described above, at least they found other methods of incorporating such things. 
I like the tint of the LED as well. It falls somewhere between cool white and neutral white. 
Recommendation
There's really nothing to dislike about this little flashlight, and I think if you try it out, you'll agree. 
To consider the Sofirn SP32, please click this link where you'll come face to face with its Amazon product page!
Please follow Lightsngear and like us: