Budget flashlights are everywhere! Both Amazon and eBay compete for hierarchy as a veritable wasteland of similar looking LED flashlights all selling for $20 and under. So, as many of these lights will ultimately be destined for the kitchen junk drawer, let's review the Refun A100 and see where it lands.
Is Imitation the Sincerest Form of Flattery?
Before I begin the actual review, let me state that there appears to be no copyright on the name "A100". If you scour the internet, you'll probably come across many flashlights from various manufacturers, that ALL resemble the one pictured below. It might have Refun on it, or Outlite, or Ultrafire, or whatever (no-name, out of nowhere) manufacturer name brazened across it. Even the over-advertised (and WAY over-priced) "G700" looks identical!
In any event, whichever one you happened to buy, would make little difference, because they ALL operate (and are made) the same way. This is perhaps the best reason for trying to get the cheapest possible price you can!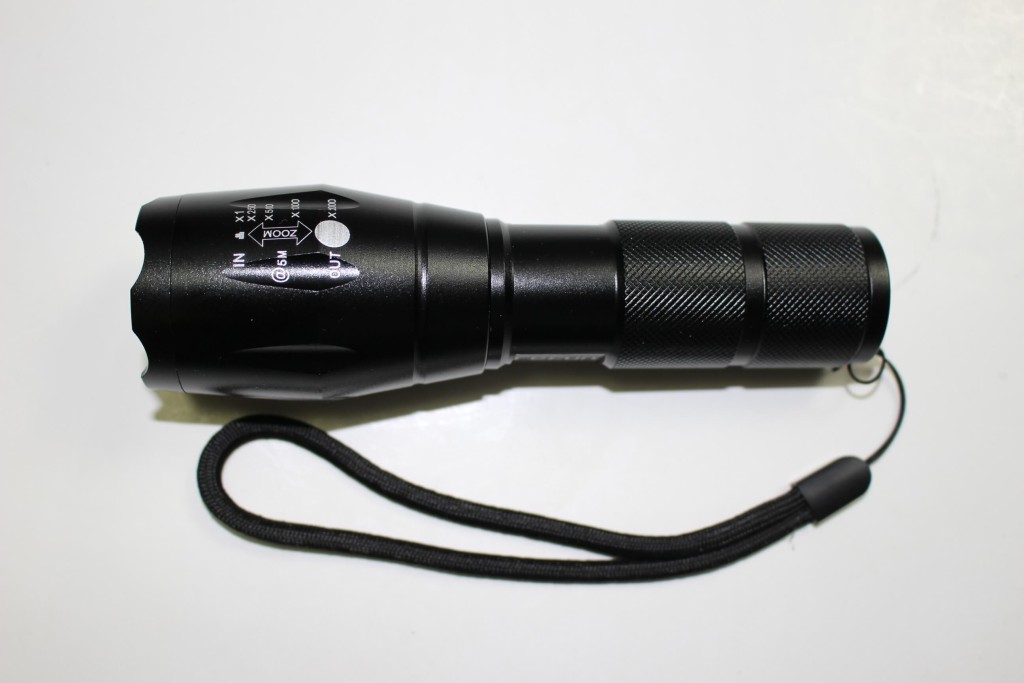 Packaging
Perhaps the best thing (if you can call it that) the A100 has going for it, is the package the light arrives in, and the accessories that accompany it.
As if featured during an extra-long commercial break, you can just hear the announcer exclaiming; "here's what you get in this special TV offer"…
So anyway… besides the flashlight, there's an instruction manual (mostly in pictures), a "4000mAh" 18650 battery, a plastic sleeve to insert the battery into so it doesn't rattle inside the light, a "cage" insert which holds three triple-A batteries (in case you don't know how to use a rechargeable lithium battery), a wrist strap and the pièce de résistance, a generic 18650 battery charger!
Piece by Piece
The A100 Flashlight;
Length: Just under 5½". With the head extended, 6¼".
Head width: 1.6″
Weight: (without a battery) 141 grams
Modes: High, Medium, Low, Strobe, SOS.
Output: (see below) "Claimed" high mode; 900 lumens.
The LED is a "presumed" CREE XM-L T6
So, from the dissection photo above, you can see that the LED is NOT a CREE XM-L T6, but a LatticeBright XL. The data sheet from the LatticeBright website, indicates this LED is only capable of reaching 300 lumens under normal conditions!! Gee, that's a far cry from the advertised 900…isn't it?
The Battery;
3.7v 18650. Claimed capacity; 4000mAh. Tested capacity; 2200mAh.
The Charger;
1 slot. As generic as they come. Assumed output; 250mA. It's terribly slow.
Operating the Refun A100 
Give the rear switch a firm click. High mode is the default. With each soft press, it will advance to the next level…stop wherever you want. There is no memory — if you turn it off on low, it'll come on in high the next time.
To "zoom" the beam from full-width, to where the beam gets smaller and resembles the rectangle shape of the LED, just pull the head forward all the way. You may stop at any time, whereby the beam will be a tighter (and visually brighter) circle of light.
Beam Pics
Problems and Observations
Actual lumen outputs are usually unknown with budget lights. As is the case with the A100, only high is given…and it's an obvious exaggeration of the truth.
There is no constant-current circuit in the flashlight. Therefore as battery voltage drops, so does the lights' output. This is why protected batteries are always recommended.
Another budget flashlight oddity, is that the outputs aren't well-spaced. Low, isn't THAT much lower than high! I didn't show 'medium' in the images above, because it's easy to imagine it as a shade higher than low, and a shade lower than high.
The zooming mechanism on this unit is pretty good. It has just enough resistance so it will stay put where you set it. One handed operation of the zoom is also possible.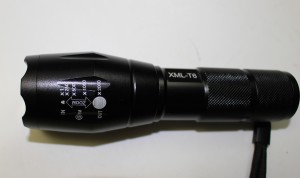 The A100 cannot be defined as tactical, since it has no momentary-on feature. The rear button however has adequate tension, and has a rather loud audible click!
The tube is large enough to accept other lithium battery types, although if using the plastic insert was not an option, they would rattle. The running voltage is not given, so even though the tube would accommodate other sizes, it's unknown if the driver could accept voltages up to 7.4 (2 cells at 3.7v each) or not. I personally would not attempt it.
The AAA battery insert holds three triple-A's securely, and fits well into the tube. Just so you are aware, regular AAA alkaline batteries can be used, in addition to 1.2v NiMH (nickel metal hydride) rechargeable cells.
For all the photos in this review I used an 18650 battery. I compared visual output between the 3.7v battery and three NiMH rechargeable triple-A batteries. Output (on high) was slightly brighter using the 18650. Battery runtime on high is estimated at close to 2 hrs, before output begins to dim noticeably.
Do I Recommend the Refun A100?
Yes, but only marginally and only for general use.
Then you must also take into account that the advertised LED is a fraud! It's not even a genuine CREE! So, if you don't mind buying a presumed 900 lumen flashlight, but only getting a 300 lumen flashlight, then that's your prerogative.
It's fine for around the house, and "maybe" at the campground. Just be careful not to allow it to become submerged. It's water resistant…NOT waterproof.
It's not rugged enough for specialty use. It's not sufficient for law enforcement, or search and rescue operations.
If you'd like to look at the Amazon listing for the Refun A100, complete with battery and charger CLICK HERE.
If you'd prefer to look at the listing for the FLASHLIGHT ONLY, (recommended) and provide your OWN battery and charger… CLICK HERE.
Please follow Lightsngear and like us: