Here is another "A" series flashlight from WOWTAC, which is technically supported by Thrunite. This is the WOWTAC A6, a petite 18650 USB rechargeable pocket light.
Familiar Package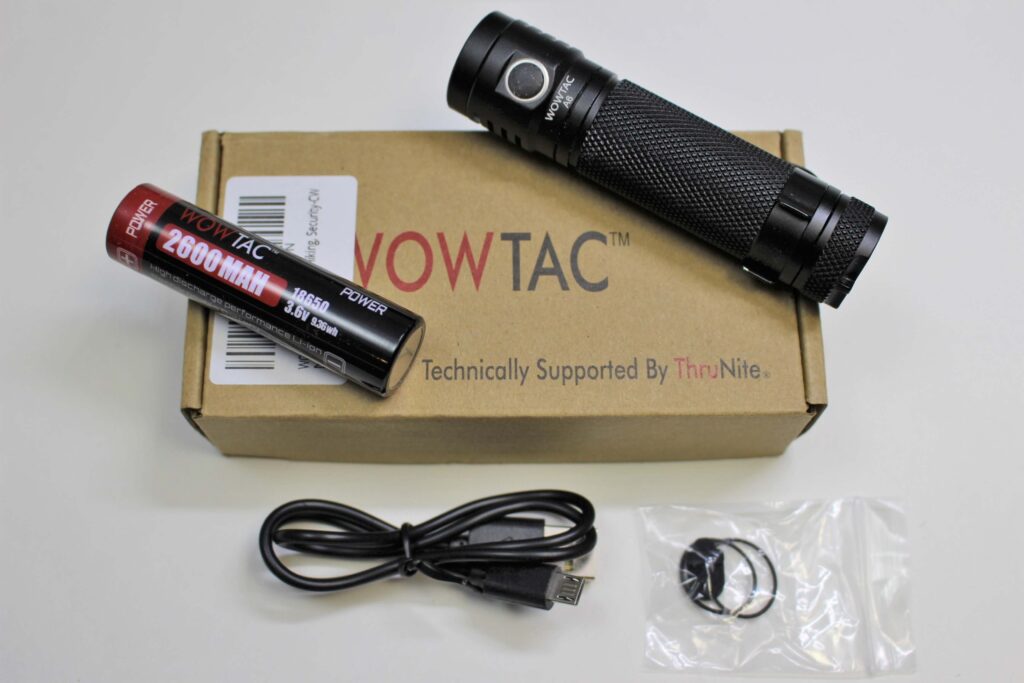 Along with the light in the usual little brown box are a few accessories, which include the manual, (unfortunately missing from the photo 🙁 ) A 2600mAh 18650 battery, a pocket clip, spare O-rings, a spare USB cover, and a micro USB charging cable.
Specifications
Length; 3.8″
Weight (w/battery); 3.30 oz
LED; Luminus SST40
Maximum Output; 1460 lumens
Beam Distance; 174 meters
Impact Resistant; 1.5 meters
Waterproof; IPX-8 (2 meters submersible)
Working Voltage; 2.7 – 4.2
Body; aluminum alloy w/anodized anti-abrasive finish
Reflector; Orange Peel
Features
Mode memory
USB rechargeable
Voltage indicator
Toughened glass lens
Electronic lock-out
Modes, Output and Runtime
There are FOUR regular modes and TWO emergency modes. They are as follows;
Firefly, at 0.5 lumens for 104 days!
Low, at 12 lumens for 104 HOURS
Medium, at 80 lumens for 16 hours
High, at 400 lumens for 3.5 hours
Turbo, at 1460 lumens for 2 minutes
Strobe, at 350 lumens for 7 hours
WOWTAC A6 Operation
The little switch on the side is command central for the A6.
A quick press turns the light on, and another quick press turns it off. A holding press (once on) cycles through the modes. Low, medium and high is the standard sequence. For "firefly" a HOLDING press is required while OFF. For "turbo" you need to double-click…which can be while already ON, or from OFF. For "strobe" you'll need a triple-click, which again, will work from any mode or disposition.
While the A6 is on, the switch is partially illuminated in blue. As battery voltage approaches 3.0 the blue display changes to red. It's recommended when this happens to either swap out, or charge the battery as soon as you can.
It does a slightly odd thing cycling from medium mode. If it's on medium, and you press and hold to go to high…it cycles DOWN to low then up to medium again, before reaching high! This is the only mode where it backtracks first.
Ahhh, the Beamshots!
Electronic Lock-Out
To prevent it from accidentally activating in a pocket, you can lock it out, by a holding press from OFF. Yes, it'll go to "firefly" first, then shut off. Repeat the process to UN-lock
Charging the Battery
When you connect the USB cable from the light to a charging source, the switch illuminates in red. It'll turn blue when the charge is complete.
Please refer to the photos below.
WOWTAC A6 Talking Points
The A6 is a cool little light. WOWTAC doesn't give the LED's color temp, but it has a definite neutral/warm appearance. It's not cool white that's for sure! It's even hard to make out from the Luminus web page which variation of the LED this is…given its claimed output.
The modes are acceptable and turbo offers good brightness at reasonable distances. It excels outside within a smaller more confined area, mainly because "high" is only 400 lumens. Turbo is bright, but it doesn't stay on that level for more than a couple of minutes…and of course it starts getting too hot to hold.
Mode switching is easy, but the button is quite small and requires a firm press to activate. At least the switch is illuminated, which makes it easier to find in the dark.
Note that due to the 4.2 maximum volt range, a single 18650 is the only acceptable battery. Don't try to use a double combination of any other smaller battery type.
I have no particular issues with the A6, except to note that outdoor (long distance) use is limited due to the operating nature of turbo.
Recommendation
You can get a WOWTAC A6 from Amazon Prime…just click here to be the first on your block (or "cell block") to have one! 😀
Please follow Lightsngear and like us: