As of this writing, WOWTAC has amassed quite a family of flashlight models. Today, I'm going to talk about the WOWTAC A5.
Box and Packaging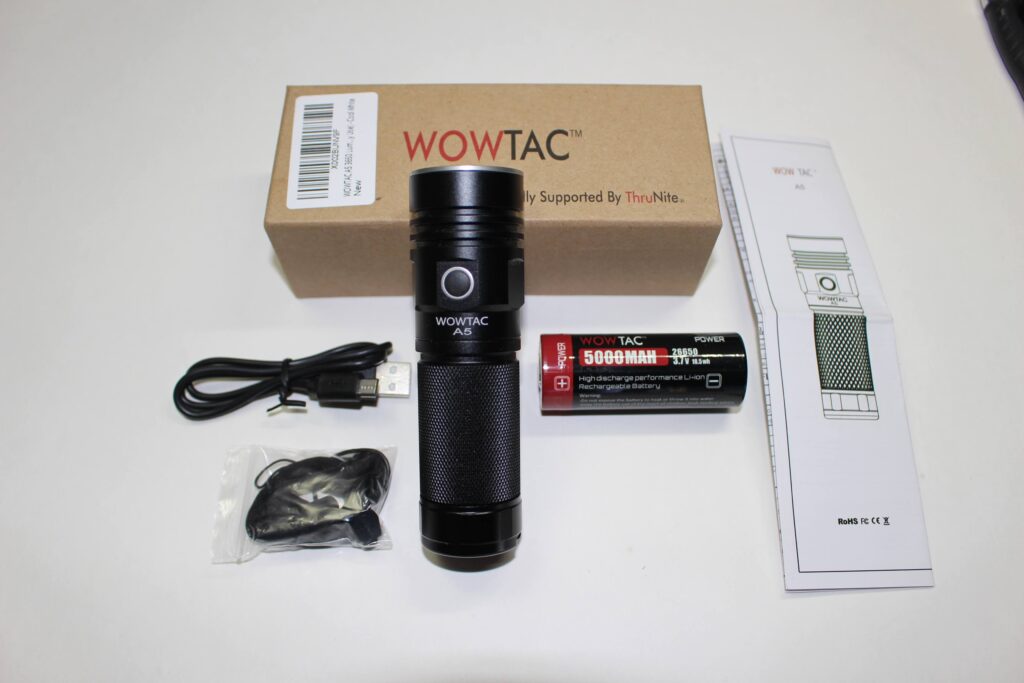 WOWTAC proudly reminds us of their association with Thrunite, which is printed on the box. Inside the plain brown recycled container, is the A5. Inside the tube is a 5000mAh 26650 rechargeable lithium battery. You'll also see a user manual, a standard USB charging cable, and a small packet containing 2 spare O-rings, an extra USB cover, and a lanyard.
Specifications
Length; 4.5″
Width; 1.3″
Weight; (w/battery) 7.44 oz
LED; CREE XHP70
Max Output; 3650 lumens
Orange Peel Reflector
Beam Distance; 234 meters
Impact Resistant to 1.5 meters
Waterproof to IPX-8 (submersible t0 2 meters)
Features
Mode Memory
Low Battery Indicator
USB charging port
Five regular lighting modes plus Strobe
Modes, Output and Runtime
The WOWTAC A5 has several well-spaced regular modes, plus Strobe for emergencies.
Firefly; 0.3 lumens for 37 continuous days of use
Low; 30 lumens for 46 hours of use
Medium; 300 lumens for 10 hours
High; 1750 lumens for 8 mins before stepping down
Turbo; 3650 lumens for 3 mins followed by a stepdown
Strobe; 2100 lumens for 180 mins
Simple Operation
The A5's little side switch is how all the functions are performed.
Like other WOWTAC models, one click turns on, and off. And just like the others you need to press and hold to cycle the modes. The standard sequence is low, medium, and high. Firefly, turbo and strobe are hidden, and not part of the regular sequence.
For firefly, you need to press and hold while it's off. To get turbo, it's the usual double-click. For strobe, it's a double-click from turbo.
Battery Strength Indicator
Any time the light is on, the indicator beneath the switch (which isn't very bright) is illuminated. If the battery is okay, it's blue. When it gets weak, it turns red.
Charging Via USB
If you've read some of my other reviews of USB rechargeable lights, this section might seem redundant since the charging process for the majority of them is the same. Be that as it may……..
Whether you're charging the 26650 battery that comes with the WOWTAC A5, or another of your choice, just connect the cable to the port and away it goes. Similar to the battery indicator, when connected, the light beneath the switch will be red. Once charging is complete it'll change to blue.
It's All About the Beam!
WOWTAC A5; When All is Said and Done
The A5 is great little flashlight, but to me…it's not exactly a "pocket" flashlight. Using the 26650 battery is what makes it so incredibly bright, but also adds to its weight. If it falls to the floor/ground, it makes quite a thud! Like many a light of this size, a bug-out bag, backpack, large coat pocket etc…are the best ways to carry it.
Having an XHP70 LED is pretty unique for a flashlight in this price range! The beam produced by the A5 is VERY nice!! This…by the way…is the "cool white" version. A "neutral white" alternative is also available.
It's great that WOWTAC includes a battery, and it's not a poor quality one either.
The switches featured on WOWTAC lights aren't very large, but at least finding it in the dark is fairly easy since it's illuminated whenever the light is on.
Recommendation
I have no notable complaints regarding the A5.
If it looks like the type of flashlight that would be welcome on your next adventure,  CLICK HERE to have Amazon Prime send one to your mailbox pronto!
Please follow Lightsngear and like us: