It was some time ago that I reviewed the Klarus G20, a full-featured flashlight with a simple interface and a gloriously bright beam. Well, even though it's been awhile, the "G series" is still alive and prospering! Enter its smaller and only slightly less intense relative… the Klarus G10!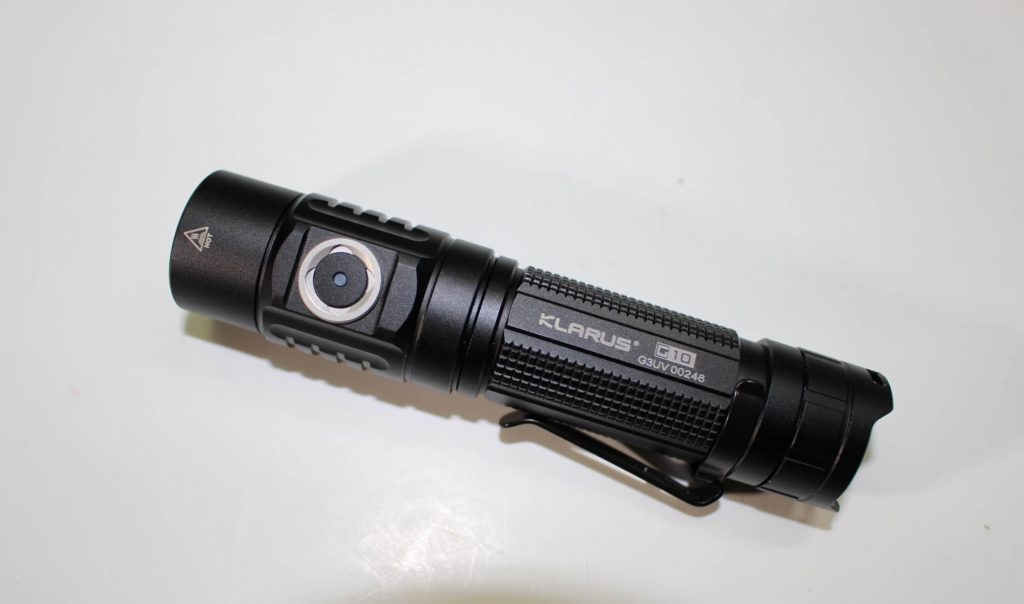 The G10 Package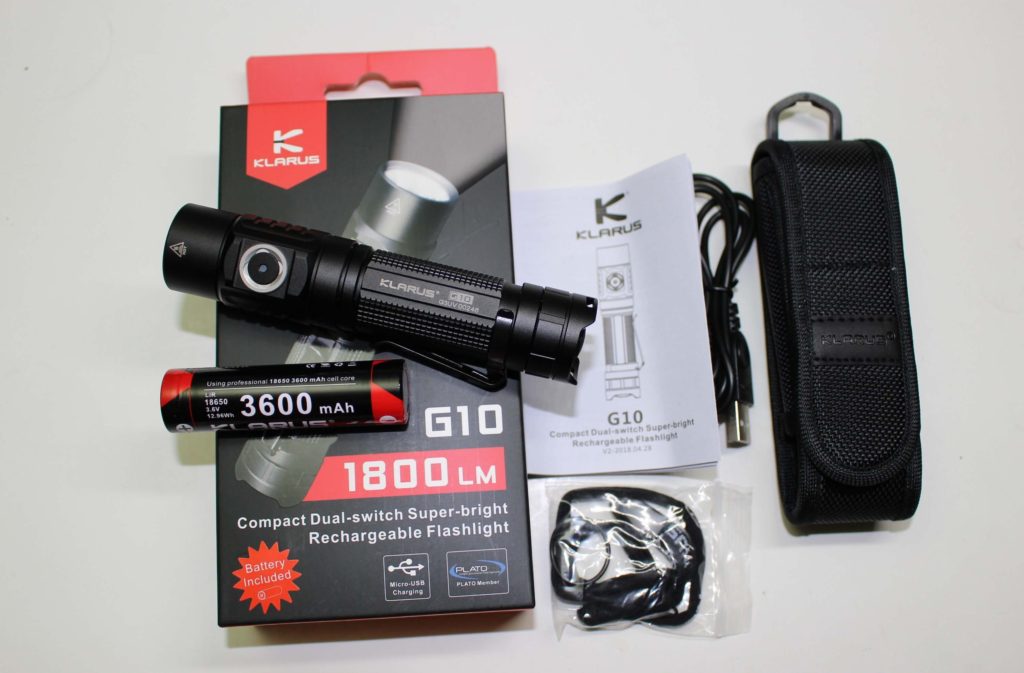 The G10 comes with everything you'll need to get the flashlight up and running.
Accessories include a 3600mAh 18650 battery, a USB charging cable, an attached pocket clip, a lanyard, a belt holster, spare o-rings, and the user manual.  🙂
Specifications 
Weight, w/battery; 4.56 oz
Length; 4.7″
LED; Cree XHP35 HD E4
Working Voltage; 2.5 – 8.4
Beam Distance; 250 meters
Body Material; T-6061 aluminum alloy; TypeIII hard anodized
Lens; Scratch resistant toughened glass — AR coated
Features
Two independent power switches
Mode Memory
Four lighting modes & two emergency modes
Lock-Out Mode
Intelligent Temp Protection System
Battery Capacity Indicator
USB rechargeable
Impact Resistant to 1 meter
Waterproof to 2 meters (underwater); IPX-8
Batteries, Modes and Output
The Klarus G10 is compatible with several battery types.
ONE: 3.7v 18650 (included); TWO: 3v CR123; TWO 3.7v 16340; TWO 3.7v 18350
There are FOUR regular modes: Low; 10 lumens. Medium; 100 lumens. High; 400 lumens. Turbo; 1800 lumens
There are TWO emergency (flashing) modes: Strobe; 1800 lumens. SOS; 100 lumens.
Runtime ranges from 1 hour on turbo, to 170 hours on low.
Battery Voltage Indicator
Each time the G20 is turned on, the little indicator in the center of the side-switch lights up. Green means the battery is 70-100% full. Orange; 30-70%, and Red, if less than 30%. If it's 10% or less, the indicator will be flashing in red.
Lock-Out Mode
To prevent accidental activation in a pocket or such, hold BOTH switches at the same time for a few seconds. The light will respond by flashing three times. It's now locked. To unlock, click either switch THREE TIMES FAST… and you'll be signaled that it's unlocked.
USB Charging
In case you've forgotten, the Klarus G10 has an internal charging circuit. Connect the micro USB cable to the port located on the opposite side of the side-switch, and the other end to a USB power source. The battery is now charging…and you'll know it, because the little indicator will be red. Once it changes to green, you may disconnect the plug. A charging source current of at least 1A is recommended. Lower currents will extend the time it takes to charge the battery.
Basic Operation
First of all, to insert the battery, loosen the HEAD portion. The tail cap is NOT removable!
There are two switches on the Klarus G10; side and tail. Each perform basically the same way, but each are unique to different functions.
Instant light in the lowest mode can be achieved anytime the light is OFF by clicking the tail switch. Press and HOLD the same button to turn it off. Once ON in low, you can advance the mode by clicking either switch. Press and HOLD either switch to turn it off. The sequence is lowest to highest. From whichever switch you use to turn it on with, you can continue with the OTHER switch, without lowering the mode.
For strobe, double-click. This works whether it's OFF or ON. For SOS…double-click again. A single click from SOS, returns to the previous mode. Both flashing modes are also accessible from the tail switch, however it seems to require an exceptionally fast set of clicks to activate them. Sometimes, it just turns on low instead. I would recommend to always use the side switch for that action.
The Klarus G10 Beam
The Final Analysis
I like the Klarus G10 quite a bit.
Someone that DOES need mentioning though, is the fact that at low and medium output levels, PWM (pulse width modulation) has been detected. In case this is an unfamiliar term, it's the strange looking effect you get, when illuminating a rapidly moving object directly in front of the flashlight. To some people, this can be a game-changer. To others, it can be just occasionally annoying. It can also be noticed when taking pictures or videos of the beam.
Among the positives, is the flexible switching system, and the VERY nice beam pattern. Being USB rechargeable is another plus, as is the presence of the battery voltage indicator.
Purchase Link
So now, if you like the Klarus G10, and would love an opportunity to own it, please click here 🙂
Please follow Lightsngear and like us: