I've been checking out some flashlight products from FiTorch, and have thus far been quite pleased. Their build quality is quite impressive, as well as the accessories that come with each light. This time around, I'm featuring the FiTorch P20R.
Well Packaged
In orange and black packaging comes the P20R. The accompanying accessories include a belt holster, a lanyard, a USB charging cable, spare o-rings, a spare switch cap, an "OTG" kit [USB adapter] (for power bank charging), a removable pocket clip, and a user manual.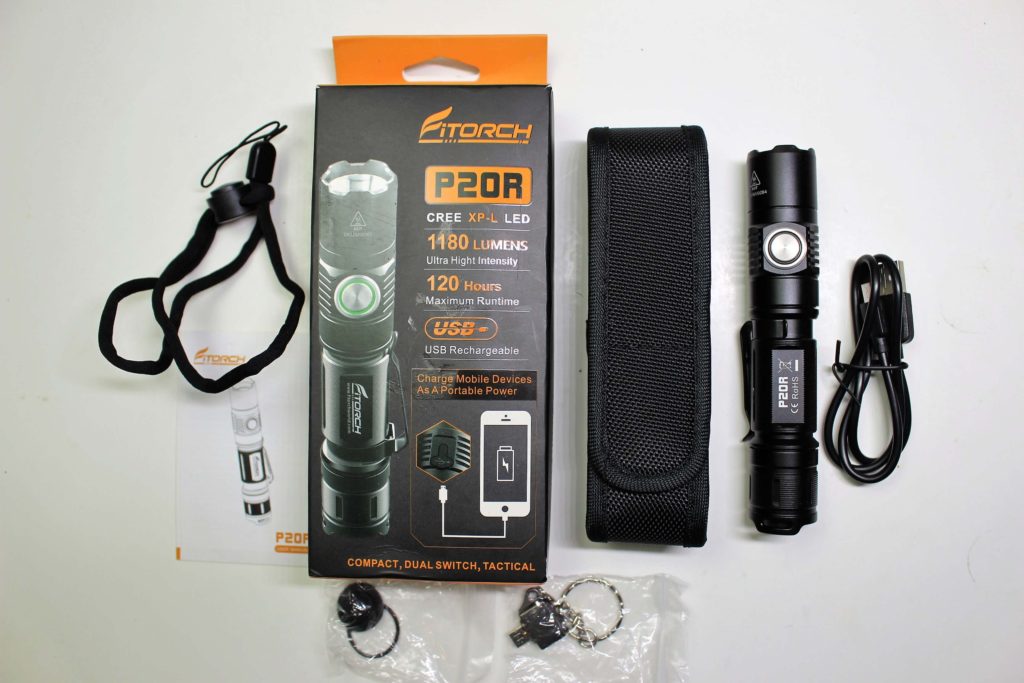 Specifications
Weight; 133 grams
Length; 5.4″
LED; Cree XP-L
Lens; Filmed mineral glass
Body material; HA-III hard anodized aluminum-alloy
Working voltage; 2.75-8.4
Beam distance; 245 meters
Waterproof; IPX-8
Impact resistance; 2 meters
Features 
Two-switch/Tactical operation design
Mode memory
USB rechargeable
Power bank function
Maximum output 1800 lumens
Low voltage indicator
Battery voltage meter
Batteries, Modes & Runtime, Oh My!
The P20R runs off your basic types of lithium-based batteries.
Either; 1 – 18650 … or 2 – CR123 (disposable) … or 2 – 16340 … or 2 – 18350
Modes;
Low; 30 lumens (120 hours)
Medium; 300 lumens (3 hours)
High; 1180 lumens (1.5 hours)
Strobe; 1180 lumens
SOS
Operationally Speaking
So here's where the fun begins! With two switches, the FiTorch P20R operates as a tactical flashlight, with separate mode selection.
As with any tactical light, half-press the tail for momentary light. Fully click it for constant light. Once on, press the side switch to change the modes. The sequence is low to high. For strobe, press and hold the side, while the light is on. For SOS, press and hold during strobe. A short press from either, returns to the previous regular mode.
Locating the side switch in pitch darkness is never a problem. Once it's on, the circumference of the button is illuminated in green! This also serves a couple of other uses as well… please see below.
Low Battery Warning
As battery voltage dips to between 3.0 and 3.4, the green indicator will blink. When 2.9 and below is reached, the blinking green turns to red. All of these indicators (of course) only pertain to when using a single 18650 battery.
Battery Voltage Indicator
To check the voltage of a 18650 battery any time… press and hold the side, while fully clicking the tail. Once you release your finger, side will blink in green, for the number of "whole" volts (2 – 4) then blink in RED if any tenths of a volt exist. As soon as it's finished displaying the volts, it'll turn on in the last mode used. This can actually be deceiving, because if the battery is strong (and reads four volts) it'll blink four times, followed by a FIFTH green blink, then turn on. For a second you might wonder (as I did) why it's blinking FIVE times, until you realize it's ON, which meant the fifth blink wasn't to be counted. I hope that makes sense.
USB Charging
To charge a 18650 internally, connect a micro USB cable to the side-mounted port. It's charging when you see the switch indicator blinking in red. It'll turn solid green when fully charged. Also, WHILE it's charging, you can still use the light… but only in LOW mode.
Power Bank Function
To charge another device, such as a cell phone, make sure either an 18650, or two 16340 batteries are in the light, and connect the USB adapter plug that's included. Once connected, you can still use the light in either low or medium mode. Meanwhile the indicator will blink while charging.
Hey Can We Get Some Light Out Here?
FiTorch P20R; The Final Analysis
So, the P20R is a cool flashlight. But is it any COOLER than any other? Not really. Of course with lights like this, there are going to be similarities. And just like many others, it has some nice features.
What do I like about it?
Good solid construction
Good size mode switch
Mode switching is fast, and quiet
USB rechargeable
To use as a power bank can be handy
Battery voltage indicator
Nice white beam
What do I DISLIKE about it?
Will not tailstand*  😥
Only has three modes
Pocket clip is not reversible
Difference between low and medium is a bit too large
More likes than dislikes is a good thing huh? But not being capable of standing on its tail is a big one for me!
Not unlike a similar FiTorch I reviewed, the flashlight has good quality and durability. But having only three modes is a slight detriment.
* The photo depicting the light standing is somewhat deceiving. In order for it to do that, I had to place it into a secured "base". 
Recommendation
Bottom line; if you like the look and functionality of the P20R, I encourage you to visit the FiTorch page at Banggood.com
Please follow Lightsngear and like us: