Here is my second in a series of flashlight reviews from FiTorch. Previously, I discussed their M30R, a standard-size EDC light. Today however, I'm looking at the pint-size FiTorch ER16… a powerful USB rechargeable light that fits in the palm of your hand.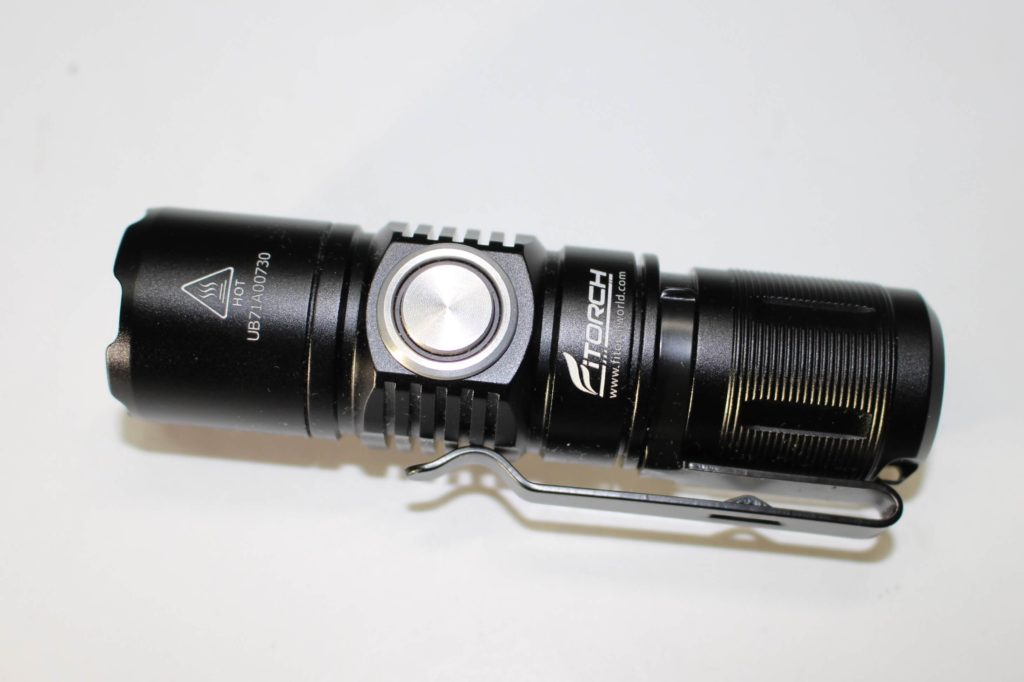 Powerful Little Package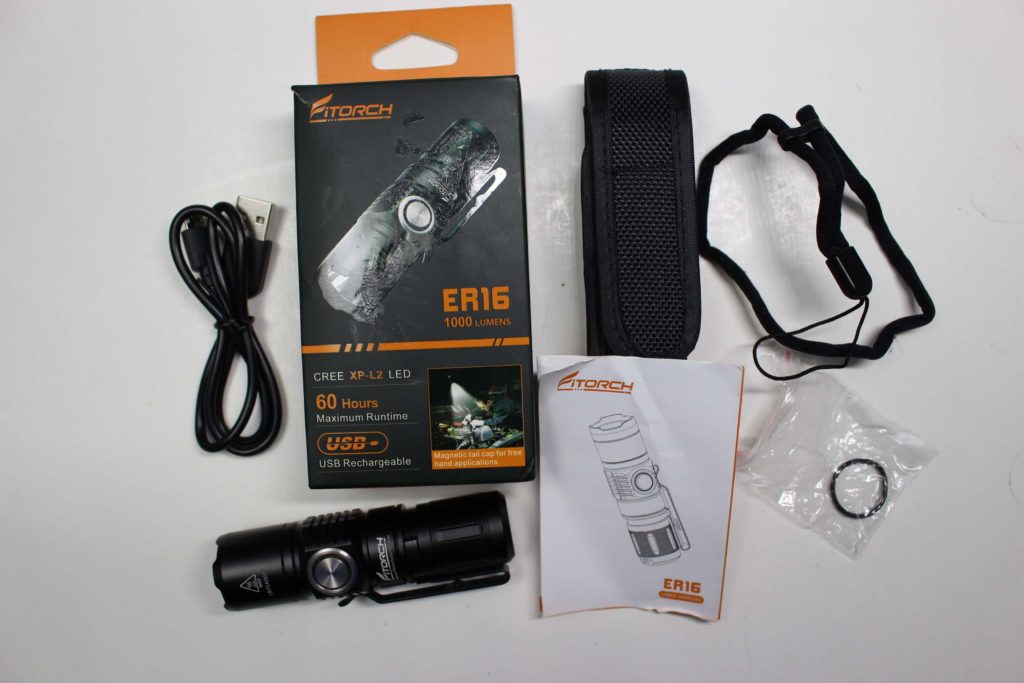 Within the small black & orange box, comes the ER16, neatly nestled in a plastic insert. Accompanying it, is a user manual, a spare o-ring, a USB charging cable, a lanyard, and a mini belt holster.
ER16 Specifications 
Length; 3.6″
Weight; 92.1 grams (w/18350 battery)
LED; Cree XP-L2
Beam distance; 150 meters
Impact resistant; 2 meters
Waterproof; IPX-8
Lens; Tempered A/R coated mineral glass
Body material; Premium Type-III hard anodized aluminum alloy
ER16 Features
USB rechargeable
Smart temperature control system
Mode memory
Lock-out function
Battery voltage indicator
Low battery warning signal
Magnetic tail cap
Power, Modes, Output, and Runtime 
Batteries
Just one. Either a CR123, or a rechargeable 16340, or a rechargeable 18350 (which I recommend)
Modes, Output and Runtime
The following stats are when using a rechargeable battery
Low; 3 lumens (60 hrs)
Medium; 130 lumens (6 hrs)
High; 340 lumens (1.5 hrs)
Turbo; 1000 lumens (30 mins)
Strobe; 1000 lumens
Expect the following when using a CR123 disposable battery
Low; 3 — Medium, 35 — high, 120 — turbo, 560 — strobe, 560
How to Operate Your FiTorch ER16 
The ER16 features one-button operation, via the switch on the side.
One quick press activates the light. Each subsequent press changes the mode. The sequence is highest to lowest. A holding press shuts it off. Mode memory keeps the last mode memorized. There's also instant access to low. This is accomplished when the light is off. Just do a holding press for about two seconds, and release. (it won't activate UNTIL you release the switch)
For Strobe, double-click. This works whether off or on.
Locking it Out
To prevent accidental activation, press and hold for a few seconds — when off. From this, you'll get a confirmation with a 'red blink' of the power switch. Now, in this mode, the light will STILL work… but you need to perform that press/hold release maneuver for it to turn on. The other thing to know, is there's no mode memory while in lock-out, and LOW is the default mode.
To unlock, press and hold until LOW activates, and shuts off.
Low Battery & Voltage Indicator
The illuminating ring that encompasses the side switch, is a notification alert device.
As battery voltage drops near to 3.4, the ring begins flashing in red. If ignored, it'll quicken the pace. At anytime when the light is off, you can check battery voltage. Just press the switch…three times fast…and the indicator blinks in green and red. GREEN for the number of volts (from 2-4) and RED for the "tenths" of a volt…1-9. Example; 3.5 would be 3 green blinks, followed by 5 red blinks.
Show Me Your Beams
USB Charging
As long as you're using a rechargeable battery you can utilize internal charging. Connect the included micro cable to the port on the side of the light, and you're on your way. Once connected, the switch indicator will blink green. It'll turn solid green when the charge is complete.
Likes and Dislikes? 
When I first received the FiTorch ER16, my thoughts were less than positive. This was because the logic of the UI escaped me, and the manual seemed a bit confusing. Then as I kept using it, I realized it was in "locked-out" mode!! So once I figured out how to UN-lock it, my opinion changed. NOW I like it  😀
The features I appreciate; the "deep pocket" clip… the size of the switch (easy to find in the dark)… the illumination beneath the switch, and the voltage checker… plus the magnetic tail. The beam is also very nice, with good color and coverage range.
Battery Recommendation
The manual suggests a 16340 rechargeable battery. But, given the thickness of the tube, that particular cell has quite a bit of "wiggle room". It won't affect operation much, but just doesn't seem right. On the other hand, a 18350 battery has just the RIGHT thickness to fit in the tube the way a battery should! So, that is the type of battery I suggest using.
So What Do You Think?
Does the FiTorch ER16 thrill you enough to buy one? With that, would be my recommendation of visiting its product page at Banggood.com! I would also suggest entering coupon code FLSTNE at checkout. That will save you 20%! 
Please follow Lightsngear and like us: