This little flashlight has me hooked! It's a Sofirn SC21, and if you keep reading I'll tell you all about it.
All-inclusive Little Package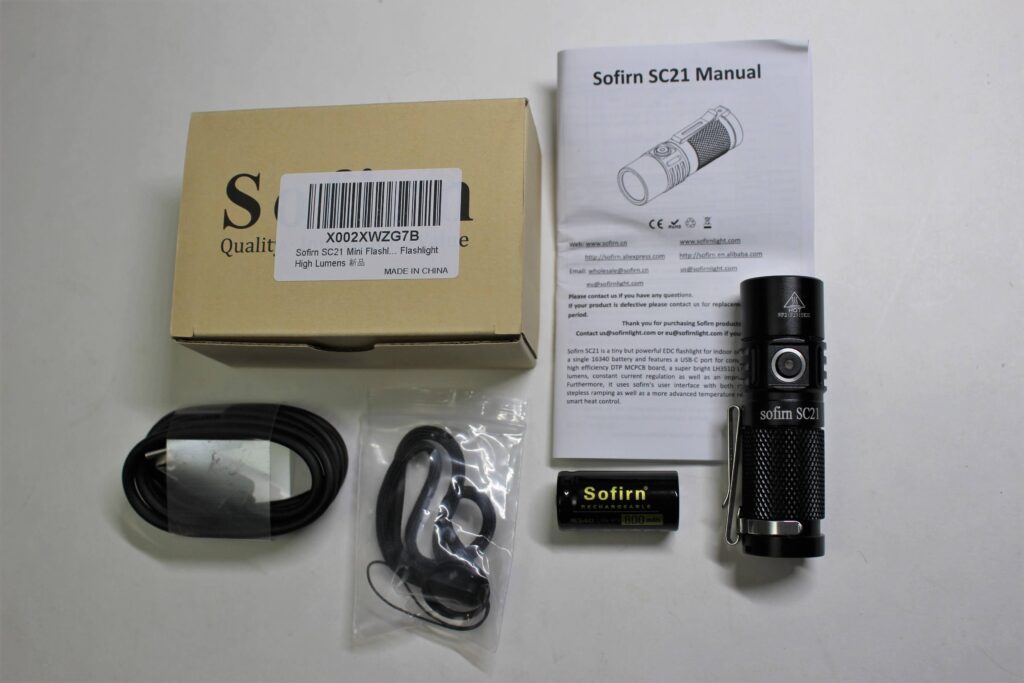 Sofirn always puts together a nice presentation.
In the SC21 package is a user manual, a USB-C charging cable, a small packet with a lanyard and spare o-rings, and a rechargeable 16340 lithium battery. Very nice!
Specifications
Length; 2.8″
Weight; 2.15 oz (w/battery)
LED; LH351D
Battery Acceptance; 1 – 16340 (included) or 1 – (disposable) CR123
Beam Distance; 135 meters
Impact Resistance; 1 meter
Water Resistance; IPX-8 (up to 2 meters underwater)
Driver; Constant Current Buck Driver
Body; Aerospace Grade Aluminum alloy — Type III hard anodized
Lens; Toughened Mineral Glass
Features
Mode Memory
USB-C charging
Two User Interfaces
5 lighting modes and 3 emergency modes
Low Voltage Warning
Low Voltage Protection
Modes and Output
The flashlight has two separate interfaces. Stepping and Ramping. When set to stepping which is the default, here are the modes you get.
Moonlight; (hidden) 1 lumen for 85 hours
Low; 10 lumens for 18 hours
Medium; 100 lumens for 4 hours
High; 400 lumens for 1 hour
Turbo; 1000 lumens
Strobe; 1000 lumens
SOS; 100 lumens
Beacon; 1000 lumens
Operating the Sofirn SC21
Once the battery is tightly secured, press the side switch. A holding press thereafter advances the modes. If it's set to stepping, it incrementally goes from low to high. For moonlight, you need to perform a HOLDING press while OFF. For turbo, a double-press in required, which works whether it's ON or OFF. A single press turns it off.
Operating in ramping mode is the same. Press and HOLD to advance from low to high (or high to low). Release the button at the desired brightness. Moonlight and turbo are still accessible in the exact same manner they are in stepping mode.
Changing Interfaces; Toggling from stepping to ramping (and vice versa) is very simple. From OFF, press the switch FOUR TIMES FAST! A short blink will confirm the change.
Battery Voltage Indicator; If the battery is reasonably charged, the switch indicator will be GREEN when the light is turned on. Once voltage starts to drop, the indicator will be RED when switched on. If the voltage drops below 3.0 the indicator will FLASH in RED.
Emergency Signaling Modes
From OFF or ON (in either interface) press the switch three times.
Strobe comes first, followed by SOS, and finally, Beacon. To advance from one mode to the next, do a HOLDING press. A quick press from any of the flashing modes returns to what it was doing when you activated them. If it was OFF, it'll turn off. If it was on, mode memory will return it to the previous output.
Charging the Little Sucker
Once the included USB-C cable is connected, the switch indicator will blink in RED. It'll turn to GREEN when the charge is finished.
Checking the Beam
Sofirn SC21 Is Just A Cool Flashlight
Before you say…"meh, I've seen lights like this before"…consider that the Sofirn SC21 (on turbo) is a tad brighter than others of this size, and it has TWO interfaces!
It seems to hold on to turbo nicely when activated…before a drop closer to high mode. Runtime on lower modes is very acceptable, and the battery voltage indicator reacts as it should as well.
Most people might not consider flashing modes a big deal…or even think of them as being all that useful. That's easy to say until the day when you might actually NEED to use them! What's unique (on a light this tiny) is that is has three! Adding "beacon" to the mix is something not seen too often.
Pick It Up
Putting a Sofirn SC21 into your pocket or gear bag is as easy as clicking here for Amazon Prime! And when you do, let me know how you like it.
Please follow Lightsngear and like us: