For those who are into flashlights that feature a hefty girth, the Sofirn Q8 Pro is probably right up your alley!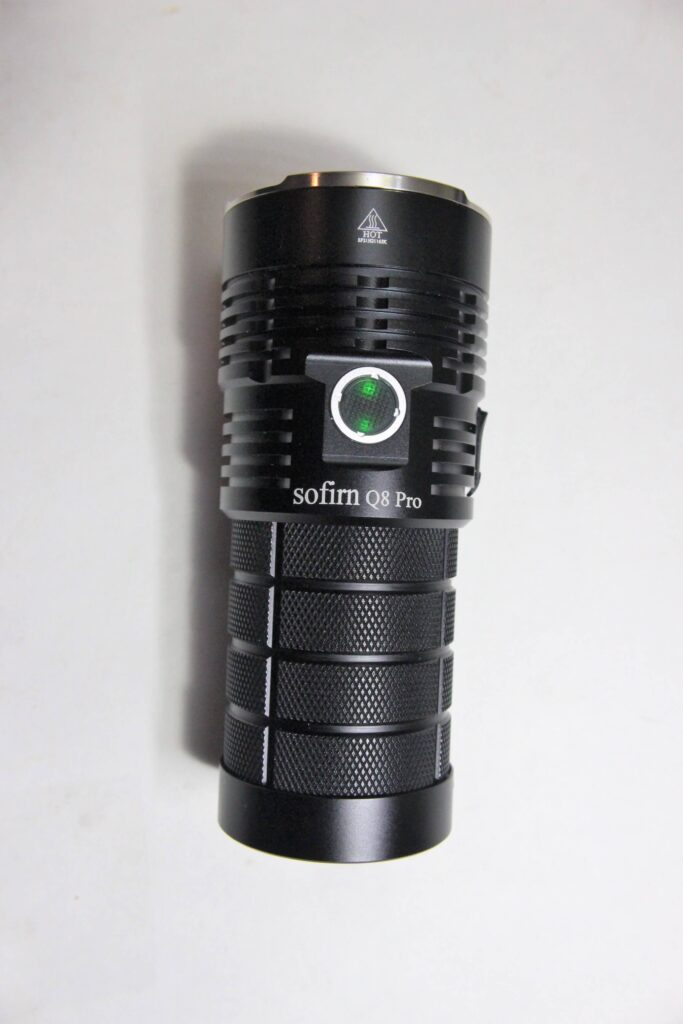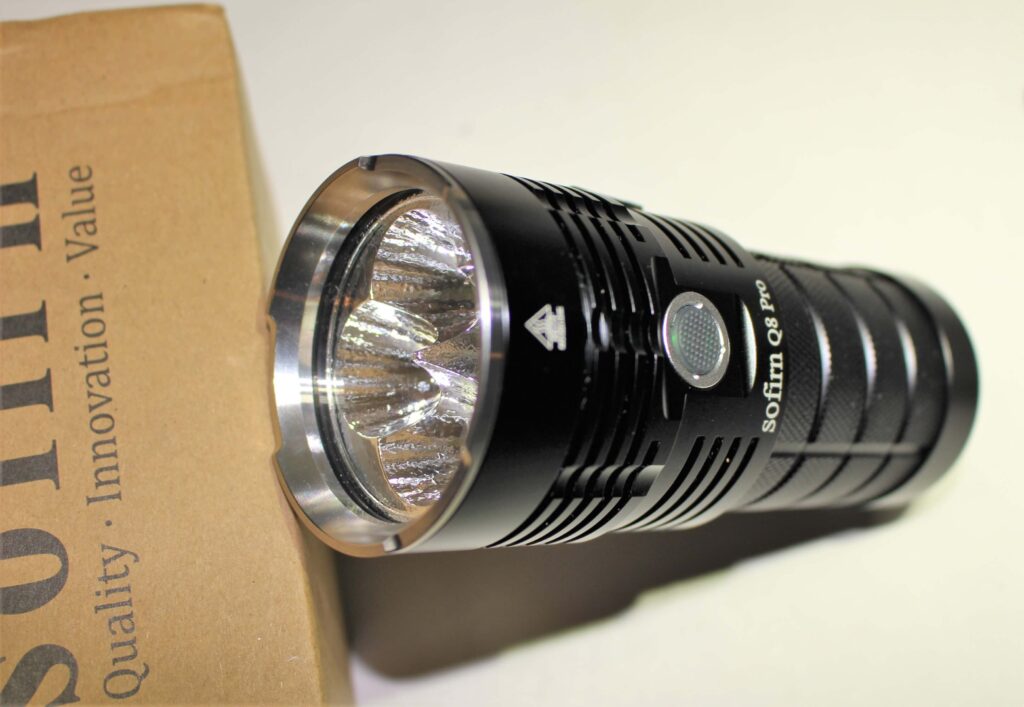 For a similar reference point, take a look at my review of the BLF Q8, for which THIS Q8 is based on.
The Little, (Big Q8) Box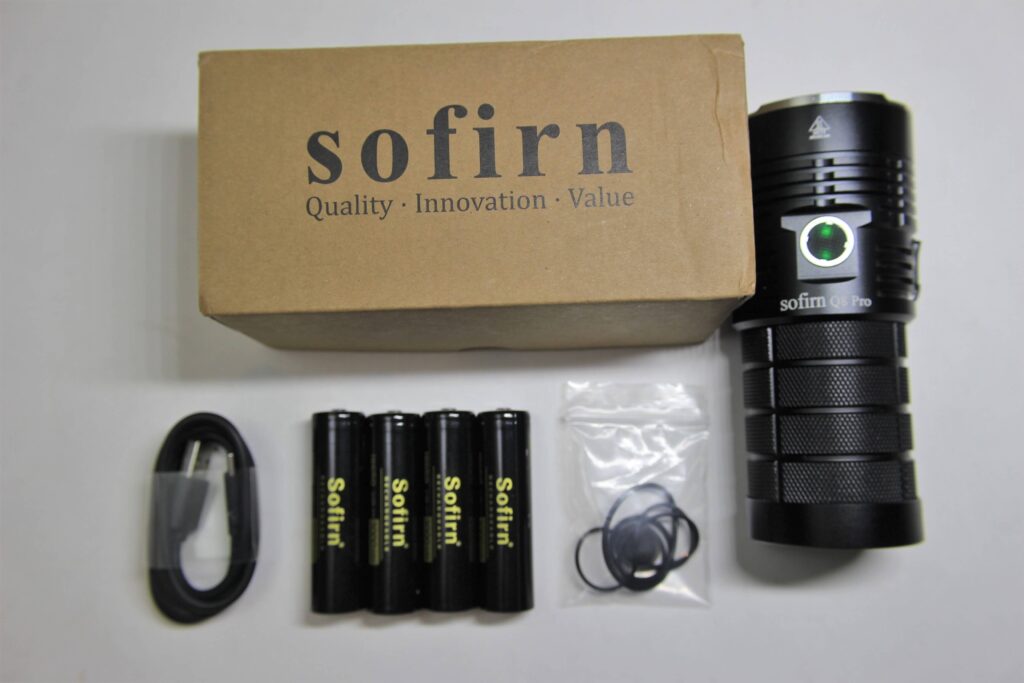 My kit included a user manual, USB-C charging cable, some spare o-rings, a spare switch cover, and four 18650 Lithium batteries.
There are actually three different kits available. Each one adds another accessory. The third one (which they call the 2nd – because the basic one isn't noted as a "kit") adds a diffuser and a holster.
Specifications
Features
USB-C charging (power bank to charge phone)
Smart Indicator to alert for battery voltage & charging status
Two operating interfaces
Two ways to operate WITHIN the interface; stepping & ramping**
Two sets of special modes; "blinkies" and "strobes"
User can change defaults to their own preferences
The "number" of steps can be configured to be anywhere from 1 to 150!
Okay, Here We Go! 
The Sofirn Q8 Pro is (I believe) so named due to the "new" Firmware which replaces Anudril with Anduril 2.
For a quick visual of the operating procedure, click this link.
Sofirn had previously released the Q8, which was modeled after BLF's Q8. In this case, Anduril 2 features subtle changes to the interface, resulting in a few conveniences not seen on the first version.
With the Q8 Pro, you get the same "bells & whistles" found on the previous version, and on other branded lights which also featured the firmware.
Four 18650's power the Q8, and it's recommended to use high-drain cells.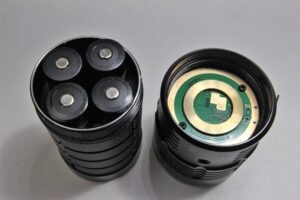 The switch has a multi-colored display and is green when all is good. It sporadically displays "orange" (along with the green) during various button presses….and I haven't seen any documentation to explain why.
Sofirn Q8 Pro Basics
Chances are, you don't buy a flashlight like this with the intent of only turning it on and off. You want flexibility and user involvement. But even with everything that the Sofirn Q8 Pro DOES, it has a basic interface as a default.
I should add, that… again… by default, it is set to the "easy interface" when first turned on. The alternative is Advanced UI.
Press the big green button for instant bright, white light. Because it's set (by default) to stepping mode, a holding press will cause it to advance. I forget, but it's either set to five or seven levels out of the box. Want to change it to ramping? No problem…just have it "on" and click three times. Now, when you press and hold, it'll ramp the output instead of stepping. Click to turn it off.
Here are some other basic functions available within the "simple" UI;
Momentary "high"
Highest "safe" level
Lockout Mode**
Battery Check Mode
Change to Advanced UI
From Lockout (within the simple UI);
Momentary Moon
Momentary Low
Unlock & activate
Unlock & activate on low
Unlock & activate on high
Other Modes 
For those who like to have fun with their flashlights…or just LOVE bells & whistles, the next section is for you.
The Q8 Pro comes with the following "blinky" modes;
Battery Check
Temperature Check
Beacon Mode
SOS mode (when enabled)
Next, are the strobe modes;
Candle
Bike Flasher
Party
Tactical
Lightning Storm
Blinky modes are available by clicking three times when the light is OFF from either UI. A double-click goes to the next one in the sequence.
On the other hand, the strobe modes are ONLY available in the advanced UI. To access them, click three times from OFF, but HOLD the third click. Accessing each of them is the same as with the blinkies.
I have described these modes in greater detail in some previous reviews. To read descriptions for each of them, you can either check out my review of the Sofirn SC31 Pro, or click this link, which takes you to a VERY detailed overview of the firmware.
Switching the Interface
From the "Simple UI" (while OFF) – CLICK TEN TIMES and HOLD the TENTH click
From the "Advanced UI" (while OFF) – CLICK TEN TIMES
To configure the Simple UI
Click ten times (holding the tenth click)
Sunset Timer
This is an auto shut-off mode, and might be useful to engage at bedtime. It works either a feature on its own, or as part of "candle mode". For Anduril 2, the timing has been changed and made more user friendly. Each increment of the timer is FIVE MINUTES.
To activate it, the light needs to be turned ON, and set to ramping. The output can be at any level you want.
At this point, click five times, but hold the fifth click. In the matter of a second or two, it will blink ONCE PER SECOND. EACH blink adds FIVE more minutes to the timer, so if you don't need it on for more than ten minutes, don't allow it to blink more than once.
While the timer is active the output will dim SLOWLY, then shut off when it reaches 00:00.
If it's activated in candle mode, it doesn't dim until it's down to the final sixty seconds of the timer.
The brightness can actually be adjusted while the time is active.
Lockout Mode
Click four times from OFF (or four times while ON in ramping) and general activation will be locked. What you WILL get while locked, is momentary 'moonlight', and if you click twice (and HOLD the second click) you should get slightly brighter light.
To exit lockout, click four times again.
For Protection
Low Voltage Protection will kick in, resulting in lower output, should the light detect that battery voltage has dropped below 3.0
Sofirn Q8 Pro Wow Factor
The Q8 The Sofirn Q8 Pro Doesn't Disappoint
What can I say? The Sofirn Q8 Pro is a "granddaddy" flashlight – and definitely NOT the kind your granddaddy would've owned!
11,000 lumens isn't anything to sneeze at, and although the high output comes at the price of size and weight, it still can't be beat.
When looking at the Q8 Pro as a whole, you have to give credit to the Anudril 2 firmware. A few tweaks were made for this revision, so there are some subtle differences. The largest change I'm aware of is what they did with the Sunset Timer.
I might've said this before, but it bears repeating. For the most part, EVERY setting on the Q8 can be changed to suit the user. The "toykeeper" link under the specs heading, can be printed to fill SEVEN double-sided pages of instructions! Naturally, you can do as much or as little with any of it.
Make no mistake, the Sofirn Q8 Pro is not your average flashlight, and probably shouldn't even fall into the hands of the "average" user!
My Recommendation
To rock your world with light, visit the Sofirn page on Amazon, and "click to buy" the Q8 Pro!
Please follow Lightsngear and like us: