Today's review is on the Thrunite BSS W1. This is a mini EDC flashlight with USB recharging capabilities, a magnetic base, and five levels of output.
So let's do this!
Little Box of Goodies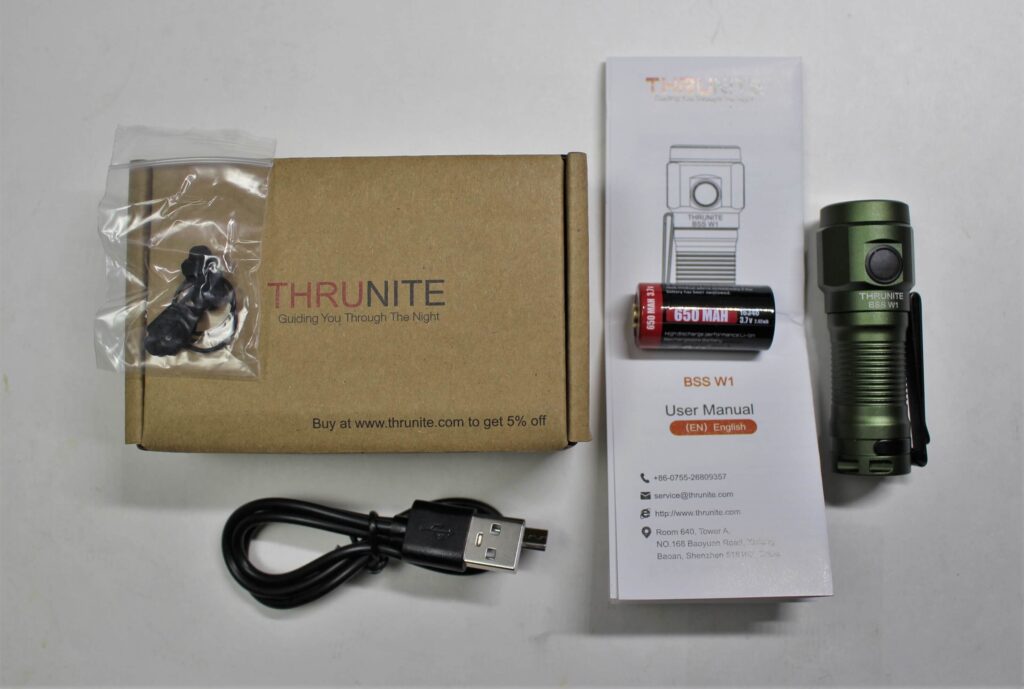 The W1 package includes a user manual, a micro USB charging cable, a tiny packet of replacement o-rings and USB covers, a pocket clip, and a 16340 lithium battery.
Specifications 
LED; SST20
Beam Distance; 166 meters
Reflector; Orange Peel
Body; T6061 Aluminum w/Type III Hard Anodized finish
Length; 2.6″
Weight; (w/battery) 1.86 oz
Impact Resistant; 1.5 meters
Waterproof; IPX-8 (2 meters underwater)
Features
Mode Memory
USB rechargeable
5 lighting modes plus strobe
Magnetic Base
Illuminated Power Switch
Modes and Output
The five constant lighting modes are;
Firefly; 0.5 lumens
Low; 7.5 lumens
Medium; 58 lumens
High; 215 lumens
Turbo; 693 lumens~230 lumens
Strobe; 168 lumens
Easy Thrunite BSS W1 Operation
The W1 has a very basic user interface.
Click the switch once to turn it on, and again to turn it off. Pressing and holding while it's on will cycle from low to high.
Firefly is hidden and requires a holding press while it's OFF, to activate it. One click from firefly turns it off.
Turbo needs a double-click, which works whether it's ON or OFF.
Strobe needs a triple-click…from ON or OFF.
Illuminated Switch
When switched on, illumination within the right side of the button will be blue (as long as the voltage is high enough). It'll be red (or flashing red) if and when voltage drops significantly.
Similarly, when the USB cable is connected, the button will show red during charging, and turn blue when completed.
Your W1 Beam Shots
Let's Sum It Up
First off, there are dozens of tiny EDC flashlights out there. So, the sizing of the Thrunite BSS W1 isn't enough for it to stand out. Having said that though, the size makes it very convenient.
What about features?
Pretty good.
It's USB rechargeable. It has a magnetic base. It has an illuminated power switch. Those three combined elements help to set the W1 apart from some of its competitors.
Another convenience is the inclusion of a 16340 rechargeable battery. No…the don't last terribly long, but when using the light on medium, you'll get fairly good runtime, and the battery doesn't take long to charge. And speaking of charging, the W1 internally pumps 500mA into the battery…which is both fast, and safe for a 16340.
Recommendation
So if the Thrunite BSS W1 is worthy enough for YOU, follow my special link to Amazon Prime and make it your own!
Please follow Lightsngear and like us: