No preamble this time around. Let's just get down to business and talk about the Thrunite BSS V4.
There are a couple of versions of this light available. THIS REVIEW is for a more "basic" version. The other option includes mounts for a weapon.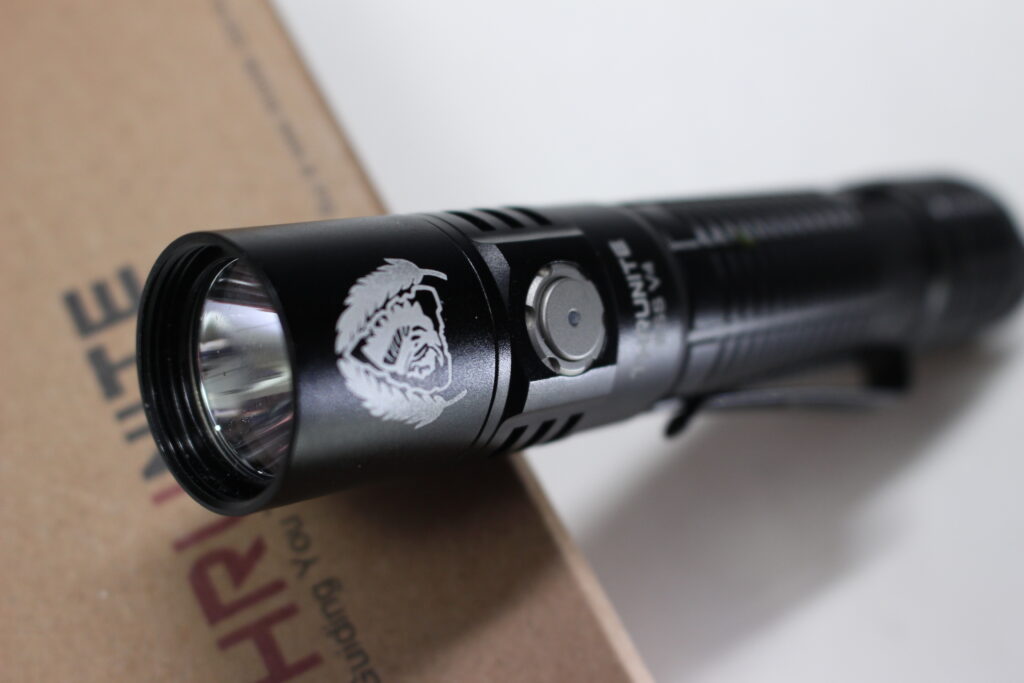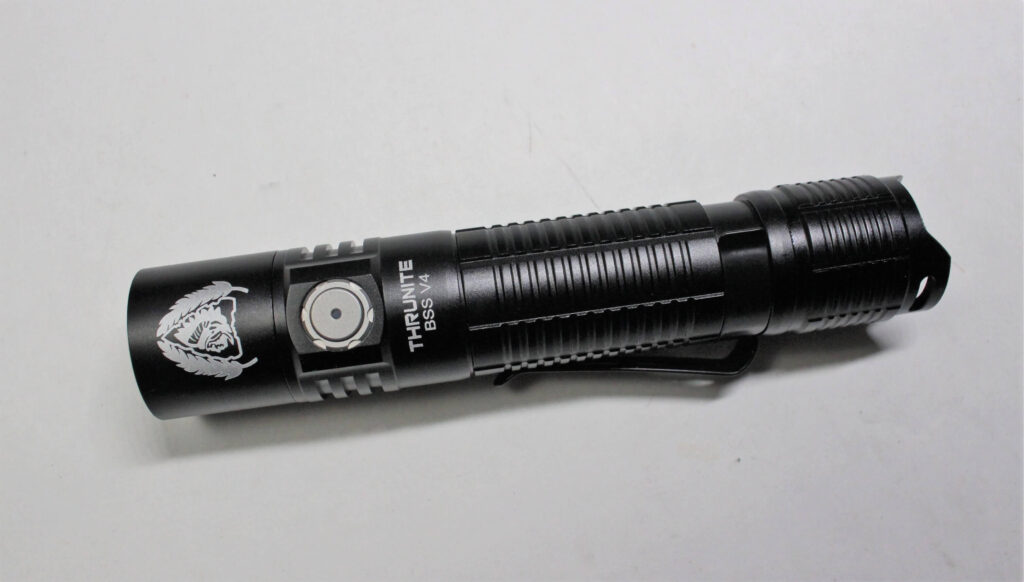 Top-Notch Accessories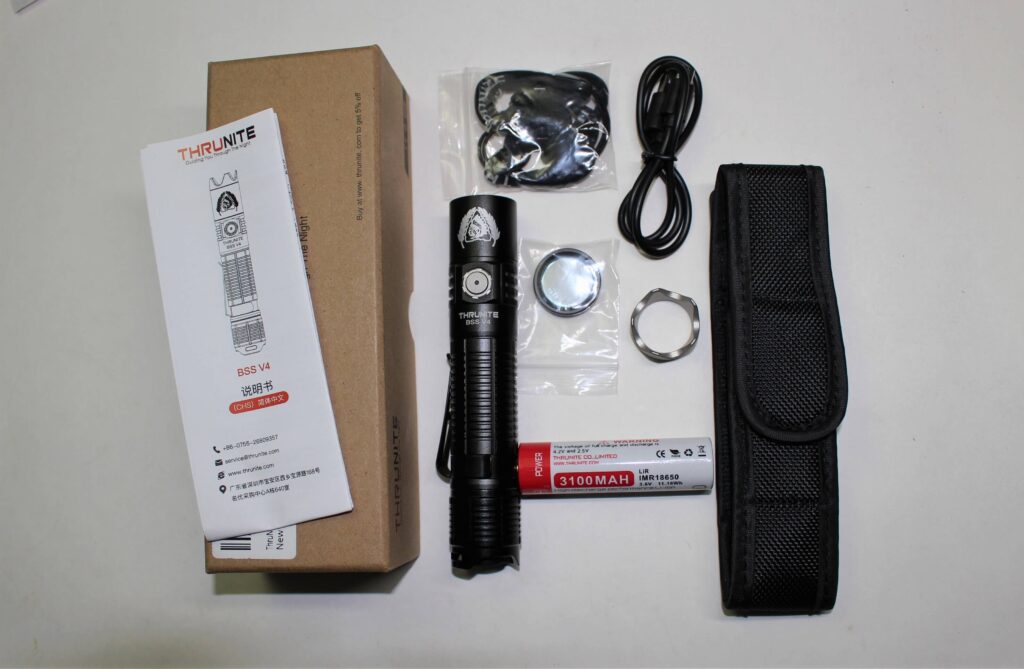 The BSS V4's accessories offer several conveniences.
Among the offerings, a user manual, a packet containing a spare switch cover, a lanyard and o-rings. There's also a USB charging cable, a pocket clip, a strike bezel attachment, a RED lens filter, and the inclusion of a Thrunite 3100 mAh 18650 lithium battery 😀
Specifications
Length; 5'2″
Weight (w/battery); 4.93 oz
Battery; 1 – 18650 (included) or, 2 of either 16340, or CR123 (disposable)
LED; Luminus SST70
Smooth Reflector
Beam Distance; 250 meters
Impact Resistant; 1.5 meters
Waterproof – IPX-8 (2 meters under water)
Body; hard anodized alum alloy w/anti abrasive coating
Features
Five operating modes, plus strobe
Electronic Lockout
Mode Memory
Voltage Regulation
Voltage Indicator
USB Rechargeable
Tactical Operation
Tail-stand Capability
Modes and Output 
Five constant lighting modes;
Firefly; 0.54 lumens (56 days)
Low; 33 lumens (50+ hours)
Medium; 350 lumens (4.5 hours)
High; 1426~634 lumens (2+ mins~150 mins)
Turbo; 2523 lumens~614 lumens (2+ mins~147 mins)
Plus strobe;
Standard Operating Procedure
Turbo
On the Thrunite BSS V4, you'll see a rear clicky switch, and a standard side switch.
Instant (on demand) turbo can be yours via a variety of ways, and not ALL of them are noted in the manual!
From the tactical rear switch, you can press and release, or do a firm click for constant operation. It doesn't say so in the manual, but turbo is also achieved from a DOUBLE-CLICK of the side switch, whether it's OFF or already ON. I came to this conclusion by using a Lux Meter app. Performing short bursts of maximum output, will result in the head becoming very hot, very fast. The head is actually cooler if high or turbo are activated, then left on.
After an initial two+ minutes on either mode, it begins a gradual stepdown. This aids in the overall temperature.
Regular Modes
For the everyday modes you'll use the side switch. A single click is all you need for constant light. As with most other lights, press and hold to advance the sequence from low to high.
Firefly is only available through a holding press from OFF. Turbo has already been discussed in detail.
For strobe; CLICK THREE TIMES – regardless of whether it's OFF or ON.
Turning it Off
This should be no surprise. Click either the side, or tail switch (depending on how it was turned on).
Voltage Indicator
It's not mentioned in the manual, but the little indicator beneath the switch will keep an eye on battery voltage for you.
When switched on, it will normally be blue, and remain on until you turn off the light. It'll go RED when voltage nears to 3.0  If you ignore it, the solid RED will eventually flash. A complete shutdown will follow if you're blind to the warning.
Lock it Out! (a two-step process)
To prevent the Thrunite BSS V4 from turning on unintentionally, press and hold the switch from OFF to activate "firefly". Then release, and press and hold AGAIN. It will turn off, and be LOCKED…so further clicks will have no effect. Even the tail switch won't work!
To UN-lock, activate "firefly" a second time, followed by a single click.
Charging the Thrunite BSS V4 Internally
When a charge is imminent, you can either remove the battery and place it in an external charger, or leave it and connect a USB cable to the port on the light.
You may already have guessed that once connected, the indicator will be RED and turn BLUE when the charge is finished.
The Big Beam Pics
Thrunite BSS V4 — In A Nutshell
To summarize, I would say the Thrunite BSS V4 is a worthwhile light for users who have specific needs in a flashlight.
Take the red filtering lens and the strike bezel for example. These are unique accessories that if someone went searching for, would have a very hard time finding.
The red filter can be useful for someone involved in photography, and tactical maneuvers.
The strike attachment has a VERY deliberate use! And exercising caution is definitely needed if your choice is to leave it attached to the head 24/7. What would bother ME to that end, is the "flowery" beam pattern the light has at close range, with it in place. The longer the distance, the less noticeable it is.
Wrapping your hand around the light provides a secure feeling. For someone with smallish hands, its length extends from the tip of the middle finger almost to the end of the palm. It has very aggressive knurling and won't slip in wet hands.
The only really strange thing about the BSS V4 is how the manual makes no mention of the voltage readout, or even how to access strobe!
Your Big Decision
With a few clicks, the Thrunite BSS V4 can be yours via Amazon Prime! For your reference, HERE is a look at the "rail mounted" version, which also includes a pressure switch.
Let me know which one you choose!
Please follow Lightsngear and like us: