Quite some time ago, I reviewed the SP10A from Sofirn. As cool as this small AA flashlight was, it's now had a much anticipated update! So with that, I'm reviewing the new Sofirn SP10V3.
Behold the Well-Endowed Package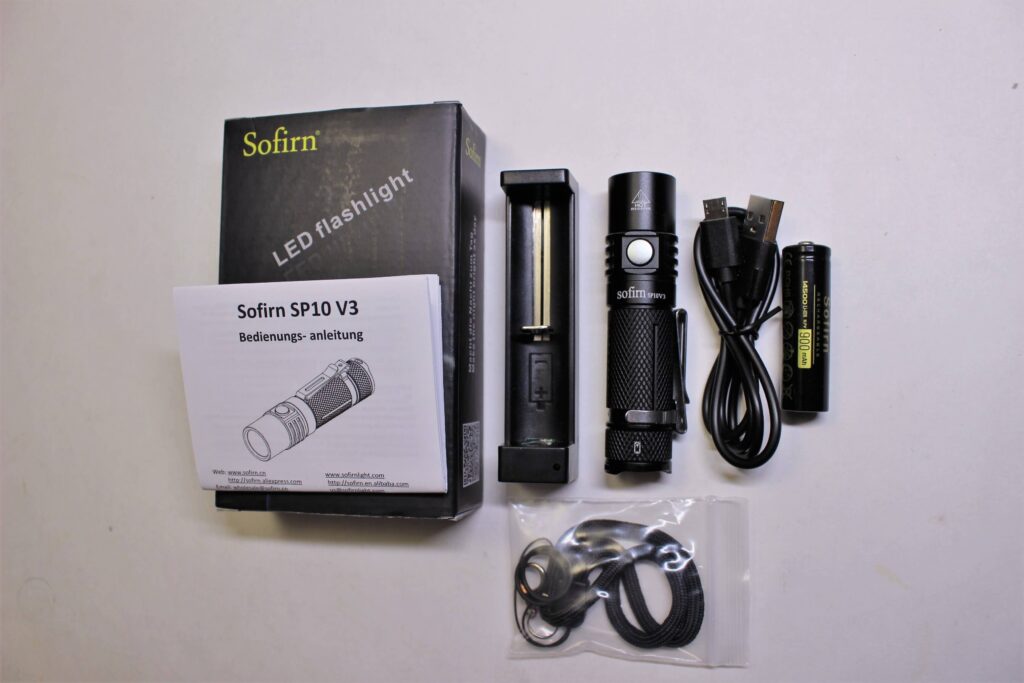 Within its non-descript box is a small USB charger, a standard USB charging cable, a 14500 rechargeable lithium battery, a user manual, and an accessory packet containing a lanyard, and some spare o-rings.
Specifications
Length; 3.4″
Weight (w/battery); 2.14 oz
LED; Samsung LH351D
Orange Peel Reflector
Beam Distance; 121 meters on turbo
Impact Resistant; 1 meter
Waterproof; IPX-8 — to 2 meters under water
Battery Acceptance; 1 – 14500 lithium (3.7 volts) (included) or, 1 – alkaline AA (1.5 volts), or, 1 – NiMH rechargeable (1.2 volts)
Body; Aerospace grade aluminum alloy – hard anodized TypeIII finish
Lens; anti scratch (toughened) mineral glass
Features
5 constant lighting modes, plus 3 emergency modes
Mode Memory
Auto stepdown from Turbo to High to prevent overheating
Circuit Protection
Electronic Lock-Out
Modes, Output & Runtime
These will vary depending on the chosen battery. See below.
Moonlight; 1 lumen (90 hours)
AA/NiMH – 1
Low; 10 lumens (26 hours)
AA/NiMH – 10
Medium; 100 lumens (3.5 hours)
AA/NiMH – 50
High; 350 lumens (1.1 hours)
AA/NiMH – 120
Turbo; 1000 lumens ~ *350 (undetermined)
AA/NiMH – 300
Strobe 1000 – SOS 1000 – Beacon 1000
AA/NiMH – 300 – 50 – 300
* automatic stepdown
Operating the Sofirn SP10V3
The battery is inserted positive side up.
Press the switch and away you go! A holding press advances the modes from low to high. As with other lights of this type, moonlight, turbo and strobe etc, are hidden.
For moonlight; press and hold from OFF
For turbo; do a double-press while ON or OFF
For strobe; do a triple-press when ON or OFF
For SOS & beacon, activate strobe, then press & hold for about 5 seconds (SOS is first; for beacon, press & hold a second time)
A single press from the constant modes turns it off. A single press from any of the flashing modes returns it to where it was when they were activated. If you did a triple-press from OFF, it'll turn off. If the press was from a constant mode, it'll return to THAT mode.
Charging the Battery
Sofirn supplies a simple, USB connected charger.
Just connect it to the source of your choice, and place the battery in the cradle. As long as the battery has had some use, the tiny indicator on the charger will be bright RED. If it's GREEN after the battery is inserted, wiggle it a bit. The connection tends to be a bit finicky. It'll turn GREEN when the charge is finished.
The charger works the same way with an NiMH cell.
Low Voltage Warning
There are no illuminating indicators on the SP10 (such as a light under the switch). What you'll get instead is the inability to operate the light on turbo. Instead you'll have "high". As voltage drops further, high mode will be replaced with medium/low.
On very low voltage, it'll blink twice per minute.
Keep in mind the above indications are only when using rechargeable batteries.
A Few Beam Pics
Random Sofirn SP10V3 Thoughts
Just like the recent Sofirn SC21, this new version of the SP10 has a lot of potential.
I suppose it's just an example of advancing technology, but it's nice to see a AA light that embraces a lithium battery right out of the box! Most manufacturers of AA lights, "kowtow" to the "basic" flashlight user who buys alkaline batteries at the last minute wherever they can. Leaving them IN the light (without use) over long periods, allowing the battery TO LEAK, is another common practice.
With Sofirn supplying a 14500 lithium battery with the SP10V3, there's no reason for anything related to the above statement, to ever occur. Naturally you CAN use it with a standard battery, but unless you're in a "charging pickle" I can't imagine why you (or anyone) would.
They chose not to make the light USB rechargeable, but to include a basic "1 bay charger" instead. This is okay and the charger is pretty fool-proof. But as I said earlier, its connection is finicky and the battery might need to be jiggled when first inserted.
Despite not having an actual indicator for low voltage, it's a great little light.
Recommendation
Click here for the link to get a Sofirn SP10V3 from Amazon Prime!
Please follow Lightsngear and like us: