Today I'm reviewing the Acebeam E75. Stick around for this one….because I think you'll like it!
Before I begin, I just want to say a few words about Acebeam. I've done a few reviews of their lights before, and they're fast becoming a major player in the industry. Since 2014 they've been producing high-power portable lighting products and have earned their place next to the top dogs of flashlight innovation.
Focussing on the E75, you should know it comes in a couple of different options.
The E75 is available in 2 LED variations.
The light featured in this review, has 3 NEUTRAL WHITE LEDs. You can also choose a COOL WHITE version. 
The version I have here has a max output of 3000 lumens. The maximum output of the COOL WHITE version is 4500 lumens. 
The light I have here is black. It's also available in grey, teal, or green.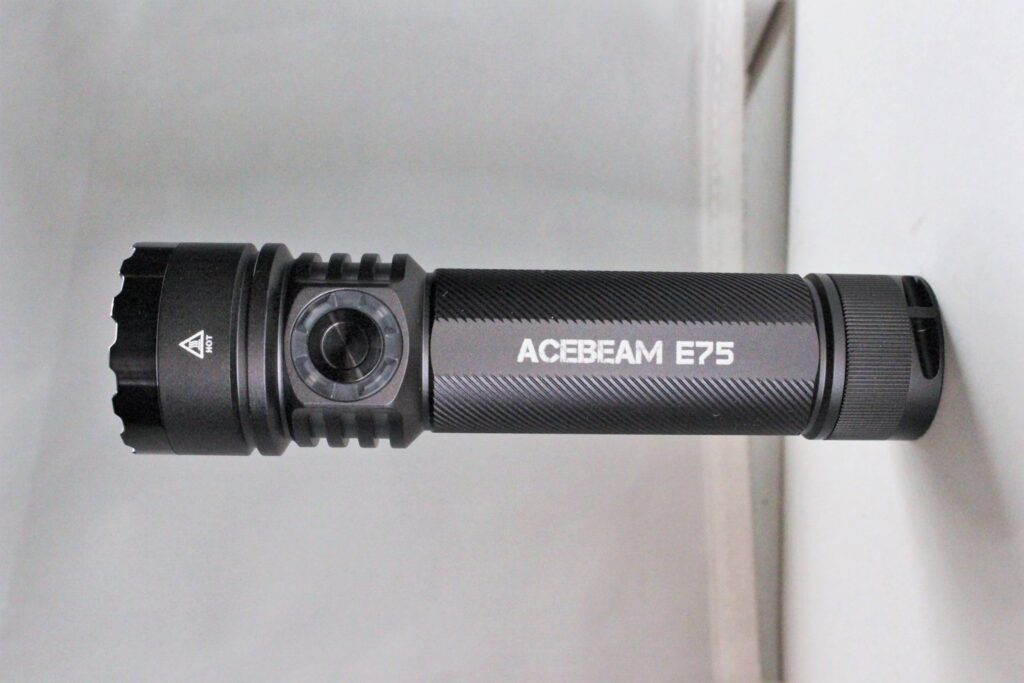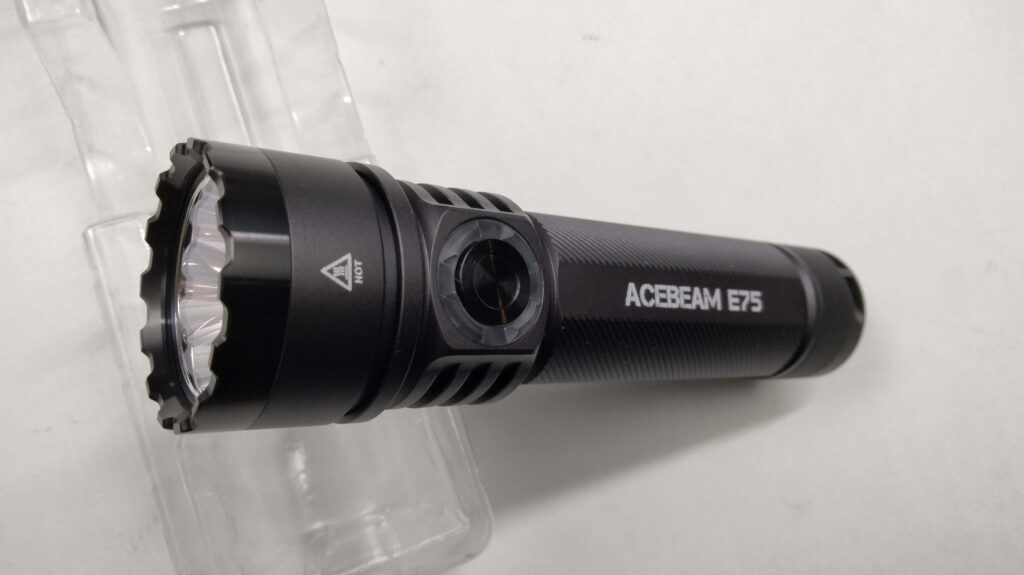 The Whole Package
Because the E75 is a medium-size flashlight, it comes packaged in a medium-size box!
To keep it company are the standard accessories.
A lanyard
A USB-C charging cable
A 21700 rechargeable lithium battery
A user manual
A spare USB-port cover
Spare O-rings
Specifications
Length/Height; 5.1″
Head width; 1.3″
Weight (w/battery); 7.64 oz
LED; 4x (high) CRI90 519A
Impact resistant; 1.5 meters
Waterproof; IP68 (submersible to 2 meters)
Powered by 1 – 21700 lithium battery
Features
Mode memory
Electronic (power) side switch w/batt voltage warning & charging indicator
6 constant lighting modes, plus strobe
Tempered glass – AR coated scratch resistant lens
Premium HA III – hard anodized, anti abrasive body
Magnetic tailcap
Sturdy two-way body clip
Highly efficient constant current circuit for unwavering output
Modes and Output
6 main levels of output to satisfy any lighting requirement.
Moonlight; 1 lumen – 26 days
Low; 30 lumens – 2 days
Medium1 – 150 lumens – 16 hrs
Medium2 – 450 lumens – 4 hrs 40 mins
High – 1000 lumens~150 lumens – 105 mins~1 hr
Turbo – 3000 lumens~1000 lumens~150 lumens – 1 min~100 mins~1 hr
Acebeam E75 Operation
Operation of the Acebeam E75 via the side-switch is not unlike most other lights that utilize a similar switch.
Giving it a short press will activate it, and another short press will turn it off.
Press and hold to advance the modes.
Moonlight is hidden.
To activate it, press and hold while it's off.
Turbo is hidden.
To activate it, click twice either while off or on.
Strobe is hidden.
Click 3 times, from off or on. A short click while activated will return to the previous mode.
Lock it Out
If need you need to lock the switch, press and hold while it's off. Keep holding for about 5 seconds. Moonlight will activate, then flash…indicating it's officially locked.
Repeat the process to return it to active operation.
Magnetic Base
As the headline says….the base of the light is magnetic. A very STRONG magnetic field I might add! But it needs to be to support the size and weight of the flashlight.
Surprise!
You might be as surprised as I was to see what happens when you switch it on for the first time. Placed around the switch are FOUR LED indicators which come to life each time it's turned on, and when the USB charger is connected.
If the power is above 20%, they'll be green. When low, they'll be flashing red, which is also what happens while charging.
Acebeam E75 Beam Pics
Let's Sum it Up
So, from what you've seen here so far, you've summed up the features and are considering the Acebeam E75 as your next flashlight.
To me that's a wise move because this light has a lot to offer. And if you take into account the choices it comes in, as I outlined in the opening, then there's even MORE to offer.
Here though is what I would've suggested had I been part of the design phase.
When the light is activated, all 4 of the green LEDs remain lit constantly. I would've suggested they either dim after a minute, or they indicate battery voltage, where all 4 would only be lit if power was above 80%…OR, that they indicate which one of the 4 main modes it's currently on. But, I digress.
Pay close attention to the modes and susequent runtime. 3000 lumens is only supposed to be available for about 60 seconds before stepping down to 1000. This is typical for flashlights of this size.
Because of its width, the E75 is good in the hand. And once it's on you'll DEFINITELY have no problem locating the switch in the dark!
Don't forget, a 5000mAh 21700 battery comes with it, which can be charged inside the light.
I'm partial to warmer tints, so this neutral white was just right for me. As noted, the cool white version is 1,500 lumens brighter, which is nothing to sneeze at, but 3000 lumens, even if only for 1 minute at a time can get you through any kind of darkness.
Ready to Buy?
Great! Then CLICK HERE for Amazon Prime!
Please follow Lightsngear and like us: