Wuben has been playing around with different designs recently…usually to a positive reaction. Here's a good example! The Wuben X-0 provides a very bright wide-angled beam, in a angled design and a magnetic base. And it's the subject of today's review!
The X-0 box is short and fat, not unlike the flashlight itself – but not in a negative way.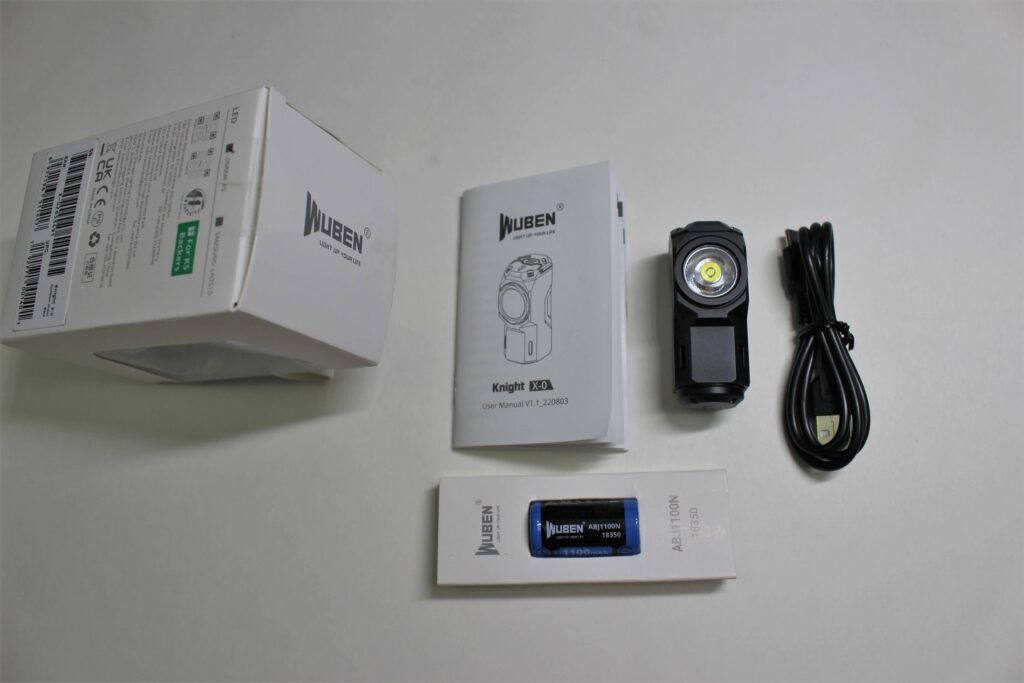 It's securely packaged and includes a manual, a USB-C charging cable, spare o-rings, and a 18350 lithium battery.
Specifications
Weight; 2.98oz
 Height; 2.3″
LED; Osram P9

Beam Distance; 125 meters
Impact Resistance; 1.5 meters
Waterproof; IP68 (submersible to 2 meters for 1 hour)
Features
Mode Memory
Electronic Lock-Out
Magnetic Base
USB Charging
Charging Indicator
Battery Voltage Indicator
Programmable Output
Fidget-friendly Flip-Cap!
Modes and Runtimes
With 5 lighting modes (and even a way to customize them) you'll always have the right light at the right time. The modes are pretty standard;
Moonlight; 1 lumen for 130 hrs
Low; 50 lumens for 40 hrs
Medium; 150 lumens for 15 hrs
High; 250 lumens for 2.5 hrs
and Turbo, at 1100 lumens* for 1 minute. Auto drops to 300 for 2 hrs
Strobe; 1000 lumens (900 w/Samsung)
SOS; 50 lumens
* keep in mind the X-0 comes in 2 different LED versions. In addition to this Osram LED, there's also one with a Samsung LH351D. It has all the same outputs, except for turbo, where it's 900 lumens.
The (Removable) Battery
The Wuben X-0 comes equipped with a 3.7v 18350 lithium battery. It's removable which I'll talk about later.
Any brand of 18350 will work, but don't try to use any other SIZE battery.
Very Cool Buttons
To give a glancing eye to the Wuben X-0, you might wonder where the power switch is. And while it might not be 100% intuitive…is IS 100% cool!
The entire top half of the light, is the switch. The light I have is black, so the switch is a cool metallic blue. To operate the light, press the switch, which has a light "spring-action" to it. The switch also flips up, and in this manner can be used as a "fidget" tool! Beneath the flat switch is the ACTUAL switch. It's just a tiny white button. Alternatively, you can use it to operate the light…but there's no good reason you'd want to.
Operating The Wuben X-0
So as I've already hinted at, tapping the switch does what you'd expect.
One click on, one click off.
Press and hold to cycle from moonlight to high.
For strobe, double-click while OFF. For SOS, double-click from strobe.
For turbo, double-click while ON.
For moonlight, either press and hold while OFF, or if it's already on, do a holding press and wait for it to cycle past "high".
Battery Power Indicator
Each time the X-0 is clicked on, the indicator will illuminate for 5 seconds.
If it's "full" illumination, (in blue) the battery power is greater than 90%.
Half illumination (blue) indicates 40-90%.
Full illumination in RED, indicates 15-40%.
Half in RED means less an 15%.
Electronic Lock Out
4 clicks while the light is OFF, will activate the lock out feature, so accidentally turning it on will never happen. To un-lock, click 4 more times.
Option for Mode Programming
Here's a cool feature — even if you never use it.
So, the modes are well-spaced, as you would expect. But, some people like to tinker with defaults and make things more customizable. Here then (for example) is an option to make moonlight brighter than 1 lumen! And it's the same process for each of the modes.
Here's the option.
Moonlight is 1 lumen. But, you can set it, so it comes on anywhere between 1, and 15 lumens. While that might not seem like a big stretch, it makes a difference.
Low is 50 lumens by default. But you can adjust it to be anywhere between 15 and 50 lumens! Now THAT is a bigger difference. You get the idea?
Medium can be between 50 and 150.
High, anywhere between 150 and 300.
There's no option to adjust turbo.
How to Program the Modes
Turn the light on, and get to the mode you want to adjust.
DOUBLE-CLICK the switch, and HOLD IT on the SECOND click.
Keep a close eye on the output. As you continue holding the switch down, it will ramp (either up or down) to the next set level. It'll blink when it reaches the maximum high or low level, then ramp in the opposite direction and do the same thing. Naturally the idea is to release the hold at your desired level. It's then LOCKED in that setting until you change it. If you don't change it, that's where it'll remain whenever you land on that mode.
Factory Reset
If you change the modes then want to return them to the factory setting, it seems simple enough to me to adjust them back, the same way you changed them in the first place. However, the X-0 manual seems to have a different method.
Start by locking the light. Click the switch 4 times to engage lock out. Now with it locked, click the switch once — wait 0.5 sec — then click TWICE — wait 0.5 sec — then click 3 times! At this point the light should come on in low mode. This indicates it's been reset, and the modes you previously adjusted should be back to their original output level.
Charging the Battery
No surprises here. The X-0 comes with a USB-C cable.
Hidden beneath the switch flap, is the USB port.
Attach it to a corresponding charging port, and the little indicator will light up in RED. When the charge is complete, it'll change to BLUE.
You can also REMOVE the battery and charge it in an external charger.
Removing the Battery
The base of the Wuben X-0 has 4 notches. To loosen it and remove the battery, you need to have a two-ended tool to insert into 2 of the notches at once and turn counter-clockwise. I'm not a fancy tool guy, and used a pair of tweezers to open the base 🙂 The negative end of the battery is magnetized into the cap/base.
Beam Gallery
The Bottom Line
First, let me clarify something. 
The X-O flashlight is available in a couple of different naming variations. As you can see on THIS version, it has "Knight" printed on it. But in my purchase link the version that comes up, says "Lightok". And there are several colors to choose from! 
You've probably already said to yourself (or the flashaholic in your pocket) this is a cool light!! Yes, I would agree. 
The Wuben X-0 has many of the same features as most other comparable lights. Although with the added variable output setting, it gives it that something extra. 
Having the magnetic base is another plus!
The only gripe I might have is that the pocket clip is the tightest little bugger I've ever seen on a light! It sure as hell won't let go once you have it secured, but it's so stiff that getting it attached in the first place might take a bit of work. 
Click Here; Buy Now!
The time has come!! 
The opportunity to put a Wuben X-0 in your pocket or bug out bag has arrived. 
CLICK HERE to get one from wubenlight.com directly!
Please also be sure to copy & paste my EXCLUSIVE discount code to save at least 10% – "L&G" 
Please follow Lightsngear and like us: