A short while ago, I wrote a review for the On the Road M3, a tiny flashlight with lots of portable power. Now, its older brother has taken the spotlight. So here is my review of the On the Road M6… a larger flashlight with higher output and the same level of portability.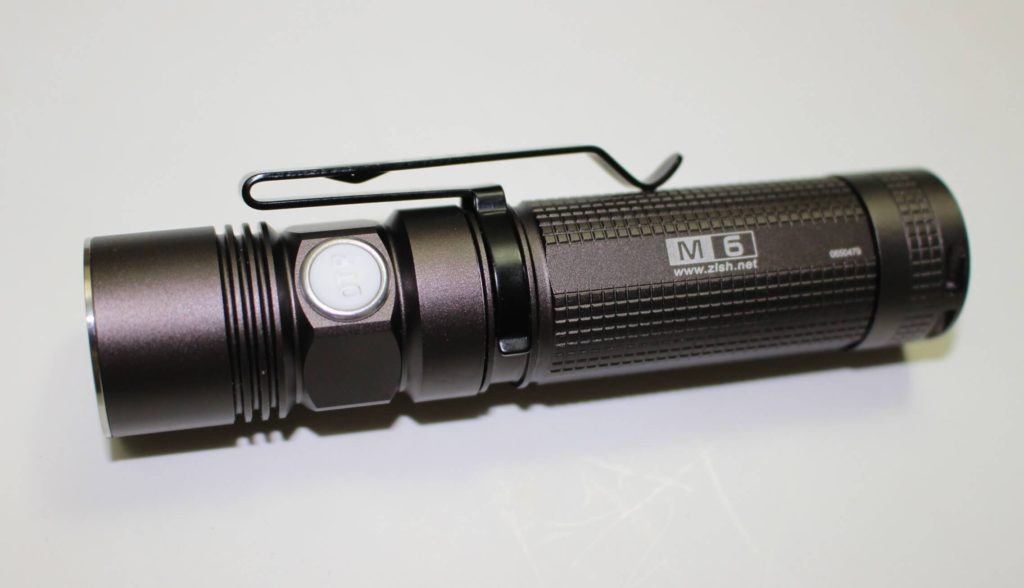 A Package to be Proud Of 
Just like its smaller sibling, the M6 comes in a nice brown box with neatly portioned compartments and some fine accessories.
They consist of a soft carrying pouch for the light. An adjustable lanyard. A spare o-ring. An 2600mAh 18650 battery. An *instruction manual. And finally, a battery CHARGER with AC cord.
Everything is here for which you'd need to operate this light! And, it's not a cheap accessory package like you get with those $20 no-name flashlights.
There are actually a couple of different packages available. There's a "simple pack" and a "full pack". What I have here, is the "full".
*The only possible issue here is that the manual (I received) is written in Chinese. 
On the Road M6 Stats
First of all, the M6 comes in a couple of different LED versions. There's a cool white, and there's what I have here… a neutral-white version with a lower color temperature.
Basically here's what you need to know;
Size; 4.2″
Weight; 94.6 grams including a battery
Made from aerospace aluminum alloy
Impact resistant to 2 meters
Waterproof (IPX-8) to 2 meters
Beam distance 160 meters
LED; XM-L2 U2
A toughened ultra-clear glass lens w/anti reflective coating
A constant-current driver to regulate output, and mode memory
The tail cap is magnetic, so the light will affix to all metal surfaces
Battery Requirements and Output
The working voltage doesn't appear to go much beyond 3.7 volts, so I wouldn't trust anything more powerful than a 18650 lithium rechargeable battery, to use as its main power source.
For modes, their are five… not including the three emergency modes.
Ultra-low; 10 lumens
Low; 100 lumens
Medium; 380 lumens
High; 760 lumens
Turbo; 1000 lumens
plus; Strobe, SOS & Location Beacon
Standard Operating Procedure
The little side switch handles all operations. Press and HOLD it to turn the light on. Each subsequent press will advance the modes. They go in order of lowest to highest. In this order, high will be the highest… 760 lumens. In order to reach Turbo (at 1000 lumens) you need to DOUBLE-CLICK. The difference between high and turbo (in brightness) is VERY slight. If you're not pointing it at a white wall and paying attention, you won't notice any difference at all. To turn the light off, press and hold once again.
M6 memory feature will always remember the last mode used.
Turbo can actually be activated from ANY mode by double-clicking.
The emergency modes, strobe, SOS and location beacon, can be accessed either when the light is off, or on. To get to them, TRIPLE-click the switch. Once in strobe, a single click advances to the next one. A holding press is required to turn the light off.
The switch also acts as a battery voltage indicator and will blink red when the battery gets extremely low.
Check Out the Beam
In My Humble Opinion
OTR's previous M3 is a great little flashlight. The larger On the Road M6, which again models itself after a similar Olight flashlight is great for the price! Its sleek styling allows for easy pocket carry, and the added accessories make that possible in several different ways.
On this (reviewed) version the tint is a very warm neutral-white which many users will find very appealing. This is also the "full" version which includes the battery and charger. The provided link also links to the simpler version without the added extras. The included charger is simple, but effective. It uses a current of around 6A (600mA)… which isn't too bad, but at the same time will take 6-8 hours to charge a depleted 18650 battery.
GearBest supplied the M6 for review purposes. They'd love it if you visited their site and picked one up for yourself or someone else. Honestly, for someone who doesn't own a good LED flashlight, this WOULD be a wonderful gift and the "full" version comes equipped with everything!
Please follow Lightsngear and like us: