The On the Road M3 with a CREE XM-L2 U2 LED is one nifty little flashlight!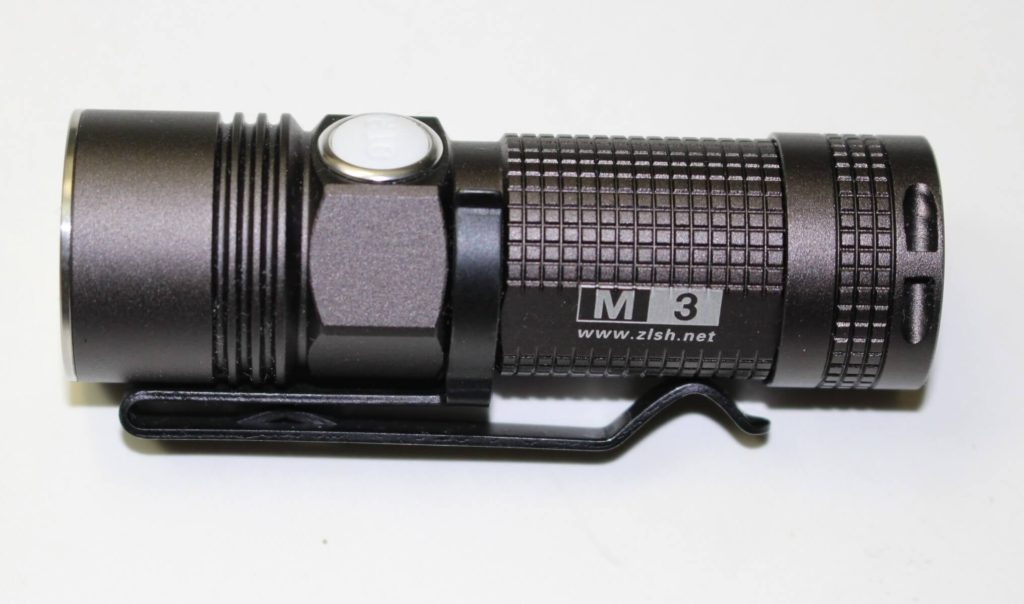 Impressive Accessories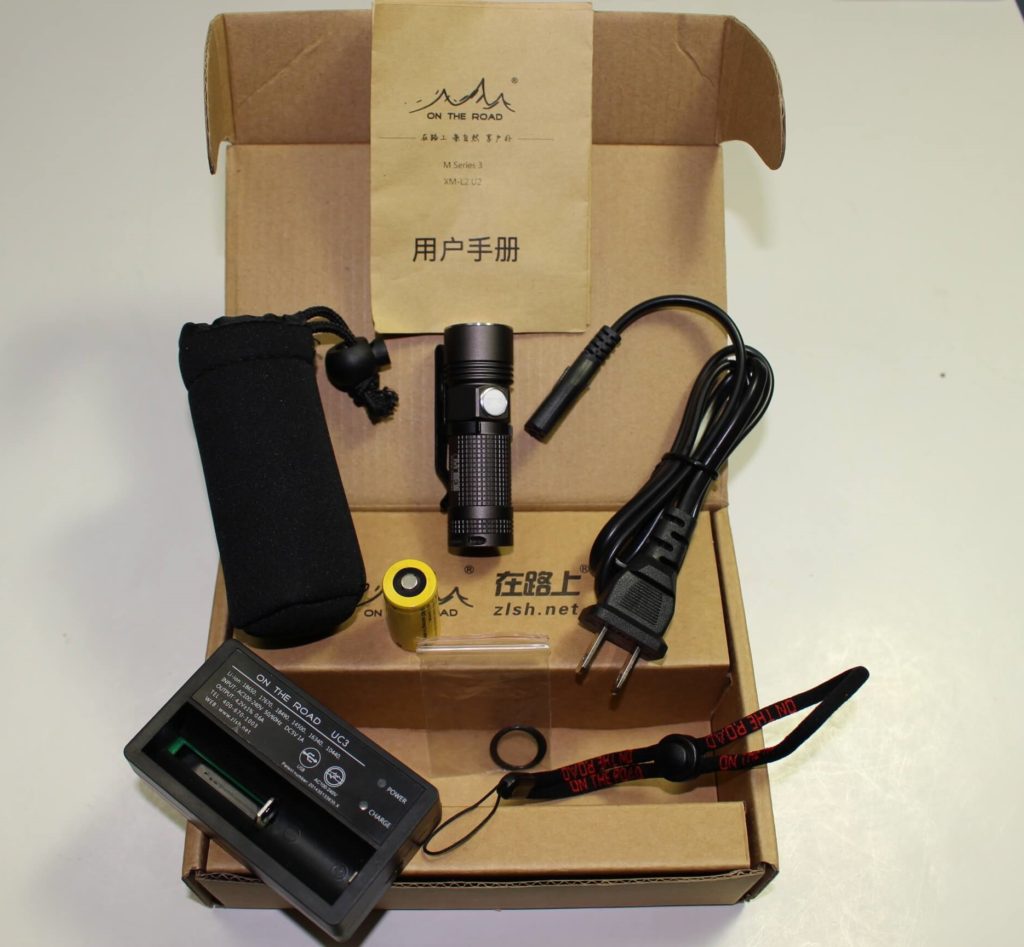 I've certainly seen my share of flashlight packages! Some are extremely sparse, and others, like the "OTR" are extremely generous!
First of all the box it comes in is well-made and designed, with compartments. The flashlight itself is snuggled within a padded pouch with an easy carry strap.
In addition, you get;
A user manual (although the one I got was in Chinese only!)
A good quality lanyard
A single 16340 rechargeable battery (700mAh)
A single-slot battery charger
A pocket clip
And 2 spare o-rings
The battery and charger are a nice touch, and I might add that BOTH are of FAR BETTER quality than what is normally found in flashlight "kits" (from cheap companies) that market on Amazon and eBay…for $20 and under. They're usually marketed (and given away in exchange for a review) to people who have little or no experience with LED flashlights. Therefore, they can be told ANYTHING about the products (which is usually a pack of lies) and believe every word!
M3 Specs to Boast About 
So, the tiny "On The Road" uses a CREE XM-L2 U2 LED. The reflector is orange peel, with overall "throw" rated at (up to) 150 meters.
The light is very small — only 2.76″ long and weighs a mere 39 grams.
Your "On the Road" M3 is impact resistant to 2 meters. It's tough — made from aircraft grade aluminum. It's also 100% waterproof to IPX-8 standards…meaning it IS submersible!
It has several built-in protections to keep it safe. These include short circuit, over-discharge, over-voltage, over-heating and reverse polarity protection.
It features a magnetic tail-cap and will affix to anything metal.
Of course it also has a memory (for the last mode you used) and works on a highly regulated constant-current circuit.
In the photo above, you'll also notice that as your battery voltage drops, a red indicator underneath the switch begins to flash. Usually it doesn't do this for too long, and the light will simply shut off.
It has a toughened ultra-clear glass Convex lens with anti-reflective coating.
If the M3 looks at all familiar to anyone whose been following flashlights for the past few years….you haven't lost it! For it is… for all intent and purposes… an exact replica of the original Olight S10 Baton, which came out around 2013. The improvements that have been made to the M3 include additional flashing modes, higher output, and an updated LED (with a whiter color temperature).
The M3 runs on (1) 16340 rechargeable battery, or (1) CR123. Since a battery is included, there's no reason to use a "123" disposable. You won't get the advertised output on a 123 cell either. Speaking of output…………..here's what you can expect;
Ultra-low; 10 lumens
Low; 150 lumens
Medium; 300 lumens
High; 600 lumens
Turbo; 920 lumens
Runtime on the lowest low is rated at 70 hours. For turbo, it's 30 minutes.
I'm unable to verify the exact outputs as indicated, but I believe they're fairly close. The difference between high and turbo IS noticeable, but only if you can compare them side by side. High is certainly quite bright, so whatever you're using it for, the amount of extra light you'd get on turbo (especially outside) is negligible.
Let's Turn Him (or her) On!
The white switch on the side of the M3 does everything. To turn it on or off, a long press is needed. This is to prevent accidental activation in your pocket.
Once on, a single click will advance to the next mode. In general, the modes advance like this; ultra low, low, medium and high. Turbo is only accessed by double-clicking, BUT, this will also work from the "off" position. Once on, a long press is required to turn it off.
The flashing modes, are strobe, location beacon and SOS…in that order. You can access strobe instantly from the OFF position by clicking the switch THREE TIMES. Once in strobe, a single (short) press advances to the next flashing mode. As long as you keep pressing, they'll continue  to loop. They are also accessible from the general modes, again by a fast triple-click. If you've accessed that way, you can return to the last mode you were in by double-clicking.
Is There a Reason to Buy an On The Road M3?
If your pocket isn't already stuffed with EDC flashlights, then I'd say yes. It's certainly one of the smaller lights that are around today. And in terms of output, it ranks relatively high in that category as well.
I really have nothing negative to say about it. The fact that for a pretty low price you get a nice little flashlight, a decent battery and charger, along with three different ways of carrying it… I mean what is there not to like!
The On the Road M3 was supplied for review by GearBest. For a purchase consideration please visit this link 
Please follow Lightsngear and like us: