Convoy is very good at producing quality flashlights at a relatively low price point. Today, I'm presenting the Convoy M3, which offers high quality toughness, and an output of over 4000 lumens 😀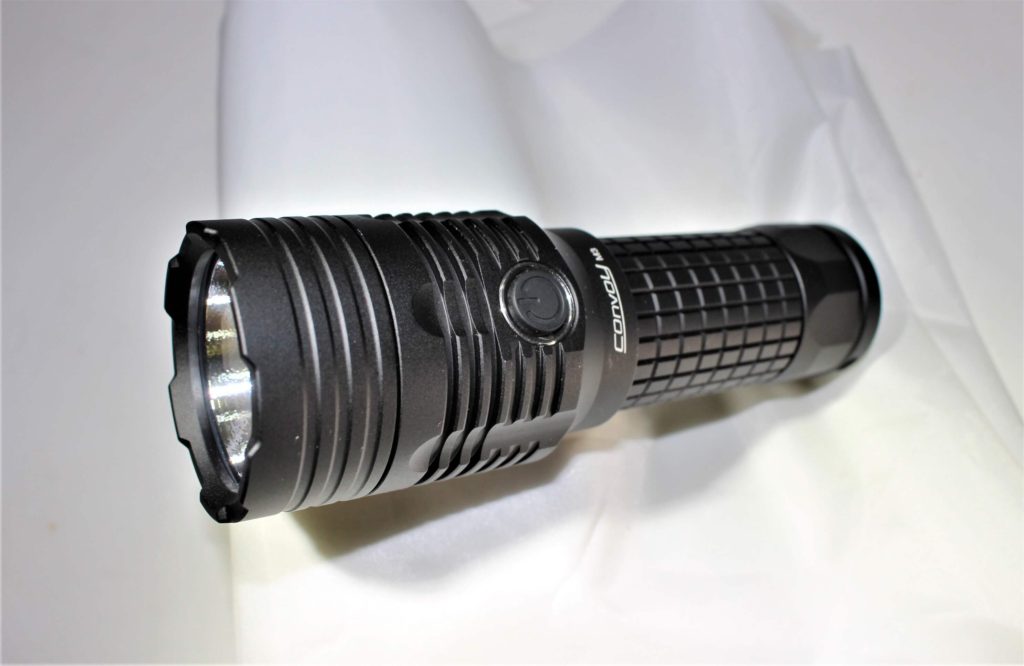 A Simple Presentation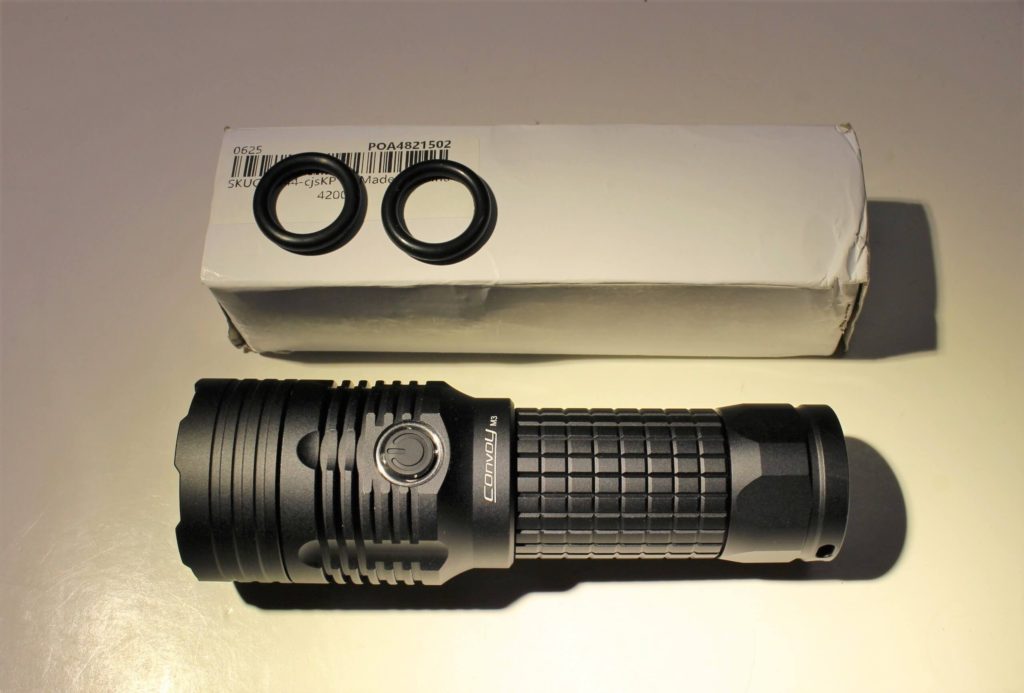 What you see is what you get. The M3 is in a plain white box secured with bubble wrap. The only accessory are two thick o-rings, which in this case are used so a 18650 battery can fit in the tube. This is purely optional because the recommended battery is a much thicker 26650.
Specifications 
Length; 5.8″
Head width; 1.9″
Weight; 13.43 oz (incl., 26650 battery)
LED; Cree XHP-70.2
Color temperature 4300 k
Maximum output 4300 lumens
Body material; aluminum alloy
Modes and Battery
The lighting modes of the M3 are a very basic, low – medium – high – turbo. There are no flashing, or emergency modes. Its brightness is not listed in the traditional way, but instead has it as percentages of the total output. These read as 1% – 10% – 40% – 100%.
The recommended battery is a single 26650 lithium. You'll get better performance with an unprotected, high-drain, IMR cell. Alternatively, you can use a single 18650, and you'll need to fit both those rings onto the battery before placing them in the tube. Again, an IMR is preferred.
Features
Orange Peel Reflector
AR coated glass lens
Mode memory
Reverse Polarity Protection
Built-in temperature protection
Basic Operation of the Convoy M3
Even someone new to LED flashlights, will find that using the M3 is pretty easy.
One click of the side button turns the light on and off. Once on, press and HOLD to advance the mode. The sequence is lowest to highest, then repeats in the same direction.
The lowest mode is available anytime, but the light needs to be off to access it. A HOLDING press of the switch is what it takes. Once off,, mode memory will kick in, and start it from low the next time.
On the opposite end, you can get Turbo on demand as well. Again, start with it OFF…then double-click.
Those Glorious Beam Shots
Thoughts and Observations
I didn't find anything particularly objectionable about the M3. It's an extremely bright, and rugged light.
One thing that IS worth mentioning pertains to the battery. Using a protected 26650 or 18650, might result in poor performance in Turbo mode. On a 26650 I tried it with, it only stayed on Turbo for about 45 seconds, before shutting the light off! I switched it with an IMR (26650) and instead of shutting off after being on Turbo for a bit, it down-shifted to "low", which was an improvement. A good quality IMR 18650, will also produce acceptable performance. Brightness won't be affected by the battery type, but runtime will be longest with a 26650.
The M3 comes with no clip, sheath or lanyard for which to carry it with, but has holes in the base for a lanyard to attach.
General performance of the light is very good, and due to its thickness, it's great on the grip! The switch has no illumination, but because that side of the light is slightly flat, it's not TOO hard to find in the dark.
Overall, for a lower cost flashlight which is devilishly bright….I'm recommending the Convoy M3.
Recommendation
If the Convoy M3 appeals to your flashlight senses…then I suggest you visit its product page at Banggood.com! You can also enter coupon code "BGTORCH" for a discount.
Please follow Lightsngear and like us: