Are you looking to buy the brightest LED flashlight you can find? Of course right here on Lightsngear, you can find a link that will take you to flashlights which trumpet up to (and perhaps beyond) 1000 lumens! But what does that mean?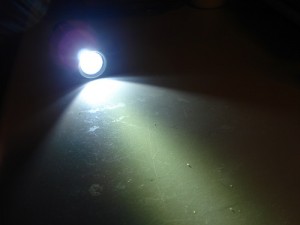 The way in which the human eye perceives bright light is not something easily explained. Flashlight lumens also cannot be compared equally across different lights.
What you first need to determine, is what you're going to use the flashlight for. Is it for general household use? Or mainly for use outdoors? Perhaps it's a gift for someone? What I'm getting at can be simplified this way. For general household or emergency use, the brightest LED light, can run on either 2 or 4 –  AA (or rechargeable [NiMH] AA) batteries, and be somewhere in the neighborhood of 150 – 300 lumens.
Some Good Examples
Here's an excellent example of such a light.
For outdoor use that includes walking at night, bike riding, hiking, etc., the choices are many and varied. A standard AA light for these types of uses will be somewhat limited in the scope of lighting up objects at a distance. This is where you'll want to consider one that runs on lithium-ion batteries. You'll want to consider rechargeable batteries in this case, due to the high cost of disposable lithium-ion cells.
Click here for an excellent example of a high quality light for outdoor use.
Again, the brightest flashlight can simply be based upon what your needs are. Actual brightness is also perceived in the type of LED the light uses. Most lights utilizing an XM-L LED, will have a broader, more flood-like beam. Even at 800+ lumens, a beam with lots of spill, can look just as bright as a 500 lumen flashlight which features an older XP-G LED, which will have a tighter "spot" of light in the center.
Such as pictured here.
Click here for an example of an XP-G R5 LED light which uses AA batteries.
I hope this article regarding what you might find when you perform an internet search for the brightest LED flashlight, was clear and concise. I understand that sometimes it's also a bit of trial and error. It's impossible to know without actually being able to test a light first, as to whether it actually IS the brightest LED flashlight you'll need! Just know in advance that most anything above 400 lumens will provide an ample amount of light outdoors (usually a beam distance of 200 meters) and unless it features selectable brightness levels, will be blindingly bright for indoor use.
You may also visit HERE for a more concentrated selection of brand-name flashlights.
Your opinions/and or questions on this article are welcomed! Please complete the form below and I'll be happy to respond.
Please follow Lightsngear and like us: