At this writing, "Atactical" is a new flashlight brand. So with their inaugural light, it only seems fitting that it should be called an "A1". So today, I'm reviewing the "first of its kind" Atactical A1!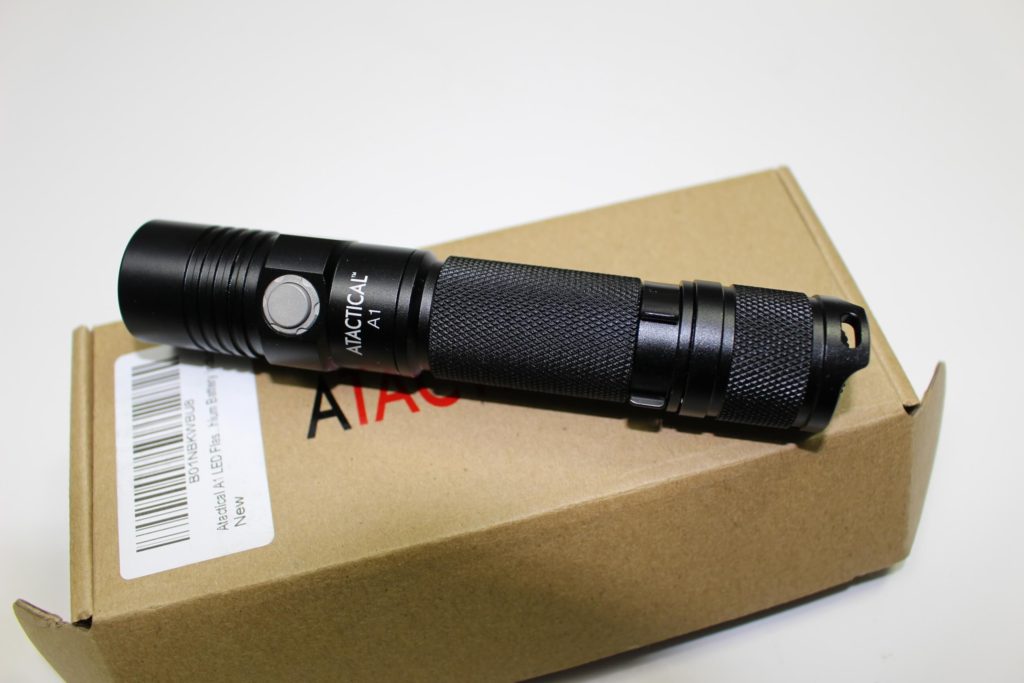 Nice Compact Presentation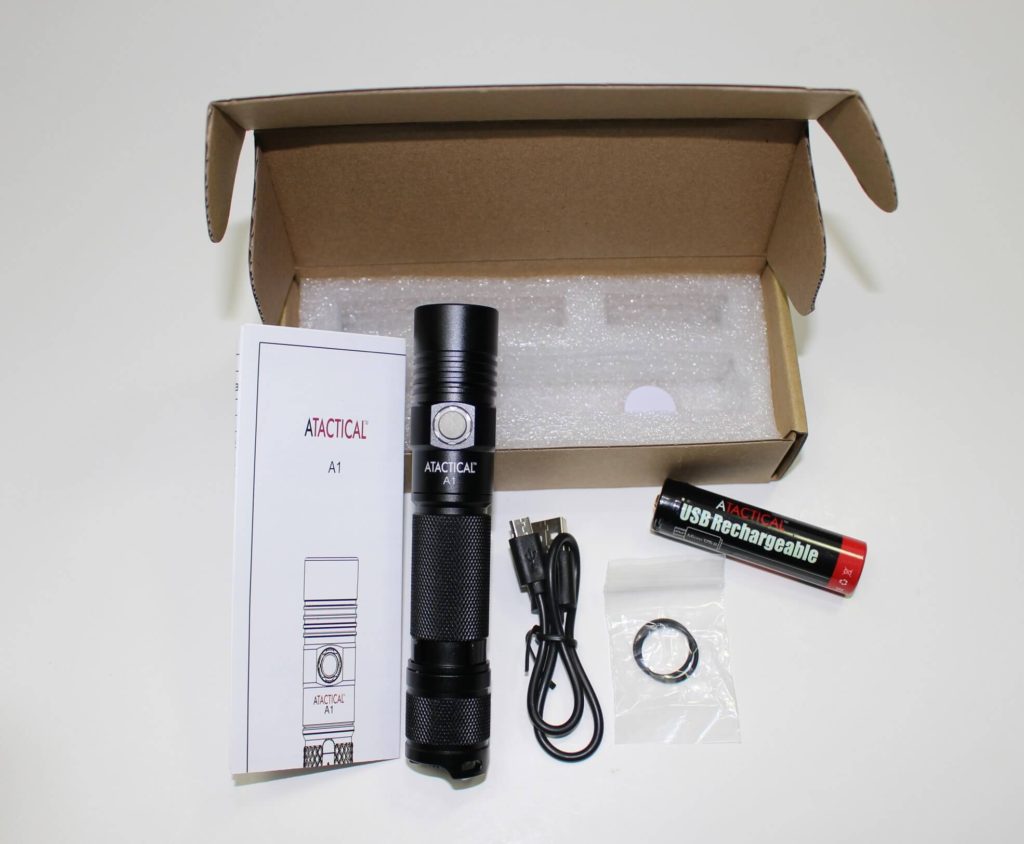 The flashlight comes in a standard little cardboard box with some foam cutouts inside. They keep the contents safe, which in this case is the A1, a package of spare o-rings, and a micro USB cord. But wait — that's not all! Open the rear cap of the light and you'll find an authentic, Atactical 18650 battery! And guess what… the battery is USB rechargeable!
The A1 itself is 5.3″ long and weighs 127 grams including the battery.
Features 
LED; Cree XP-G2
Lens; anti-reflective, toughened ultra-clear glass
Smooth reflector for good throw — 205 meters!
Mode memory
Made from hard-anodized T6061-T6 Aluminum
Impact resistant to 1.5 meters
Waterproof to 1 meter (IPX-7)
Battery, Output and Runtime
For the battery, it's an 18650… and that's it. No other options are available since the working voltage only accepts to 4.2 volts. Other sizes such as CR123 and 16340 will fit, but the voltage combination will be too high. But because the A1 comes with its own USB rechargeable 2600mAh 18650 battery, there's no reason to use any other, but you CAN use other 18650's if you wish.
The mode sequence is low to turbo and is as follows;
Low – 10 lumens (5 1/2 days)
Medium – 63 lumens (19 hrs)
High – 200 lumens (5 1/2 hours)
Turbo – 550 lumens (3.3 hours)
SOS – 550 lumens
Strobe – 550 lumens (4 hrs)
How to Operate 
Using the Atactical A1 is child's play! Within seconds, anyone can operate this light.
There's the tactical tail switch, and the side switch. Momentary light is possible at any time by softly pressing the tail. A FULL press to the tail turns it on for constant use.
Once on, click the side switch to hop through the modes… low through turbo. If you click without pausing, you'll reach SOS right after turbo. If you stop at ANY time on ANY mode (other than low) for MORE than 2 seconds… the next time you click the side switch, it will return to low! Click again to get to the mode you need to be on. Click the tail to turn the light off.
Strobe is reached by a HOLDING press in ANY mode. A short press during strobe will return to the mode it was on prior to strobe.
Mode memory recalls the last mode used. If you turn it off while in SOS or strobe,  it will come back on in turbo.
Low Battery Warning;
The A1 will blink a few times a minute to let you know the battery is weakening.
The USB Rechargeable Battery
So the Tactical A1 18650 battery has a USB port on it. To charge it, plug the micro end of the included cable into the port, and the other end into a USB source. A tiny RED LED on the positive end of the battery will illuminate. It's now charging. When the charge is complete, a GREEN LED (on the opposite side of the red one) will light up.
I tested the amps while the battery was charging, and was pleased to see a peak current of 750mAh! Not bad at all! This, by the way, was when plugged into a USB AC adapter with a 2A output.
Picture Gallery
Thoughts on the Atactical A1
For a first time flashlight from a new company (which I believe had design assistance from Thrunite — an established company) it's pretty good.
The LED is of an older variety, but in the A1 it's quite effective… especially with the smooth reflector. It APPEARS brighter since the beam is a bit more focused, and beam distance is very good!
Tactical switching is effective, and the side switch has a nice firm click. The only oddity to that is the mode-switch design of returning to "low" with subsequent clicks, after pausing on the other modes. I've never seen this on any other flashlight I've used… ever! Whether it's good or bad, is personal opinion.
Inclusion of the USB battery is another plus! More and more companies seem to be including a battery with their product, and it's especially nice when it's a quality
company, since the battery is also of good quality. I was also impressed with the charging current the cable was feeding the battery.
The price of the A1 is very reasonable, considering what you get! It's a FAR better deal than many of those cheap, generic flashlights that have flooded the market (and show up on TV) which often come with an equally bad 18650 battery and charger. I know from experience, and have reviewed a couple of them here at Lightsngear. At least the A1 is SAFE to use!!
For most of the reasons I've noted above, I'm recommending the Atactical A1 flashlight. I think you'll be pleased with it too. I certainly wouldn't hesitate in gifting it to someone.
To consider a purchase, please visit their Amazon product page 🙂
Please follow Lightsngear and like us: