When a flashlight idea from Budget Light Forum (BLF) becomes reality by way of a major manufacturer, the end result is usually something quite unique! Hense, THIS review of the Lumintop FW3A.
The flashaholics at BLF enjoy a product they can customize, and they like a lot of features too. These elements are most definitely present in the FW3A.
Simple Packaging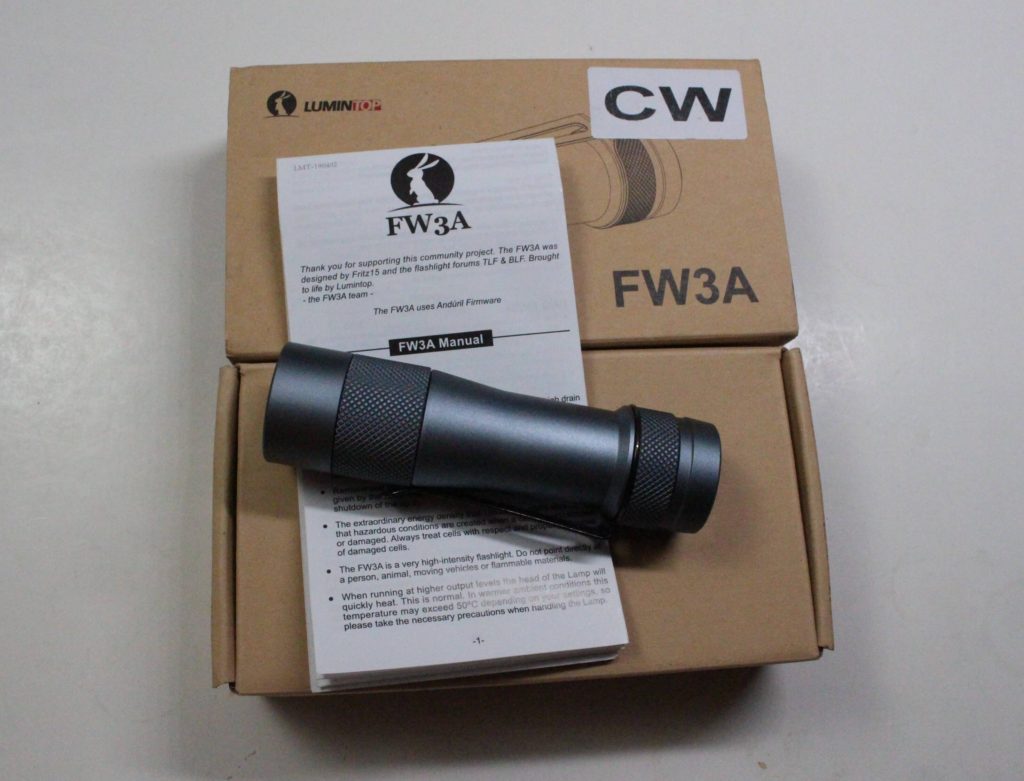 Lumintop presents their products these days in a simple, non-"flashy" way. With the FW3A, what you see is what you get… in addition to a couple of spare o-rings.
Specifications
Length; 3.6″
Weight; 3.55 oz w/battery
LED; 3 – CREE XP-L HI (CW) or, 3 – Luminus SST20's (NW)
Battery; Accepts (1) 18650 (preferably flat-top)
Body; Hard-anodized aluminum
Beam distance; 200 meters
Waterproof; IPX-8
Features
Two operating UI's (ramping and stepped)
Two sets of blinking modes
Operates on Anduril software (for customization)
Mode Memory
Battery Acceptance
The FW3A operates on (1) 18650 lithium battery. Lumintop recommends a high discharge, flat-top (unprotected) cell. Some button top cells will fit, but the tube is short, and the light won't work unless the head tightens all the way down.
Operating the Lumintop FW3A
The tailcap cannot be removed, therefore you must twist off the bezel to insert the battery…positive end up.
By default, when you first activate the FW3A, it will "ramp". To switch to stepping (and back & forth) just click the button three times while it's on. A quick flash confirms the change.
Ramping
Click (for steady on) and HOLD the switch to ramp up and down. Not pausing for long while "ramping", will cause the ramp to go in the opposite direction when pressed again. A short click turns it off.
When the ramp reaches the end, it's not at turbo, it's actually close to 760 lumens, which is defined as being "step 130". For the extra "burst" of turbo, you'll need to double-click. A second double-click returns to the previous output.
The lowest level by default in this configuration is moonlight (about 1 lumen).
Stepping
Short click to turn it on. Press and HOLD to advance through the "stepped" modes. It uses the same principal as ramping, whereas it goes in both directions. As with ramping, a short click turns it off. As long as you have it set to "hit the ceiling" (turbo) within stepping, then turbo will be the final increment. If you step to turbo, you'll need to single click (and turn it off) to exit. If you reach turbo via a DOUBLE-click, then a second double-click is required if you wish to return to the previous (lower) mode.
The number of available outputs (steps) are user defined. It's defaulted to "7", which offers well spaced increments of brightness with each holding press. Think of this as; moonlight, followed by TWO levels of low, medium & high. Although it may seem almost impossible to fathom… you can have the number of "steps" set anywhere between two and ONE HUNDRED AND FIFTY! The very TOP step represents 2800 lumens! The default step on both configurations is one hundred and THIRTY.
The lowest level by default in THIS configuration, is "step 20", which equals just over THREE lumens. But you can change that and have it go as low as moonlight if you prefer.
[Please note that when turbo is activated, the head gets REALLY hot…REALLY fast! Turbo is only meant for short bursts, and after ten seconds of use, it's programmed to begin a slow decline in output.]
Ramp Configuration
To configure the lowest and highest output setting within each interface, have the light ON, and click FOUR times. If you're currently set to "ramping", you'll be given the chance to set the lowest and highest output. When set to "stepping", you'll have the same two choices, plus a third, which is to set the number of output "steps".
Once you do the four clicks, it'll blink and enter a "buzz" mode, which is your cue to click the corresponding number, which sets your preference. If you don't click during the "buzz" it'll simply move to the next option and no change will be made. The simplest way to ensure you'll get the lowest and highest output when ramping or stepping, is to click ONCE during the first and second option. (Don't ask me to explain how "1" sets turbo, when it clearly states that "150" is equal to turbo!") 😕 
Beam Pics
Lumintop FW3A Special Modes
There are TWO sets of special flashing modes on the FW3A. Depending on your viewpoint, these will either be really cool, or really useless!
The first group consists of;
Battery Check
Sunset / Goodnight; turns on low, then dims to moonlight for one hour before shutting off
Beacon (this is adjustable for both output and "blink rate")
Temperature Check (can be configured for accuracy)
The second group of flashers it where it gets interesting;
Candle mode; simulates a candle or fireplace. A 30 min timer can also be set…for up to 4.5 hours!
Bike flasher (this refers to the flashlight — it doesn't mean the rider is naked!)
Party strobe (extremely fast frequency)
Tactical strobe (adjustable frequency)
Lighting storm; simulates lightning! (quite amazing!)
The flashing modes are activated differently for each set. For the first group, click three times while the light is OFF. For the second group, click TWO times…then HOLD THE SWITCH on the THIRD click. I.E…. click, click, HOLD. For each instance, you'll get a short flash, which verifies that you've entered the mode.
Muggle Mode
I don't know where they got the name from, but when set to "muggle", the Lumintop FW3A becomes a simpler, more basic flashlight. It's more or less intended for a user who's not familiar with modern flashlights. Basically if you loan the light to anyone, this mode makes it easier for them to operate.
In "muggle mode" one click turns it on and off. Ramping is the only option, and it has a LIMITED output! It runs from 5 lumens to 240…that's it! Once it's activated, regardless of how much output is selected in the ramp, it begins an incremental drop. It's very slight, and won't be immediately noticed by the average person. From leaving it on for awhile in this mode, it appears to have a cutoff after reaching a particular level.
I don't know about you…but if I lend a flashlight to someone, I'd like them to be impressed by it, not just assume that it's no different than anything they can buy at Home Depot!
To enter Muggle mode, click the switch SIX times from OFF. Repeat the six clicks when you want to exit the mode.
Momentary Mode
Here's where you can use the FW3A for signalling purposes. With each click, the light will illuminate in the last output it was on. So if you used "high" last…that's where it'll still be.
To enter 'momentary' click FIVE times from OFF. Returning to normal lighting requires you to loosen and remove the head!
Electronic Lockout
To prevent accidental activation, give the button FOUR clicks when the light is OFF. It's now "locked" but will still provide "moonlight" when the switch is pressed. Just like "momentary" it only gives light when your finger is pressing the switch. Be careful how many times you click  in this mode, since doing it FOUR times in a row will unlock it.
Temperature & Thermal Regulation
The current temperature is available within the first group of blinky modes… which can be calibrated if it doesn't seem correct.
In addition, there's thermal regulation which is set at 111°F (45°C) As with everything else, you can change that 🙂
Purchase Recommendation
The Lumintop FW3A is another great example of what happens when flashaholics get together with a quality manufacturer. It's definitely a flashlight lovers flashlight with a lot of customizing potential.
Banggood.com was kind enough to supply the FW3A for review. Therefore it's my recommendation to visit the product page on their site. I would also suggest entering the code "BGTORCH" at checkout.
Please follow Lightsngear and like us: