This is the first flashlight I've ever set out to review, that I would actually call "elegant"! The Lumintop Prince, aka Brass Prince, is perhaps the first light to even be appropriate with formal-wear.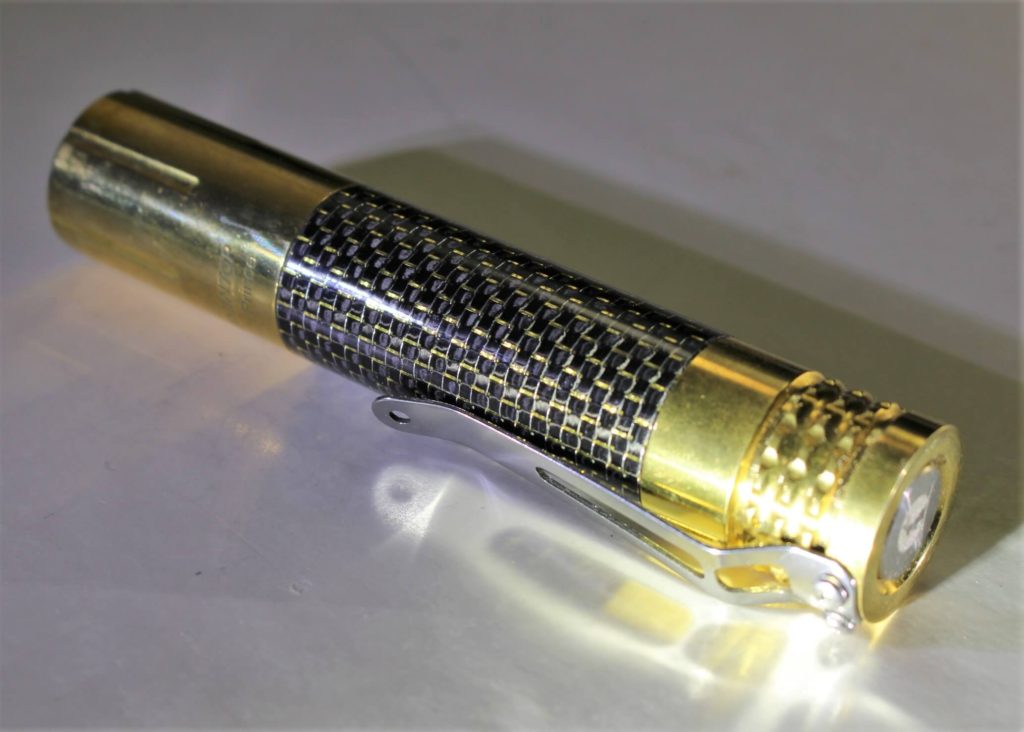 One Brassy Package 
The aim of the Lumintop Prince is to impress. Some packages come with many accessories. The Prince, on the other hand, is a little sparse on accessories…but the ones they DO include are, for lack of a better word, impressive.
My package came with several Lumintop pamphlets, but not an instruction manual. Instead a diagram card showed some basic operating procedures. In addition, there are two spare o-rings, a Lumintop 3400mAh 3.7v rechargeable battery and a genuine leather belt holster with buttoned compartments!
The flashlight itself came vacuum-sealed in foil! This I assume was to prevent any premature oxidation prior to being opened. Well thought out by Lumintop I might add.
The Prince's Specs 
Size-wise, the Prince is 4.5″ long and weighs 5.33 ounces WITH the included battery. It's very slender, with a uniform 0.8″ wide from head to tail. A sturdy pocket clip is already screwed to the rear of the light.
It definitely feels heavier than most of the flashlights (of its size) that I own.
The Prince uses a Cree XM-L2 U2 LED to produce a very white beam of light with an estimated throw of 169 meters.
It's powered by either 1 – 18650 rechargeable battery (included) or 2 – rechargeable 16340 batteries. Honestly with the included 3400mAh Lumintop battery, there's no reason to use anything else.
The Lumintop Prince has three lighting modes. Low at 25 lumens; medium at 170 and high at 1000 lumens. Lumintop estimates runtime on high at 2.5 hours, and 65 hours on low. There are NO flashing modes on the Prince.
Mode memory recalls the last mode used. After a battery change, it defaults to medium when switched on for the first time.
It's impact resistant to 1.5 meters and submersible to 2 meters.
The Prince's "body" is made from a premium carbon fiber. Lumintop says it's "lightweight" and although the body itself might be…as a whole, its weight is quite hefty. It's also resistant to corrosion.
Easy Operation 
The button is on the tail cap. Push (until it clicks) and you have light. Each succeeding "half-press" will advance to the next level. In goes in order of lowest to highest. One full click turns it off. That's it.
The only issue I have with the light is when the battery is changed. The pocket clip is affixed to the tail cap with two screws. And because of the angle of the clip, it gets in the way when the tail cap needs to be tightened on. As a result, it's difficult to screw the cap on evenly. It CAN be done…but takes a moment of patience. If you needed to do it complete darkness, it would be somewhat of a challenge!
There IS however a recommended "fix" to this issue. To change the battery, DON'T remove the tail cap, but instead unscrew the head! The battery would then be inserted bottom first into the tube. There, problem gone!
Nice White Beam
Final Thoughts on the Lumintop Prince
It works well. The beam is very nice. It feels "sleek" in the hand. After being on high for a few minutes it gets moderately warm like any flashlight will. Brass is a conductor for heat, but the Prince is supposed to have measures with which to handle that. It better…since there are no cooling fins.
Ageing (discoloration) of the brass will occur naturally. Lumintop suggests giving it a little "polish" now and then… unless you prefer the aged look.
The Prince carries a moderately high selling price, which won't be reasonable to the average buyer. On the other side of that argument, those who want the Prince will be sold on its looks more than anything else. I can imagine someone like Donald Trump carrying one of these! Except this would probably be too cheap for him.
Does it perform better than the average flashlight which normally carries a lower price? No. Does it have as many (or more) features than the average LED light? No. Does it have as many useful accessories as other moderately priced lights? Yes.
So, naturally it's up to you. If a "fashionable" flashlight is what you seek; to possibly impress the guys at the golf club, or as a useful accessory to an outdoor wedding… at night… then by all means JUMP on the Lumintop Prince by clicking here!!
Please follow Lightsngear and like us: