The Lumintop PS03 palm-size searchlight is (to date) the brightest hand-held flashlight I own!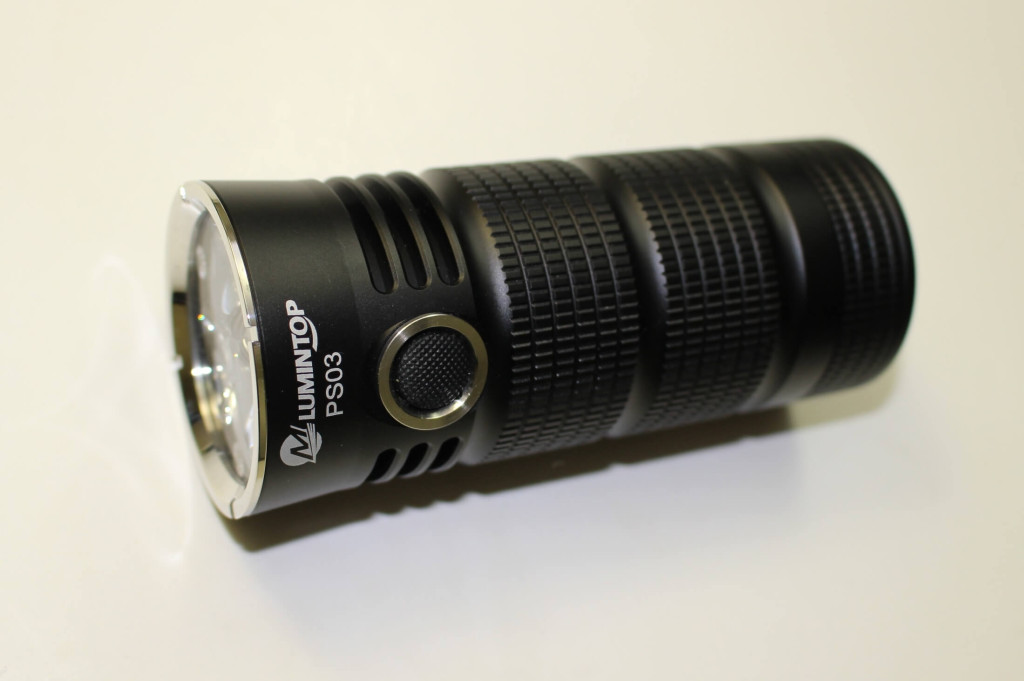 A Palm-Size Powerhouse!
At 5″ long and a shade over 2″ wide at the head, the PS03 is still very easy to handle and hold. It features rather aggressive knurling, which keep the grip pretty secure.
As the photo shows, the PS03 comes in a nice sturdy box, along with a user manual, a spare o-ring, a strong lanyard and promotional documentation.
There are four constant lighting modes. Low, medium, high and turbo. Strobe is hidden.
The output levels are;
Low – 100 lumens (for about 40 hours)
Medium – 800 lumens (for about 5.5 hours)
High – 1500 lumens (for 3 hours)
Turbo – 2800 lumens (for about 3 hours)*
* an automatic step-down occurs after 3 minutes of continuous use, lowering output to high
Some independent tests revealed slightly different outputs;
Low – 140
Medium – 950
High – 1700
Turbo – 2750
The Stats You Need
Its weight (without batteries) is 299 grams. It's waterproof to IPX-8 (which I believe is 2 meters in depth). The maximum beam distance has been measured at 256 meters.
As for batteries, it ONLY accepts FOUR 18650 rechargeable lithium-ion. The battery holder keeps the batteries snug. Each fits within the holder in alternating polarities, and the holder itself can be inserted in either direction. The springs within the holder can accommodate both button and flat-top cells with ease. MOST should fit fine, although when some are little thicker, it might be a tad tight.
Accidental activation (when carried with other items) can be prevented by twisting the tail cap a quarter turn.
When using multiple batteries in LED flashlights, it's usually a good idea that the cells be evenly matched with regards to mAh capacity.
The PS03 utilizes three CREE XM-L2 U2 LED's. A diffused acrylic lens produces a very smooth "flood-like" beam. Standard reflectors aren't used. Instead, each LED sits within a shallow cup, allowing the beam to be very wide, but also enabling a tight center hotspot.
It's housing is a tough aluminum, which is impact resistant to 1.5 meters.
The flat bottom allows it to sit on any surface, and the electronic circuit keeps the output as constant as possible, even as battery voltage drops.
Standard Operation
All operations are controlled by the strategically placed side-switch.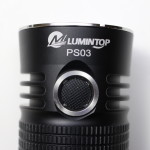 To turn the light on, a HOLDING press is required. Once on, give the button a short press to advance to the next output. The sequence is, low – medium – high – turbo. Strobe is activated by a quick
double-press in any mode.
Mode memory turns the light back on in the last mode used, except for strobe. On the sample I received however, if I'm in turbo, and switch it off… it comes back on in low.
Wow! That's Bright!
Take a look at these PS03 beam shots. As always you may click each one for a full size view.
For Tripod Use
One the opposite side of the power switch, is a removable cap (where the lanyard would attach to) revels a standard tripod aperture.
Recommended Use
Obviously due to the "girth" and power of the Lumintop PS03, this may not be the flashlight you use for everyday carry unless you're involved in specific activities.
Hunters, campers and the like will certainly find it useful. Its breadth of beam and reach are probably more suitable to critical operations … think search and rescue.
It doesn't come with any type of holster, but I'm sure there's one somewhere that would accommodate it.
Just remember after 3 minutes of use on turbo, it shunts down to high mode. This shouldn't be too much of a detriment since 1,500 lumens is no small potatoes!
To make the PS03 a part of your OWN collection; CLICK HERE!
The PS03 was kindly provided for review by the folks at Lumintop.
Please follow Lightsngear and like us: