I received the Durapower CREE flashlight and wanted to share my thoughts about it with you.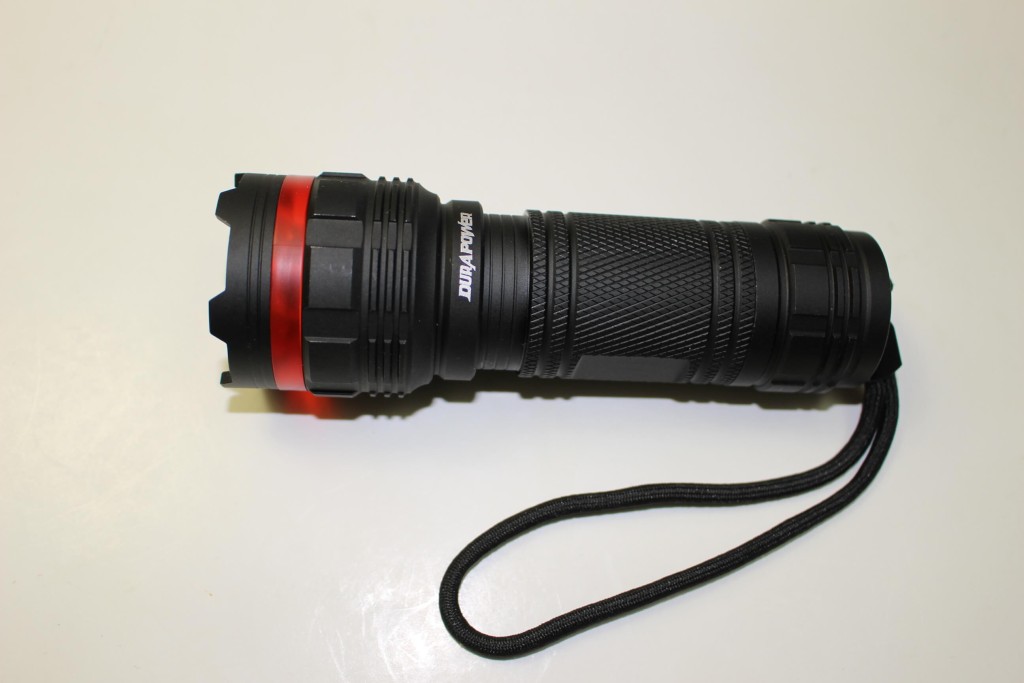 Fitting within the "budget" flashlight category, the Durapower is a surprisingly good contender going head to head with similar-size flashlights, that offer good lumen output along with a lens that is focus-able.
Basic Information
Length; 5.5″
Width (across head) 1.75″
Weight; 273 grams (with batteries)
Material; aluminum alloy
Output; 600 lumens
Waterproof (to some degree)
Impact resistant to 2 meters
Batteries; 3 x AA, OR 3 x NiMH, OR 1 x 26650
Operation
So, the Durapower runs on 3 AA batteries. My recommendation on this, is to use rechargeable, 1.2 volt NiMH cells. You can also use a 3.7v rechargeable lithium 26650. The picture below shows the flashlight along with its two different battery options. The AA's are placed in the accompanying "cage"… along with a Fenix 4800mAh 26650.
Battery runtime on high is estimated to be in the 2 hour range. Add about 4 additional hours to run continuously on low.
Opening up the rear cap reveals the battery cage. Place the batteries in the cage and return it to the battery tube…with the "pointy" (nipple) end, up.
The BIG red button on the bottom turns the light on. With one firm click, you'll get high mode instantly. With each SOFT press of the button, it will cycle through the available modes, which are high, medium, low, SOS, strobe (in that order).
There's no memory… so no matter what mode it's switched off in, it will always turn on again in high mode. Obviously to get from medium (or low) back to high again, you must cycle through the flashing modes.
Zooming, and The Big Red Ring
So one of the selling points of the Durapower is the focusing lens.
Once on, simply turn the head a few twists, and the beam gradually narrows down to a focusing spot. It's actually a much BETTER spot (in my opinion) than you'll find on many other competing flashlights.
With many competitors, the "zoomed" spot is completely square, since it's the actual LED that is being shaped into a tight zoom. On this light, it's not completely square, but is a more useful spot, that's only slightly squared. (see the beam shot photos below)
Once on, you can't help but notice the "big red ring"! It's meant to be a safety tool. In my opinion however, I find the ring a bit distracting when you're pointing the light at a distant target. If you hold the light out in front of you, the ring pierces the darkness better than the beam you're trying to see. Holding it perpendicular to your head (or body) would solve that problem to some extent.
What They Don't Tell Us
The retail packaging that accompanies the light mentions the 600 lumen output but not the other modes.
From what I'm able to tell, low mode is around 20 lumens. Medium falls somewhere in between, but I'm estimating around 200.
The LED used in the Durapower is not given any credit. Meaning I'm not certain whether it's an XP-E, XP-G, or XM-L. It's a very clean beam however and doesn't present as bluish a tint as most other zoom-style budget lights do.
The Beam Shots
The photos here depict the Durapower using both types of batteries. It also shows it with the beam focused all the way in… and all the way out (on full beam). Note that when using a 26650 battery, it's brighter.
Click on each image for an enlarged view
From these images, you can imagine that when using the light inside, the full beam will illuminate an entire small room. As I commented on earlier, the beam when zoomed, or even partially zoomed, is a bit more useful than on other similar lights.
Conclusion
As a basic, no frills, everyday use flashlight, the Durapower Heavy Duty will provide necessary illumination.
Size-wise it's a tad bulky… but not too bad. It'll certainly fit comfortably within a bug-out bag or backpack. Using it this way is about the only way you'll want to "everyday carry" it. Keeping it a car or truck for emergency use is another option. But, if it's going to be exposed to very cold temperatures for long periods of time, please read this article on the best type of AA batteries to use.
Speaking of batteries, it's mighty handy that standard AA's (or NiMH) are the backbone of this light. However the thickness of the tube also permits "one" 3.7v rechargeable 26650 to be used.
The output with the NiMH's is  pretty good, but is even better with the 26650.
To pick up your own Durapower, click here!
 If you'd like to use a 26650, click here to buy the same Fenix battery that I have pictured above!
Please follow Lightsngear and like us: