Long-live the Olight Baton! And why not, right? It's been a well-received series of great flashlights! And they're not done yet! Today, it's the Olight Baton 3, Pro Max!
Baton 3 Packaging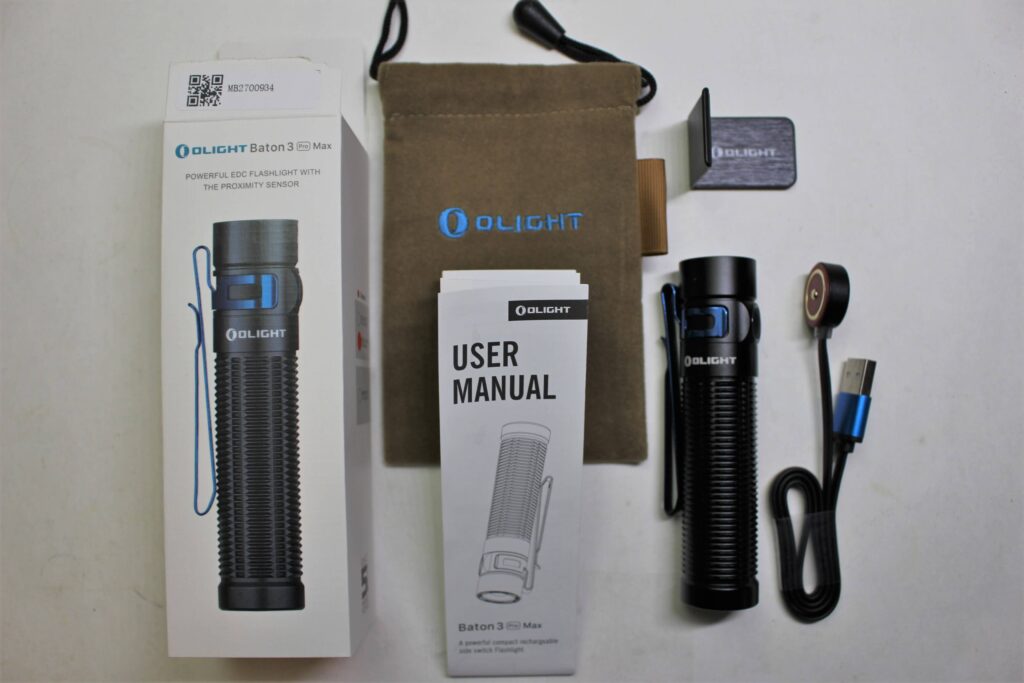 Ahhh, that unmistakable Olight packaging where the flashlight is neatly surrounded by a USB charging plate, a 21700 lithium battery (installed) a carrying pouch, a pocket clip, user manual, and a magnetic L-shape stand.
Specifications
Weight; 5.27 oz
Length; 4.5″
Waterproof; IPX-8
Beam Distance; 135 meters
Impact Resistant; 1.5 meters
Battery; 1 – 21700 lithium-ion
Features
Mode Memory
Magnetic Charging Plate
Magnetic Base
Tempered Glass (AR coated) Lens
Warm, Neutral or Cool White LED
Battery Strength Indicator
Instant Access to Lowest & Highest Mode
Modes and Output
Cool White/Neutral White – CRI (color rendition index) 70
Moonlight; 1 lumen (60 days)
Low; 15 lumens (180 hrs)
Medium; 120 lumens (23 hrs)
High; 800 lumens (243 mins) > 15% output for 80 mins
Turbo; 2500 lumens (1 min) > 32% output for 240 mins
STROBE
Warm White – CRI (color rendition index) 70
Moonlight; 1 lumen (60 days)
Low; 12 lumens (180 hrs)
Medium; 100 lumens (23 hrs)
High; 660 lumens (243 mins) > 15% output for 80 mins
Turbo; 2000 lumens (1 min) > 33% output for 240 mins
STROBE
Easy Operation of Olight Baton 3 
The side switch is "where it's at" with the Baton 3.
As you might guess press it once for instant light. Press and hold to ramp through low, medium and high. As is standard procedure, moonlight and turbo are hidden. Moonlight comes with a holding press from OFF, and turbo is a DOUBLE click from any mode. As always mode memory remembers where it left off.
For strobe; Click 3x either while OFF, or ON (in any regular mode)
Battery Indicator
In the center of the power switch is the indicator.
The colors it displays are green, orange and red.
On a full charge it'll be green, and doesn't turn orange until the battery voltage drops below 60%. You won't see red until it gets to 10%…but
by that time you'll want to charge it anyway.
You can check the voltage any time – when the light is off – by just picking it up and shaking it, or even just moving it back & forth. The indicator will flash for 5 seconds.
The indicator also illuminates when the light is switched on.
Charging 
The included charging disk (magnetic plate) charges accurately when placed on the base of the light. Once the USB is connected the indicator light should normally be red, then turn green when finished.
The alternative to using the plate is to remove the battery and put it in a separate charger. Be aware this particular 21700 might not fit in certain chargers due to its length.
The "L" Stand
This is different!
It's a little metal "L" shaped piece which has adhesive on one side….and is metallic, so the base of the Olight Baton 3 can hang unobtrusively, and be grabbed on a moment's notice!
I've never seen this type of accessory before, and you have to admit its pretty cool!
The Big Baton 3 Beam
Olight Baton 3; All Pros and No Cons?
Complaints about Olight flashlights are rare. Do I have one?
Well….
You always get quality and consistency from an Olight product, and the Baton line has definitely demonstrated that.
I love the size of the Baton 3, and looking at it, it's not immediately apparent that it uses a larger 21700 battery.
The lens has an interesting "look" to it, and the beam is flawless. As mentioned earlier, it's available in 3 different tints. This review is for the neutral-white version.
Battery-life is great and when fully charged, the indicator will be green for countless activations. Part of that though is because it doesn't register lower voltage until it gets to 60%…which takes awhile under normal use.
It's handy that the indicator comes on just by making subtle movements of the light without needing to turn it on.
I must also mention that the tail cap magnet is really strong. Many magnetic lights of this size are body-heavy, where the magnet isn't strong enough to support it when perpendicular to a magnetic surface. The Baton 3 is really good in this regard.
So, all things considered, it would seem I actually DON'T have anything to find fault with about the Baton 3.
Visit the Olight Store!
The Olight Store is the best place to be if you're tempted to become a proud owner of an Olight Baton 3 Pro Max.
I suggest THIS LINK as a good place to start (where you can save 10% with my coupon code "RBW4")– and there's also an offer for a FREE gift!
Want to ZERO IN on JUST the Baton 3 on its own? Then CLICK HERE!!
Please follow Lightsngear and like us: