Nitecore has been releasing high quality flashlights for many years. Today, I'm looking into the (new) Nitecore P23i, which is part of their "i-Generation" series.
The Nitecore P23i Presentation
So, in a well-presented box, comes the P23i, a belt sheath, a USB-C charging cable, an accessory pack with an o-ring, a lanyard, and a pocket clip. Inside the tube is a 21700 rechargeable lithium battery.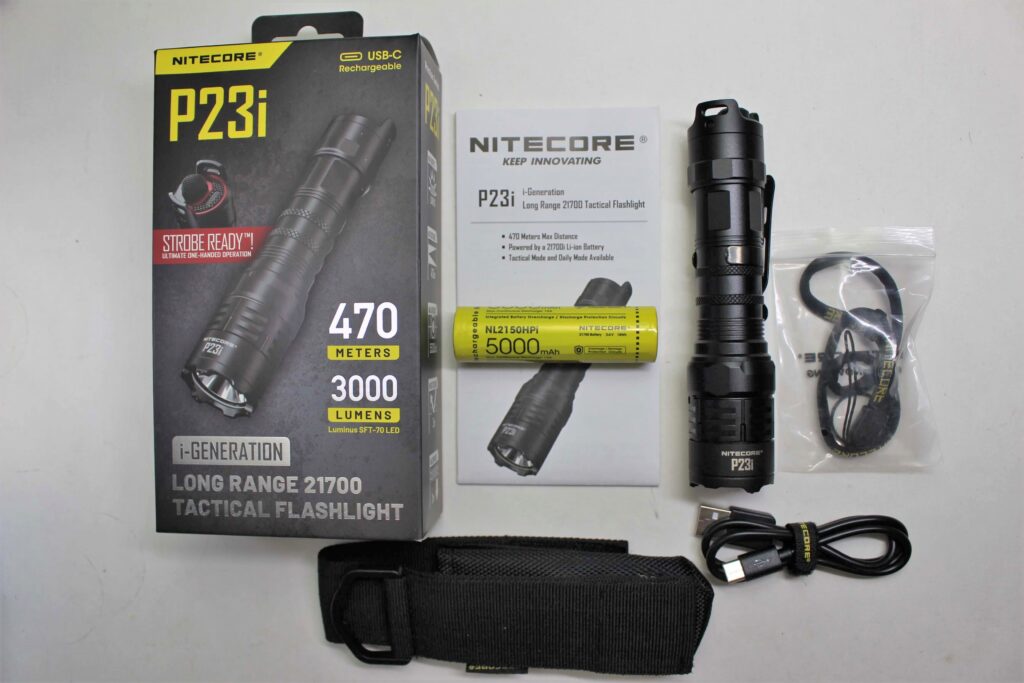 Specifications
Weight; 6.97 ounces
Length; 5.5″
Max Output; 3000 lumens
LED; Luminus SFT-70
Double-sided, scratch resistant optical lens
Beam Distance; 470 meters
Impact Resistant; 2 meters
Body/Finish; Aero-grade alum alloy/HA-III military grade, hard anodized
Features
Tail switch for tactical operation
Tail-stand capabilities
Two operating modes (daily & tactical)
Mode memory
On demand strobe
On demand turbo
Strike bezel can be used to break glass
Battery voltage indicator
Waterproof – IP68; 2 meters underwater
Highly efficient constant current circuit helps to maintain output
Output and Runtime
So, yes, Nitecore includes the 21700 battery. But the manual warns that it's the only brand of 21700 that's compatible.
The Nitecore P23i has 5 regular modes; ultra-low, low, medium, high, and turbo. Strobe is added as an emergency mode.
Here's the run down;
Ultra-low; 50 lumens (pretty bright for this mode) – 45 hours
Low; 250 lumens – 10 hours
Medium; 800 lumens – 4 hours
High; 1500 lumens – 2 hrs, 30 mins
Turbo; 3000 lumens – (roughly) 30 mins
Strobe; 3000 lumens (varying frequency)
Turning On Your Nitecore P23i
Dual Tail-Switch
The tail is comprised of a standard button and a flat paddle (mode) button.
Operating in Daily Mode (the default setting)
Press & release the regular button for momentary (tactical) use. Firmly "click it" to lock it in. To change the mode, press the paddle button as many times as needed to get to the level of light you want. The sequence goes from the lowest to the highest (excluding turbo). A full click of the tail-switch turns it off.
Mode memory recalls the last mode used when reactivating.
A HOLDING press of the mode button (while it's on), will produce MOMENTARY turbo! This is in fact, the ONLY way to activate turbo in "daily mode".
Momentary STROBE is what you get when the mode switch is pressed and held, from the OFF position.
Tactical Mode Operation
When set to "tactical", the mode sequence is a little different.
The sequence is; turbo>medium>low>ultra-low…going from HIGHEST to lowest, and EXCUDING "high".
In tactical; the paddle button activates STROBE. If it's already on, a holding press of the mode button LOCKS strobe in. From OFF, pressing "mode" activates TACTICAL strobe.
Please also note, there's NO MODE MEMORY in tactical mode!! Each time you turn the Nitecore P23i back on, TURBO is what you'll get!
How does that grab you!?
Voltage Indicator
With each activation the voltage indicator comes on. If it's solid, that means the battery is more than 50% full. If it flashes, it's less than 50%. If it flashes FAST…beware!!! — as that means the voltage is less than 10%!
The indicator will always be blue, no matter what it's telling you.
Toggling Between Operating Modes
Here's what you do when changing from Daily to Tactical and vice-versa.
The manual actually makes this sound more confusing than it is.
Basically, while the light is on, press and hold (then release) the paddle-switch. Then loosen (and tighten) the tail-cap. It'll blink twice to confirm and switch to the other mode.
Charging the Battery
Use the included (or any USB-C) cable to charge the battery by connecting it to the port. The side LED indicator will flash as charging begins, then turn solid when finished.
Alright Buddy, Let's Take This Outside!
Nitecore P23i User Notes
Okay, you've probably already guessed that the P23i is a cool flashlight. And it is.
Its length is pretty typical for a tactical light of this type. The pocket clip it comes with can be attached either "up" or "down" depending on your pocket preferences. It goes on pretty snug, but can still be removed without much of a hasstle.
The beam, as you can see from the pics, throws long and far. It's definately a quality "spot" of light, which also provides a splash of spill!
The buttons work well as you would expect, and it offers good flexibility regarding how you prefer to operate it. What I would add to that though, is to say the mode switch can be a bit tricky to locate in the dark. And holding it just the right way, to make it comfortable, might take a bit getting used to.
If turbo is your thing, you can make it a priority in a couple of ways, and if strobe is something you find useful, it uses a variable frequency, meaning the pattern changes. If pointed AT someone it will cause serious visual confusion!!
Nitecore stresses that their battery is the only one it will run on. I believe that's true since even before knowing that, I tried using another name brand 21700, and although it initially worked, it ended up causing some issues.
Pick it Up!
Amazon Prime will get the Nitecore P23i to you faster than a speeding locomotive!
Click here right now to make it official!
Please follow Lightsngear and like us: