I'm not sure where Nitecore was going when they decided on "TIKI" as an appropriate flashlight name. If TIKI translates to "TINY" somewhere…then it's quite appropriate. So today, the Nitecore TIKI LE is in the spotlight! This is one of the smallest keychain lights I've seen in a while…and coincidentally one of the brightest in its class.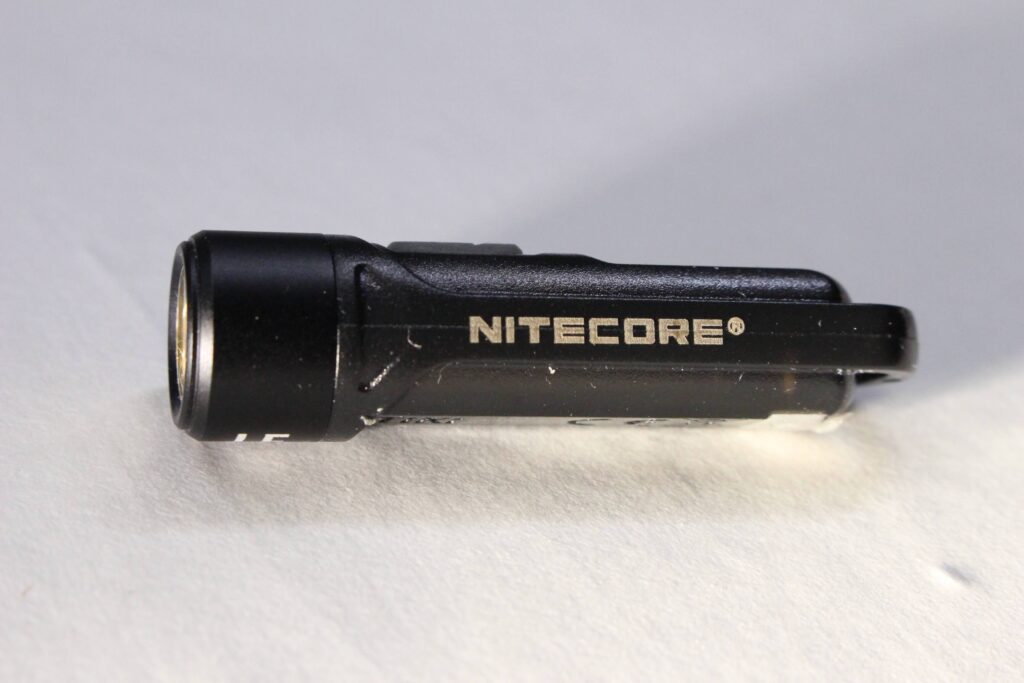 The Perfect Package for a Peg
A tiny light deserves a tiny package, and that's what the TIKI delivers. As you can see, it came sealed in a cardboard peg-pack, along with a separate USB cable, from Amazon Prime.
Specifications
Length; 2.1″
Weight; .37 oz / 10.5 grams
LED; OSRAM P8
Maximum Output; 300 lumens
Beam Distance; 71 meters (max)
Impact Resistant to 1 meter
Waterproof to IP66 standards
Body; Aircraft grade aluminum alloy
Features of the TIKI
USB rechargeable/built-in Li-ion battery
One primary LED (white) and TWO auxiliary LED's (red & blue)
Single side-switch control of all main and auxiliary LED functions
Instant access to highest mode
Modes, Output, and Runtime
There are four main outputs, and TWO auxiliary outputs.
Ultra-low, low, medium, & high, are through the main LED. The other LED's are contained within the body of the light, and in THIS version of the TIKI, consist of a RED output, and a BLUE output.
Ultra-low; 1 lumen – 40 hours
Low; 15 lumens – 4 hours
Medium; 60 lumens – 1 hour
High; 300 lumens – 30 minutes

RED

; 3 lumens – 1 hour

BLUE

; 0.8 lumens – 45 minutes
Operating the Nitecore TIKI LE
To ensure the TIKI never gets activated by accident, the interface is designed so in order to turn it on, you must do a double-click of the side switch. This action gets you "ultra-low" (whether you want it or not). It's from here that a single click, moves through the other modes. A holding press is needed to turn it off. There's no mode memory, so ultra-low is the default.
"High" output is part of the standard sequencing. You can also get it "on demand" (tactical style) by holding the button (while off).
To access the colored LED's, triple-click the button. You'll get RED first. A second click activates BLUE. A third click turns it into a Police Light, with red and blue alternating. If you keep clicking, it'll continue the sequence. Press and hold to turn it off.
TIKI Beam Pics!
Charge the Battery
Pretty simple stuff. When the output seems low, or the light is unresponsive, connect a (the) USB charging cable to the port on the back. Once connected, the switch area will light up in blue to show it's charging. You'll know it's complete when the blue light shuts off. From a low battery (and depending on the charging source) charging time is usually just over an hour.
Final Thoughts
The Nitecore TIKI LE is a very cool little keychain companion. But before I continue my thoughts, let me make clear that it comes in TWO versions.
The other version is simply the TIKI, which isn't black, but is stainless steel. It's identical, except for the auxiliary LED's, which are a "high white" CRI, and a "UV" light. Outputs are the same. Amazon Prime will have either version in your mailbox within a few days.
So, as far as keychain lights go, this certainly isn't the brightest. If bright is what you want, then I suggest the Nitecore TIP2. BUT, if having something reasonably bright, that's also extra small, is important, then the TIKI fits the bill!
Please follow Lightsngear and like us: