Today I'm reviewing the Olight Perun 2, a combination headlamp and EDC flashlight…with some added surprises!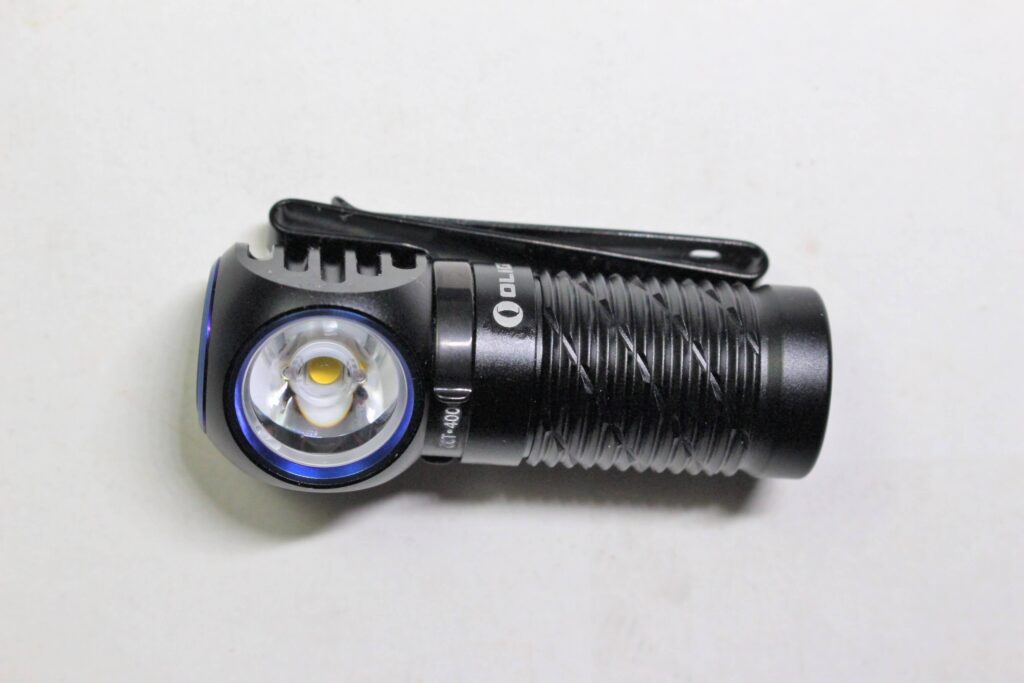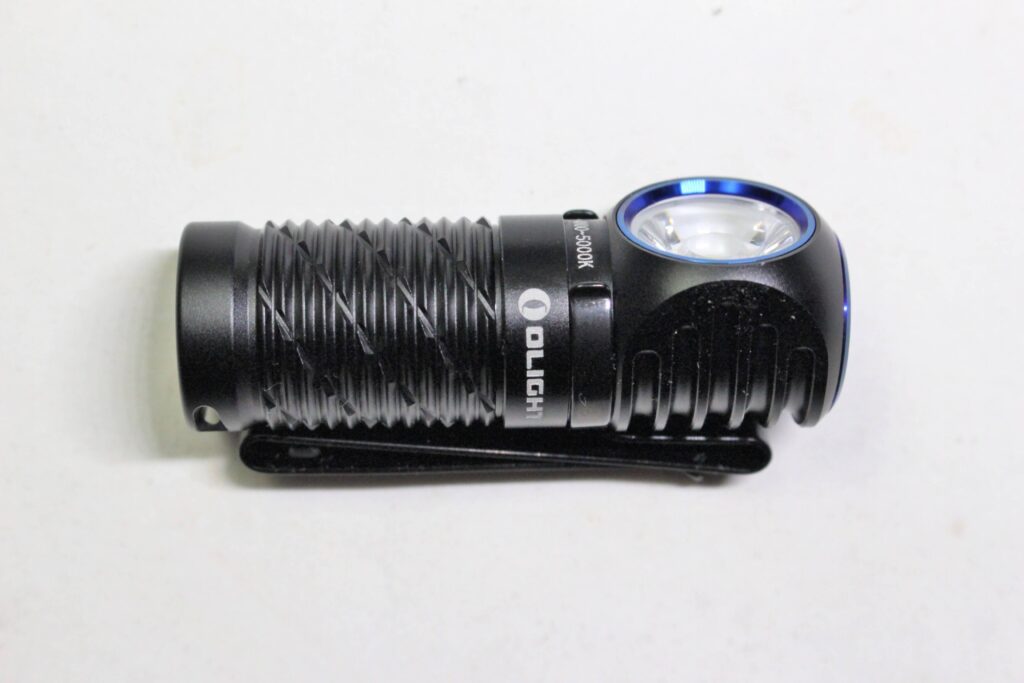 Does the Perun sound familiar? It should! Click Here to read my review of the ORIGINAL Perun back in 2020.
The Olight Perun 2 Package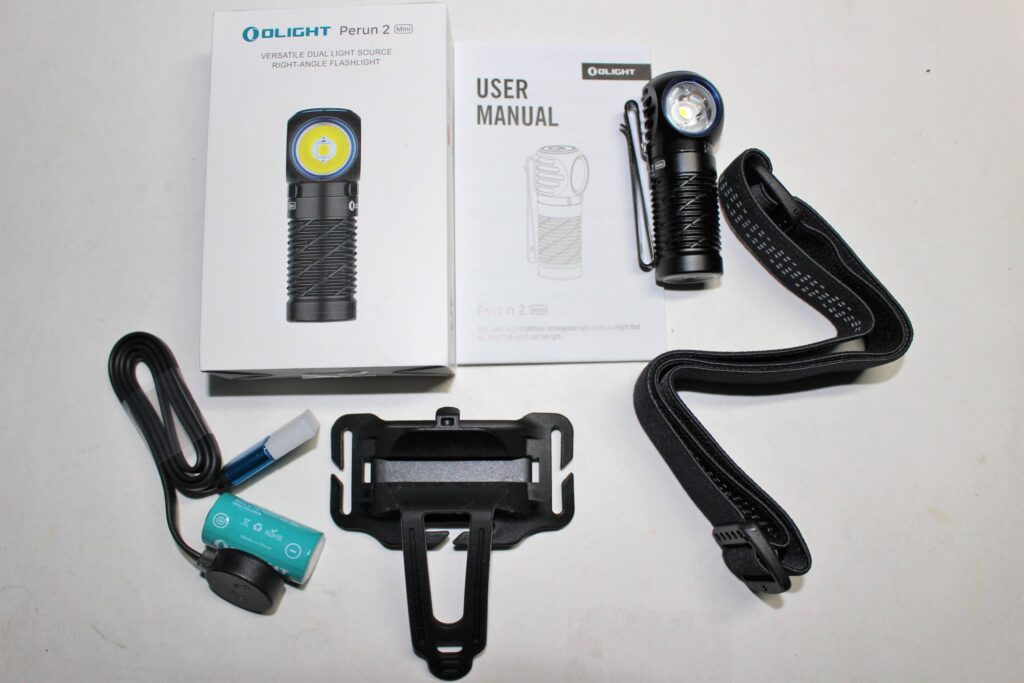 Your Perun 2 is neatly tucked away inside its little package.
Also neatly tucked away, is a magnetic USB charging plate, a headlamp base, a headband, and a user manual. A (removable) 16340 rechargeable battery is inside the tube, and a sturdy pocket clip is attached.
Specifications
Length; 2.5″
Weight (w/battery); 1.90 oz
LED; neutral white or cool white
Beam Distance; 328 ft
Maximum Output; 1000 lumens
Waterproof to IPX8
Body; Aluminum Alloy
Lens; scratch resistant tempered glass
Features
Magnetic USB charging base
Voltage indicator
Magnetic base
Mode Memory
Dual LED beam; (white and red)
Headlamp (and standard pocket) use
Electronic Lock-Out
Automatic Timer
Modes, Output, and Runtime
There's a nice selection of modes on the Perun2. Honestly it's about what you'd expect from Olight…but it's still nice 😀
Low, Medium & High are a given, and then there's Moonlight and Turbo. And as usual moon and turbo are hidden until needed.
Moonlight; 2 lumens – 10 days
Low; 15 lumens – 26 hrs
Medium; 60 lumens – 7 hrs
High; 250 lumens – 100 mins
Turbo; 1100 lumens – 2 mins – then auto drop to 23% for 85 mins
Red Beam; 40 lumens – 150 mins
Interestingly, there's an SOS mode…but it's only available with the RED LED!
Let's Talk About How to Operate the Olight Perun 2
The power switch is on the top.
Press once to turn on/off, press & hold to sequence through low>medium>high.
For Moonlight; press & hold while off
For Turbo; double-click while on
To get the RED beam; press & hold from off — for RED SOS, press & hold a 2nd time
Locking it Out
To lock the Perin 2 and prevent it from turning on unexpectedly; while off, press & hold (as if you want 'moonlight') then wait for moonlight to come ON and turn OFF. Once off, it'll be locked, then all you'll get pressing the switch is "tactical moonlight". To cancel it, press & hold again, then wait for it come on, and blink once. It's now UN-locked.
Would You Like A Timer With That?
Want to turn the Perun 2 on, but don't need it for long??
Want to turn it on, set it down, and not touch it again??
You're in luck! There's a "feature" for that!!
The automatic shut off works by doing what it says; shutting the light off after either 3, or 9 minutes, whichever you want.
This is a bit tricky to activate, so pay close attention!
While it's on, click the button, then click it a 2nd time as a holding press. With your finger STILL on the button, wait for it to flash once. Once it does, you can release it, and the timer will shut if off after 3 minutes. Want to set it for 9 minutes? Then you'll need to do the holding press maneuver a SECOND time, and wait for it flash TWICE!
Here's the thing. If you find it useful and always want 9 minutes, you need to press & hold twice in a row. Make sense?
Charging the Battery
Most users of Olight flashlights will be familiar with the 'charging disc' (or plate).
Simply affix it to the Perun's magnetic base, with the other end connected to a USB source, and you're off! Charging is complete when the indicator turns green.
How will you know when battery is low?
The indicator will tell you so!
With each activation of the light a small indicator on the power switch will light up for a few seconds.
Here's what each level of the indicator means;
Green; more than 60% charged
Orange; between 10 & 60% charged
Red; only 5% charged
Blinking red; ("danger Will Robinson") charge the light asap!
Check Out the Beam!
What's to Like About the Olight Perun 2?
Like the original Perun, there's lots of good stuff goin' on here.
Please note this light comes in TWO tint veriations. This review is for the NEUTRAL version. But you can also get one in "cool white".
As far as being equally capable of acting as an EDC flashlight, AND a headlamp…the Perun is a winner!
Its design is obviously tailored as a headlamp, but with the magnetic base, it's convenient to stick it somewhere for hands-free use.
It takes a minute to attach the headband, but when it's on, it's secure and the pocket clip never gets in the way!
If you can find a use for the red beam and the timer function, then you'll have a really well-rounded flashlight. But no worries if the extra features are merely "extra padding" in your mind.
Get Your Very Own Olight Perun 2 Mini Today!
The chance to get a Perun 2 Mini either for yourself or as a gift, is only a click away!!
And here's a special offer; If you take action NOW, you'll get a SPECIAL GIFT courtesy of the Olightstore!!
For a special "bundle offer" – click here!
And if you're shopping after the holidays, be sure to enter my coupon code; RBW4. 
Please follow Lightsngear and like us: