In keeping with the love of all things small, and easily pocket-able, it pleases me to review the Olight Perun Mini. This is a teenie-tiny EDC flashlight with enormous capabilities 😉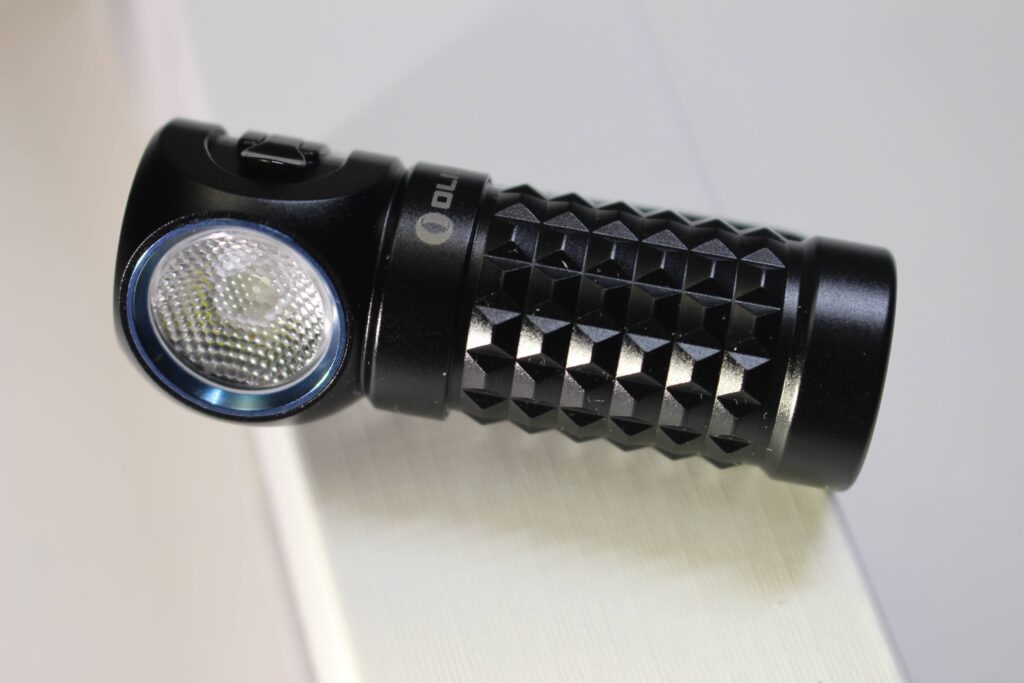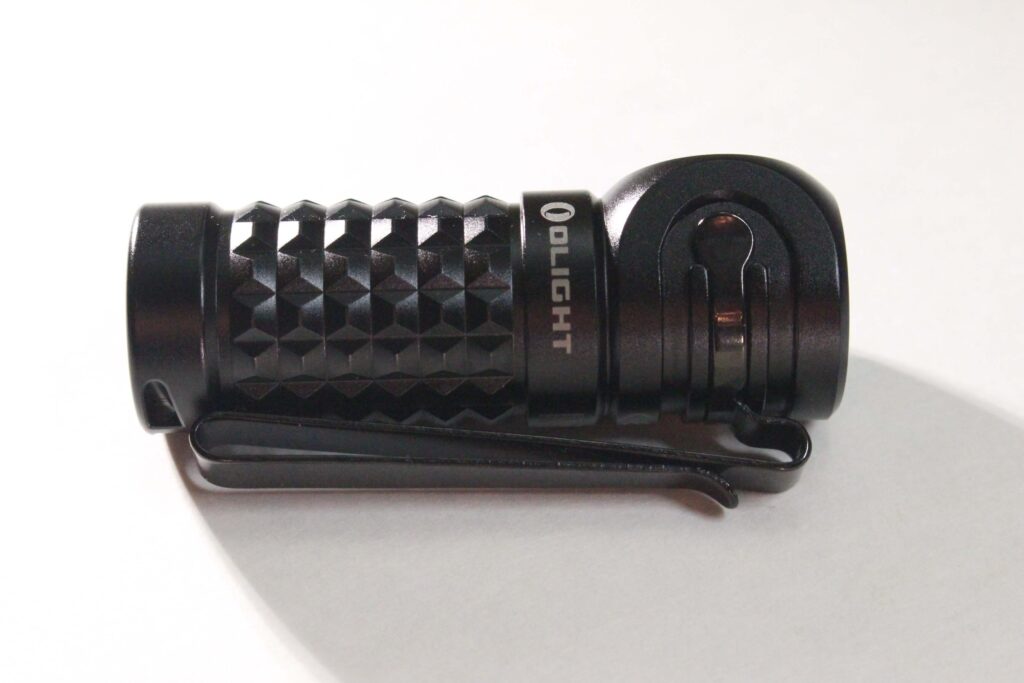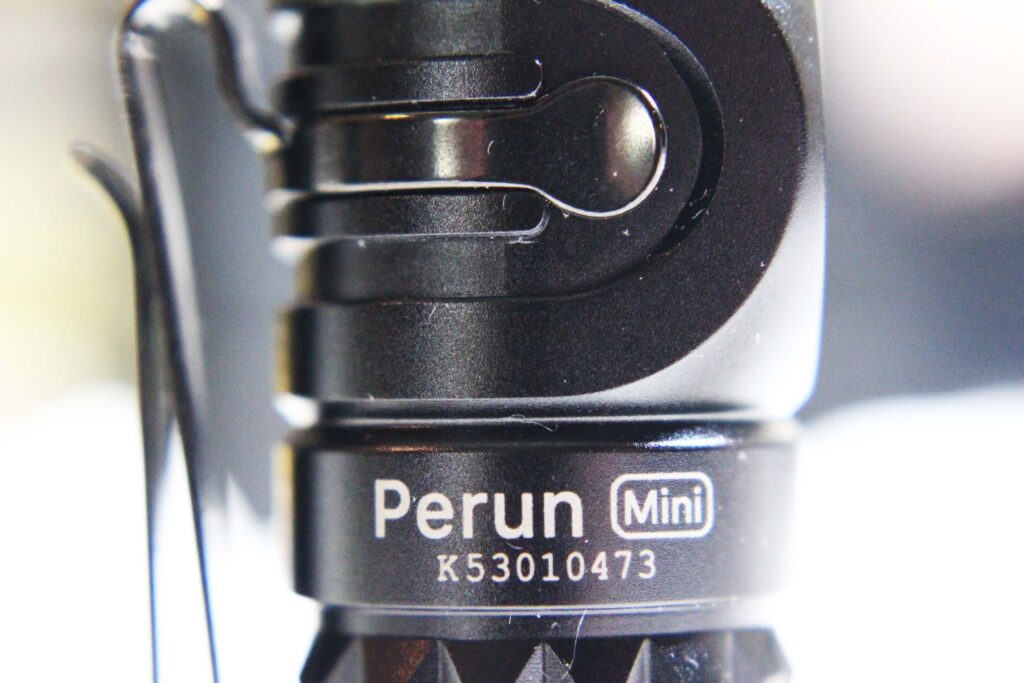 Outstanding Accessories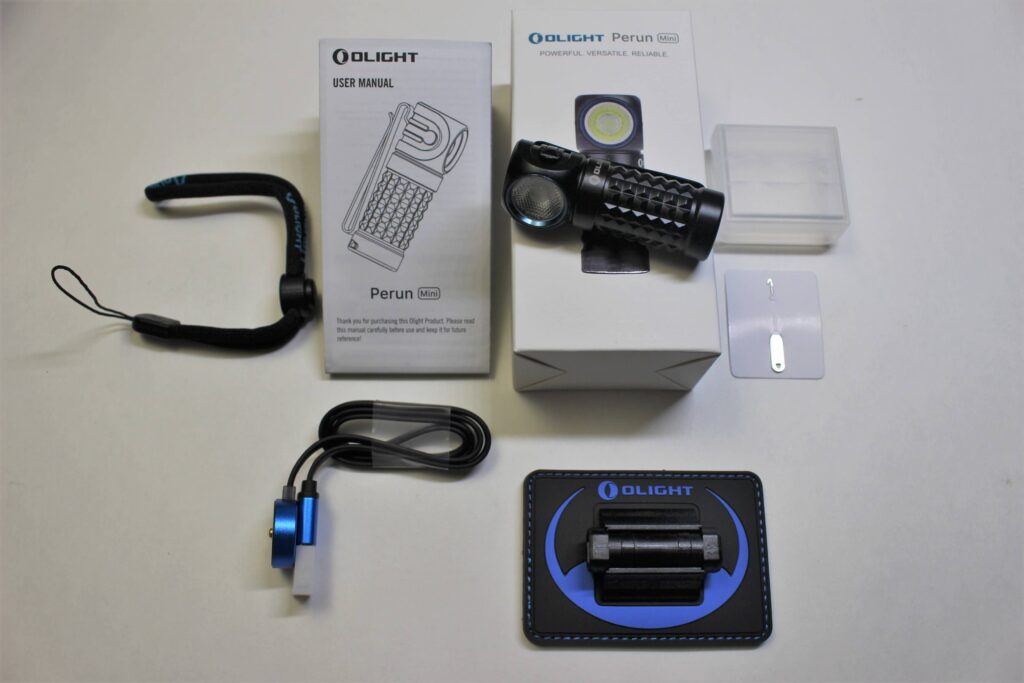 It's no secret that Olight flashlights come with an impressive set of accessories. It should then be no surprise that the Perun Mini be no different in that regard.
On the front of the box is an actual size image of the Perun itself. Inside the well secured packaging, you'll find a user manual, a lanyard (w/threading pin), a magnetic USB charging base, and a duty patch. INSIDE the light, is an Olight 16340 rechargeable lithium battery!
Specifications
Length; 2.4″
Weight; w/battery – 1.81 oz
Battery; 1 – 16340 lithium (included)
Beam Distance; 100 meters
Waterproof to IPX-8 – Submersible to 2 meters
Impact Resistant to 1.5 meters
Features
Magnetic Charging Base
Magnetic Base for hands-free use
TIR Optic Lens
Mode Memory
Heavy Duty Pocket Clip
Electronic Lockout
Timer Function
Modes and Runtime
Moon – 2 lumens for 4.5 days
Low – 15 lumens for 25 hours
Medium – 65 lumens for 6 hours
High – 250 lumens 98 mins, then lowers to 10% output
Turbo – 1000 lumens for ONE minute, then lowers to 25% for 85 mins
SOS – 1000 lumens for 2+ hours
Recommended battery is the IMR 16340 it comes with. A non-16340 works fine as well, but turbo mode might not be supported as the voltage drops. Olight does not recommend disposable CR123 cells.
Using the Magnetic Charging Base
The USB charging base equipped with the Olight Perun Mini is the same type as seen on the Baton series. Attach the charging base to the
base of the light, and connect the USB. The small indicator on the corded part of the charger will illuminate in red. It'll turn green when fully charged. Should take about two hours to charge a reasonably depleted battery.
Operating the Olight Perun Mini
The power switch is on the top. Press it to activate, press again to turn off. Mode memory will keep it at the same level each time. Once on, hold the switch to advance the modes. The regular sequence is low>medium>high.
Moonlight
You can only activate moonlight while the light is off. Press and hold the switch for two seconds. From there, if you press once, it'll turn off. Memory will return it to moonlight with the next activation. Naturally when it's ON moonlight, holding the switch will change the mode. Moonlight disappears from the sequence once you perform the holding press.
Turbo
Just like moonlight, turbo doesn't appear unless you tell it to.
A double-press is how it activates, either from OFF or ON. While in turbo, a single press turns it off, and a double-press returns to the last mode it was on.
Olight Perun Beam Gallery
Automatic Timer
I found the explanation of this in the manual a bit confusing, so here's how to do it.
It can be set to two different shut off times; three minutes, or nine minutes. While it's on in whatever mode you want it to shut off in, press the switch TWICE, and HOLD it on second press. It will blink once. This indicates it's on the three minute shut off. If you want the NINE minute shut off, double-press (and HOLD) a second time. If you did it right, it'll blink TWICE to confirm the setting. If you didn't do it right, you'll get the next mode. If you change your mind after setting it, just press to turn it off.
Lock it Out
To keep the light from getting turned on by accident, you can activate the lockout feature.
While it's OFF, press and hold the button. It'll come on in moonlight for a split second and hut off. It's now locked, and the only action you'll get out of it is "tactical" (momentary) moonlight mode.
Press and hold again to UN-lock it.
Duty Patch
The Duty Patch will affix to a hat, or clothing, or anything that is of a Velcro material. The backside of the patch is rough and textured. In order for it to cling to something, it needs the "fuzzy" surface.
In the center of the patch is a small plastic cylinder. Insert the open end of the clip into the hole. It'll go from the top or the bottom, and depending on which way you're holding it, either push it down or pull it up. It "locks" into place, and can be swiveled sixty degrees.
To Summarize the Olight Perun Mini
There's nothing not to appreciate about this tiny flashlight.
Its beam, size, and operation are almost identical to that of its cousin, the H1 Nova. But there are differences. The Perun isn't advertised as a headband light, and in fact the headband is sold separately. Having the duty patch, (more or less) replaces the headband. Overall, its accessories are top-notch!
The beam is wide and perfectly shaped. For indoor use, it's very bright on "high", and even though turbo only offers sixty seconds of use at a time, that's okay. Charging is a snap! Literally! And with the base being magnetic, it'll attach to any magnetic surface and project the beam in any direction you want.
SkyBen on Amazon!
I'd like to thank my friends at SkyBen for providing the Olight Perun for reviewing purposes, and suggest clicking here if you'd like to get one for yourself, or a friend. At the provided link, you can choose a different color if you want, OR purchase one that comes WITH a headband!
Please follow Lightsngear and like us: