The Olight Odin is up for review today. It's a medium size, weapon-ready tactical flashlight.
Box and Accessories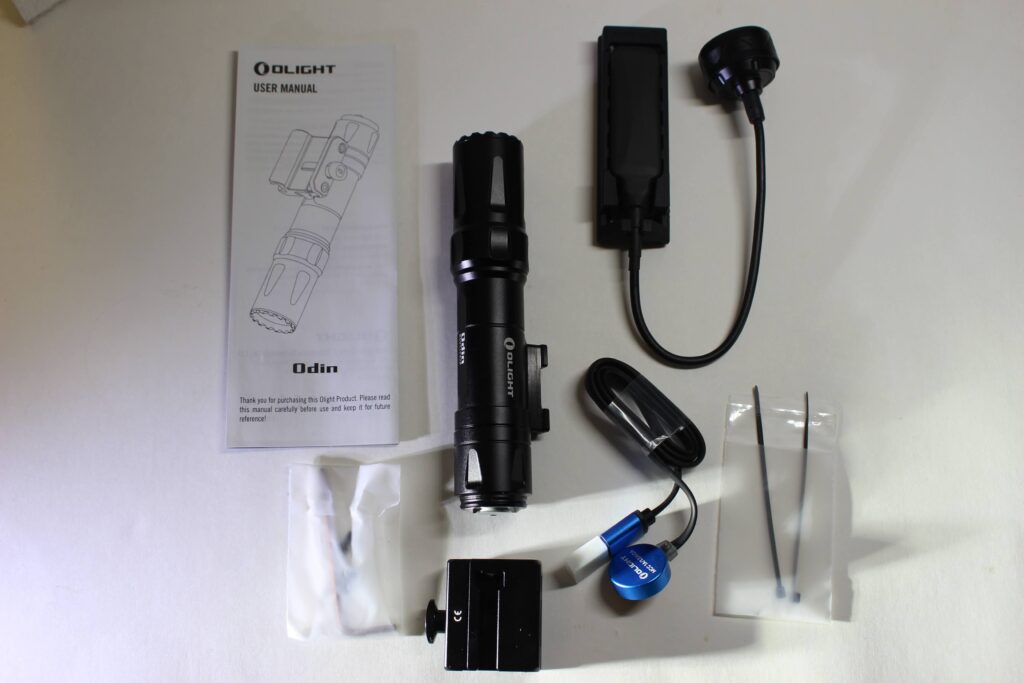 The Odin box is a little bigger than most, due to the way it's packaged and because of the accessories. The box features Olight's famous magnetic "snap" lid, so nothing rips or tears while unboxing.
Contents of the box include the Odin flashlight (with an Olight 21700 lithium battery), USB magnetic charging plate, a magnetic remote pressure switch, extra screws, small wrench, a slide rail mount, and a user manual.
Specifications
Length; 5.4″
Weight; (w/battery) 6.11 oz
Beam Distance; 300 meters
Impact Resistant; 1.5 meters
Waterproof to IPX-8
Features
Operates on ONE 21700 lithium battery (included)
USB charging up to 2A
Tactical (tail switch) Operation
Magnetic tail
Designed for PICATINNY mounts, with a locking (and removable) multi-directional slide-rail mount
Magnetic, remote pressure switch, w/locking function
Low battery indication
Crenelated Bezel for striking or breaking glass
Tail-stand capability
Output and Runtime
The Odin has two operating modes; Low and High.
Low is 300 lumens, and will run for 8 hours
High is 2000 lumens and runs on the following scale;
2000 lm for 2 mins> 1000 lm for 9 mins>760 lm for 125 mins> 300 lm for 24 mins*
* the preceding sequence takes effect when high mode is activated and left on continuously
Olight Odin (Tactical) Operation
A light press of the tail activates "low". A second light press turns it off. If while on 'low' you want "high", press the button firmly.
To get "high" without engaging 'low', firmly press the switch from "off". Pressing and HOLDING will offer momentary high. A quick (but firm) press will engage "high" continuously.
There are NO flashing or emergency modes on the Odin.
The Beam Shots
Using the Remote Pressure Switch
The pressure switch attaches to the base magnetically. Once affixed, you can lock it if you wish. There's a rotating ring with indicating arrows. To lock it on, push the ring forward. Pulling it back unlocks it.
*Once the "RPS" is attached, press the "power pad" to turn the light on.
*PLEASE NOTE YOU WILL ONLY GET "HIGH" MODE WHEN USING THE PRESSURE SWITCH.
Low Battery Vibrator
YES, you read that right…it vibrates! (but not like you might think)
Once the battery reaches 20% power, each time you turn it on, you feel a light vibration in the switch. If left on, it'll vibrate every five minutes. If you continue running it, and the power gets to 10%, it'll vibrate once every minute. Now if you WANT a vibrating experience…let it drop further, and you'll "get the sensation" every TEN SECONDS!
USB Charging
Attach the magnetic base-plate to the tail and the other end to a USB source. A small indicator on the charging cable will illuminate in RED indicating charging has begun.
Alternatively, you can remove the battery and use an external charger, but due to the length of the battery there's a good chance the charger you own might not accept it.
Utilizing the Slide Rail Mount
The underside of the mount is "tunneled out" and it's this part that slides over the "bridged" portion of the flashlight body. Keep sliding until it "clicks". There's a button on the side of the mount that serves two purposes. 1) You can LOCK the mount in place by turning the button in the direction of the arrow. 2) Pushing the button releases the mount from the slider (when unlocked).
Once the mount is in place, you can attach the light to a rail. I don't own anything for which to attach the flashlight to, so I can only attempt to describe these uses, instead of providing photos of the mount attached to anything.
A small wrench is included, which is for loosening the screws on the mount. I believe this is to give greater flexibility for adjusting the mount. There are two extra screws as well.
Commenting on the Olight Odin
The Olight Odin is more of a specialized flashlight, rather than one you'd use for everyday carry. There's really no way to carry it like you would a regular light anyway.
It's the first light I've ever owned that has a pressure switch, and is mountable. So these uses aren't as familiar to me as they might be to other users.
Low mode is bright enough for general use, and obviously "high" is extremely bright. One thing to note; on high, it gets very, very hot. The automatic stepdown is supposed to start kicking in after about two minutes on high. By this point, it's already hot, and even with a diminishing output, it's STILL too hot to hold! As I demonstrate in my YouTube video review, if you're using the Odin on 'high' and actually holding it when it gets hot, you can move your grip to the mounting bridge which doesn't heat up like the body of the light does. General grip of the light is very good.
The included 21700 battery is longer than most, so charging it with the included plate is really the only way to go.
If your uses of a flashlight take you into tactical situations, and where using a pressure switch is to your advantage, then the Olight Odin might be just what you're looking for.
Recommendation
SkyBen on Amazon provided the Odin for review, so if you'd like to have one, I recommend visiting THEIR AMAZON PRODUCT PAGE to buy with Prime.
Please follow Lightsngear and like us: