Powertac has a line of quality flashlights next to their name. I'm reviewing one of their tactical lights today, since I think it's about time they  got a bit more exposure. Here now then, is the Powertac M5!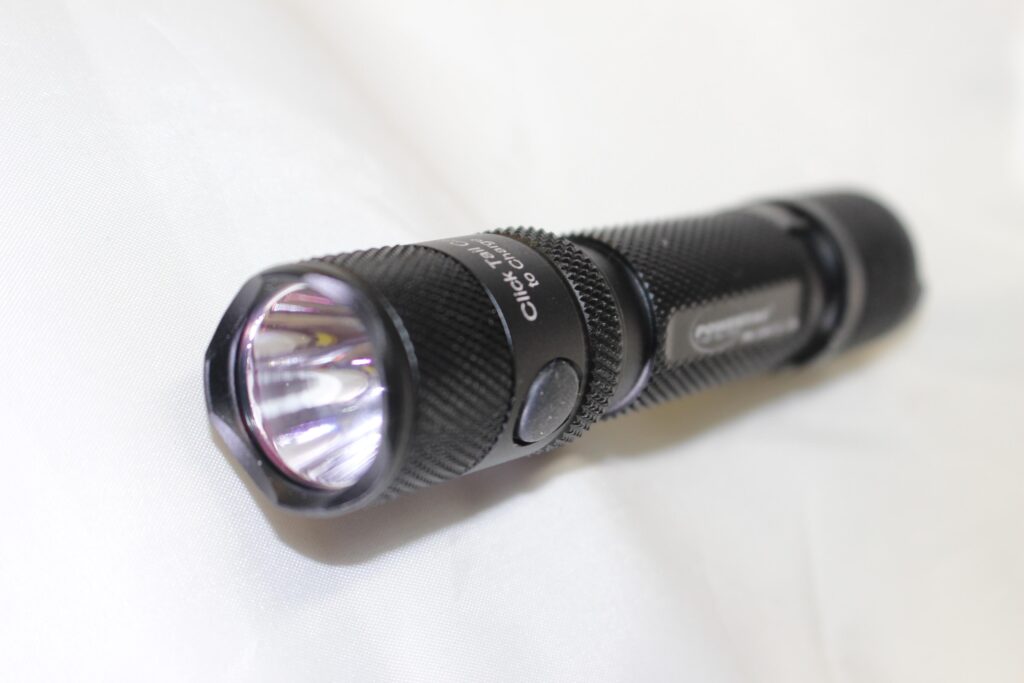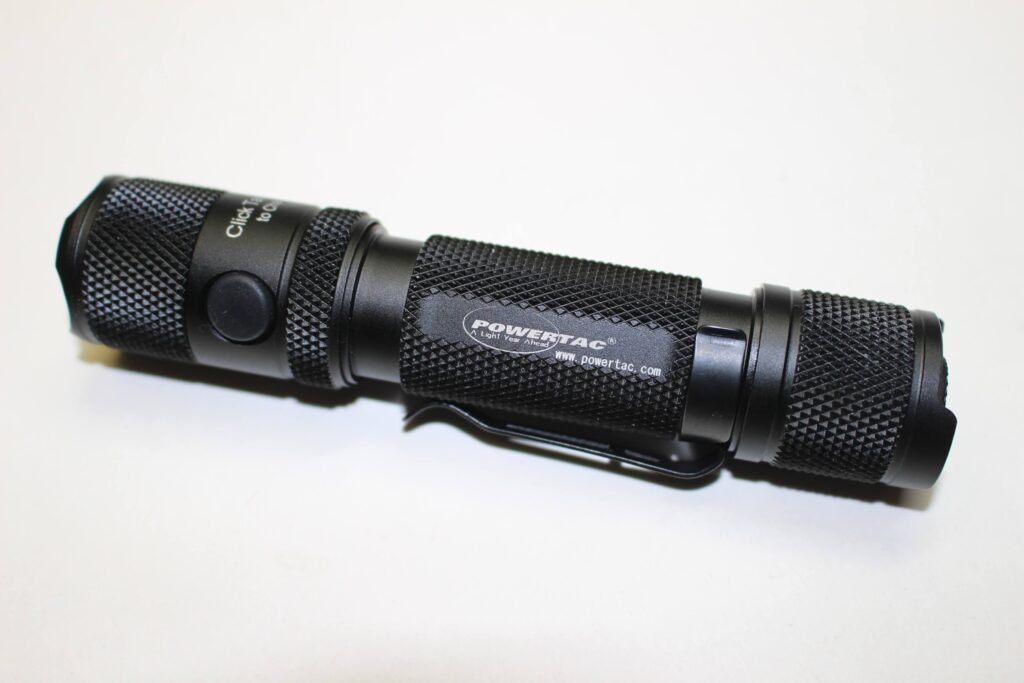 Compact Box and Quality Accessories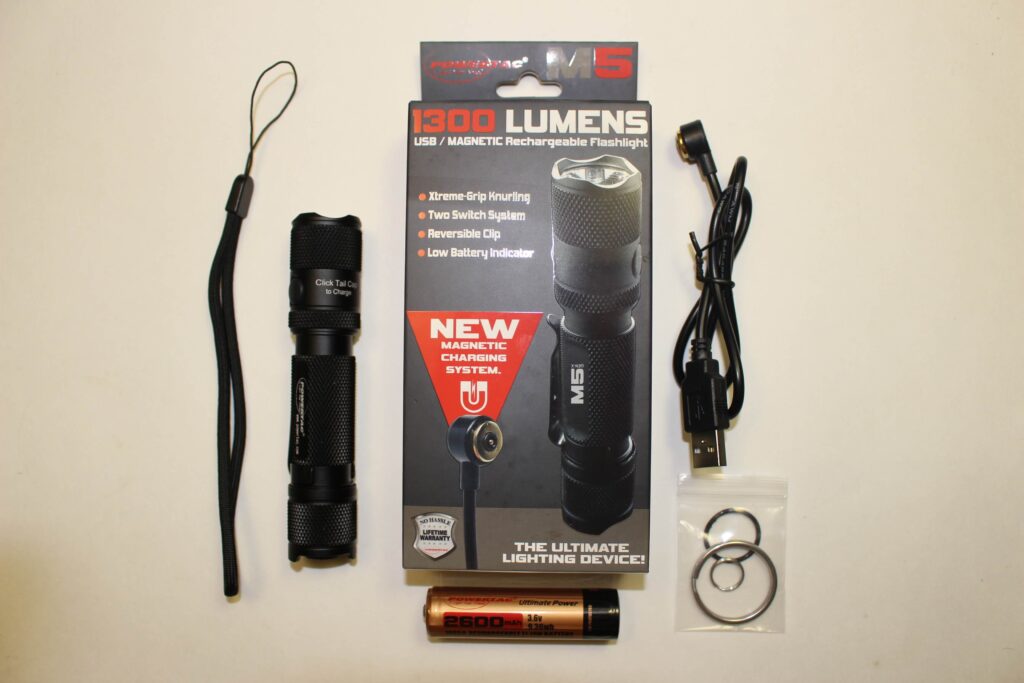 Comfortably secured in its compact package, is the M5, along with a magnetic charging cable, a 2600mAh 18650 rechargeable battery, a lanyard, a pocket clip, keychain attachments, a spare o-ring, and a user manual.
Specifications
LED; Cree XM-L2 U3
Length; 4.8″
Weight; 3.94 oz
Max Output 1300 lumens
Beam Distance; 220 meters
Impact Resistance; 2 meters
Waterproof; IPX-8 – submersible to 2 meters
Features
Tactical operation via tail switch
Mode Memory
Tempered scratch resistant glass lens
Smooth reflector for maximum throw
Digital circuitry to maximize battery life
TypeIII (anodized) aircraft-grade aluminum body
USB (magnetic) charging system
Low voltage indicator
Battery, Modes, Output, etc
Part of the accessory package is a single 18650 lithium battery. This is the preferred power source since it permits the highest output. See notes further down in this review for limitations regarding other battery sizes.
Modes are as follows; (using a 18650 battery)
Firefly; (less than) 1 lumen for 25 days
Low; 50 lumens for 25 hrs
Medium; 180 lumens for 10.5 hrs
High; 480 lumens for 3 hrs
Turbo; 1300 lumens for 2.6 hrs
Strobe; 1300 lumens for 3 hrs
Operating the Powertac M5
Nothing happens until the tactical tail switched is pressed. To operate tactically, press it "lightly" (and hold) for momentary light. Click it for constant light. While on, press the side switch to advance lowest to highest. You'll need to press for each mode advancement, because if the switch is HELD, it'll activate strobe! A firm click of the tail is required to turn it off. Mode memory will allow it to return to the previous mode with each activation.
One thing of note. Unlike just about EVERY high quality flashlight I have ever reviewed, strobe is NOT hidden! So when going through the sequence, you MUST click through strobe when going from turbo to firefly! This may or may not be a deal breaker for some flashaholics. The other huge difference with the M5, is that strobe can be memorized!! For example, if you turn the light OFF, from strobe, you can access "tactical strobe" with a soft press of the tail, and constant strobe with a firm click.
If you run the light down to a low voltage, the switch illuminates in red. That's your cue to charge it as soon as possible.
Magnetic Charging System
Included with the Powertac M5 is a magnetic charging cable. The "business end" looks like an ear bud, which magnetically affixes to the light on the opposite side of the side switch. Plug the other end into a USB charging source, then click the tail switch. Charging starts, and the "SS" will glow in red. It'll turn blue when finished.
If you need it to, the M5 can be used while charging, but only on the lower modes.
Any 18650 battery you choose to use can be charged internally.
The Great Outdoors
To Summarize the Powertac M5
I was a virgin with Powertac until using the M5! In a nutshell, the quality is first rate.
I'll start by saying the accessories are very good, and the inclusion of the 18650 battery is much appreciated.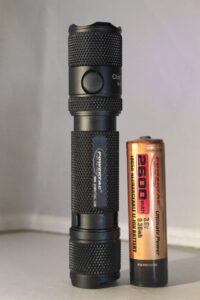 First Impressions
Size-wise the M5 is on par with other 18650-based lights. What I noticed right away was the "feel" of it. The knurling is very aggressive. Mush more so than on most other lights. It almost gives it a scratchy feel in the hand. On the positive end, there's no way you'll lose its grip…even if wet.
Beam tint is very white, with a definitive center of light.
Operational Notes
The tail switch clicks firmly, and it tail-stands perfectly. The side switch  What I'm not particularly enamored with, is how sequencing the modes requires having to pass strobe between turbo and firefly. This is reminiscent (to me) of  lower cost flashlights, which usually don't have mode memory. As I eluded to earlier though, the upside, is if the users main intent is to have a flashlight for self defense. Due to the fact strobe can be used with mode memory, it can be the ultimate light for defense.
As expected it's very bright on turbo, and if you leave it running for five minutes or longer, you'll notice a modest drop in output. Naturally it'll start to get hot after a little while as well.
Recommendation
The Powertac M5 is an easy to operate, EDC light, and a good choice for someone who might need a flashlight for self defense.
I received the M5 courtesy of Powertac, and invite you to visit their site if you're considering a purchase. You can also enter code LNG40 at checkout, for additional savings!
If you prefer Amazon Prime…#ad click here!
Please follow Lightsngear and like us: