I'll say right up front… the Nitecore MH20 is a great little flashlight!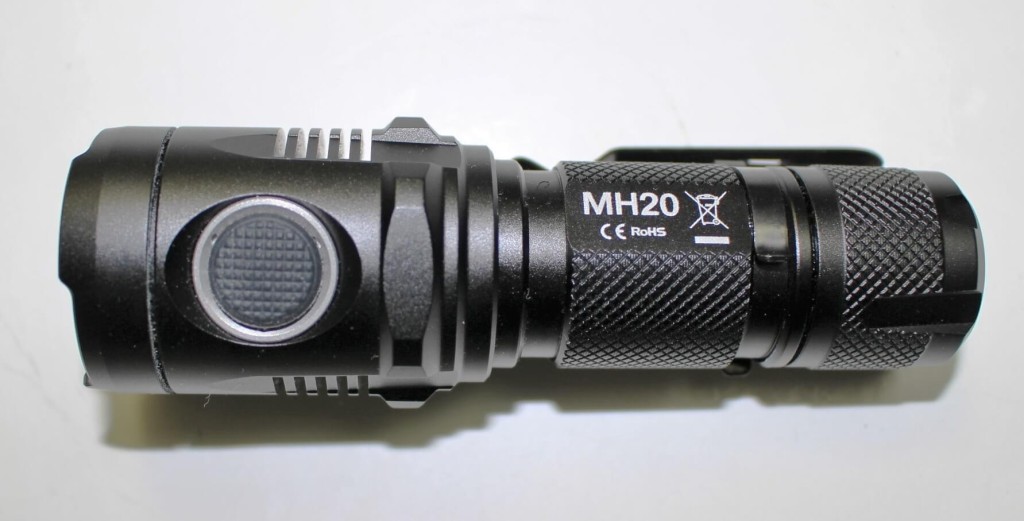 So yes, I'm very pleased to be reviewing the MH20. A tiny flashlight with 1000 not so tiny lumens of LED output!
A Generous Package
So, along with your MH20, comes a pocket clip, a lanyard, a belt holster, a USB cable, a spare USB port cover , instruction manual, and a spare O-ring.
Basic Facts & Figures
The MH20 is a small flashlight; just a "hair" over 4″. The diameter of the head is 1.25″
Weight-wise; (with an 18650 battery) just 132 grams (4.66 ounces)
Nitecore has measured the beam distance at 220 meters.
It is impact resistant to 1.5 meters, and waterproof to 2 meters.
The LED is a CREE XM-L2 U2.
Batteries and Output
With its wide voltage range, your MH20 can run on either (1) rechargeable 18650, or (2) rechargeable 16340's, or (2) rechargeable 18350's, or (2) disposable CR123's.
When a battery is installed for the first time, the power switch will "blink" its voltage. Any time you wish to check that, you can give the tail cap a quick twist, and the voltage will be displayed.
Five constant lighting modes give you just the right amount of light for any situation.
Ultra-low is only 1 lumen
Low is approx. 125 lumens
Medium is approx. 370 lumens
High is approx. 590 lumens
Turbo is a very bright 1000 lumens
Nitecore has measured getting two hours of constant light from the MH20, while on turbo mode… using a 2600mAh 18650 battery.
The "Rechargeable" Part
On the opposite side of the power switch, is the USB port. Just plug the included cable into the port, and connect the other end to any USB connector. Of course a standard USB (AC) wall adapter will work just as well.
Once attached, a blue LED under the power switch will begin blinking. This indicates the charge has started. Once the charge is complete, the "blinking" blue LED will become solid.
In attempting to test how long the MH20 takes to charge an 18650, I used a low capacity battery. So with only 500mAh on the line, and the battery discharged all the way to 2.9 volts, it completed the charge in 92 minutes. Nitecore's own estimate at charging a full capacity is roughly 4-5 hours. The estimated charge current the MH20 uses is about 500mA.
Let's Flip the Switch
The large head-mounted power switch wears many hats! It turns the light on and off, and changes all modes. In addition, it also functions as a battery voltage indicator!
Press the button until it clicks, to get constant light. With each soft press that follows, it will advance to the next level.
Here are the other functions of the switch.
Instant "ultra-low"; from OFF, give the button a "soft" holding press
Instant turbo; from OFF, give the button a FULL holding press
Instant strobe; from any lighting mode, press and hold the button.
SOS and location beacon; from strobe, just lightly pressing the button will advance to the next emergency mode.
Flashlight location indicator; from OFF, give the button a soft, but really fast press. Within one second, the blue indicator will blink once three seconds until the button is pressed again. Nitecore claims a fully charged battery can sustain this mode for ONE YEAR!
Beam Shot Images
What I Like About the Nitecore MH20 
The size. You can't beat the convenience of a 4″ high power flashlight.
The multi-function switch. It's large, and easy to navigate.
Ultra-low mode. That's very important to me! It's comforting to know that for indoor use, perhaps late at night (or in the wee hours) you have the convenience of just ONE LUMEN to light up what's right in front of you! I even wrote an entire post about that which you can read here.
The

blue

flash. The voltage (and location) indicator behind the switch is another very useful feature.
Is There Anything I DON'T Like About It?
Not much… as you can tell. But, if I had to gripe, I'd say the one thing would be the sizable jump in output from ultra-low to low. It's not a big deal, but in some circumstances, you might wish there was something 1 lumen and 125 lumens.
All things considered, I think Nitecore has a big winner in the MH20!
Lightsngear gives it an A!
Need a link to see what others have to say? (and to possibly get one for yourself) Then Click Here!
 Flashlight Update
It's now the spring of 2016, and Nitecore has updated the MH20. It's now known as the MH20GT, and features a new LED!
The new CREE XP-L HI V3 LED has a beam range of 362 meters (that's 1,187 ft!!) It's still 1000 lumens, and still has all the features of the original MH20.
Here are a couple of photos depicting the beam quality of the 20GT. Click on each one to see a full-size image.
What do you think? Like it? If so, click here for a better look, which includes a purchase option.
Please follow Lightsngear and like us: