Here is something unique! The MecArmy SGN3, is a rechargeable key chain flashlight that's small on size, but BIG on power!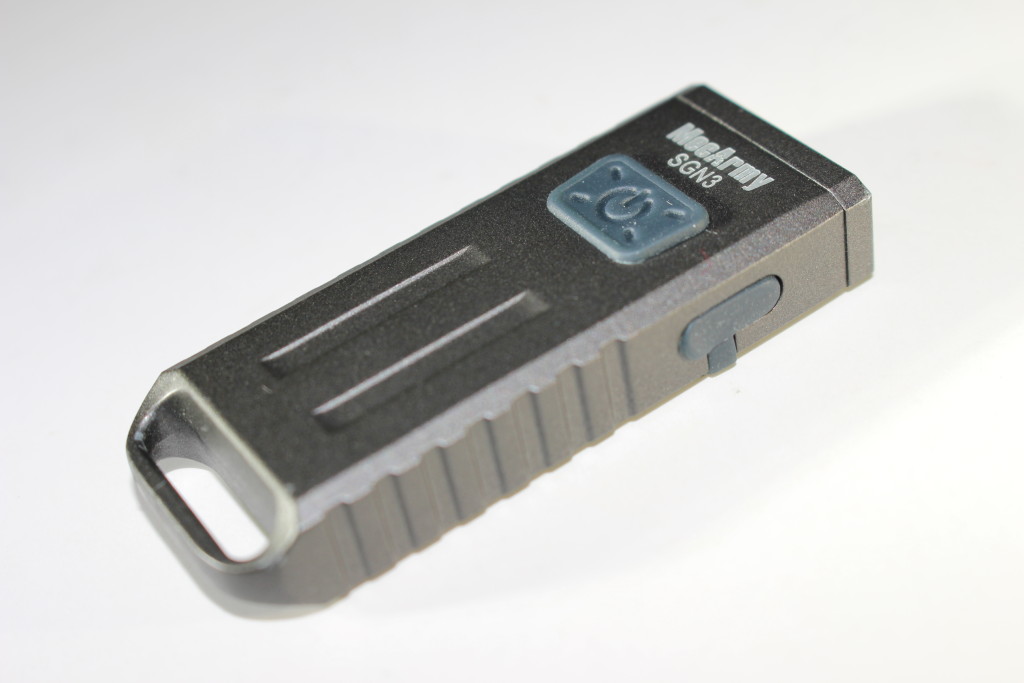 Most Everything You'll Need
Within the package, is a key ring loop, a wrist strap, and a user manual. You will need to supply your own micro USB cable.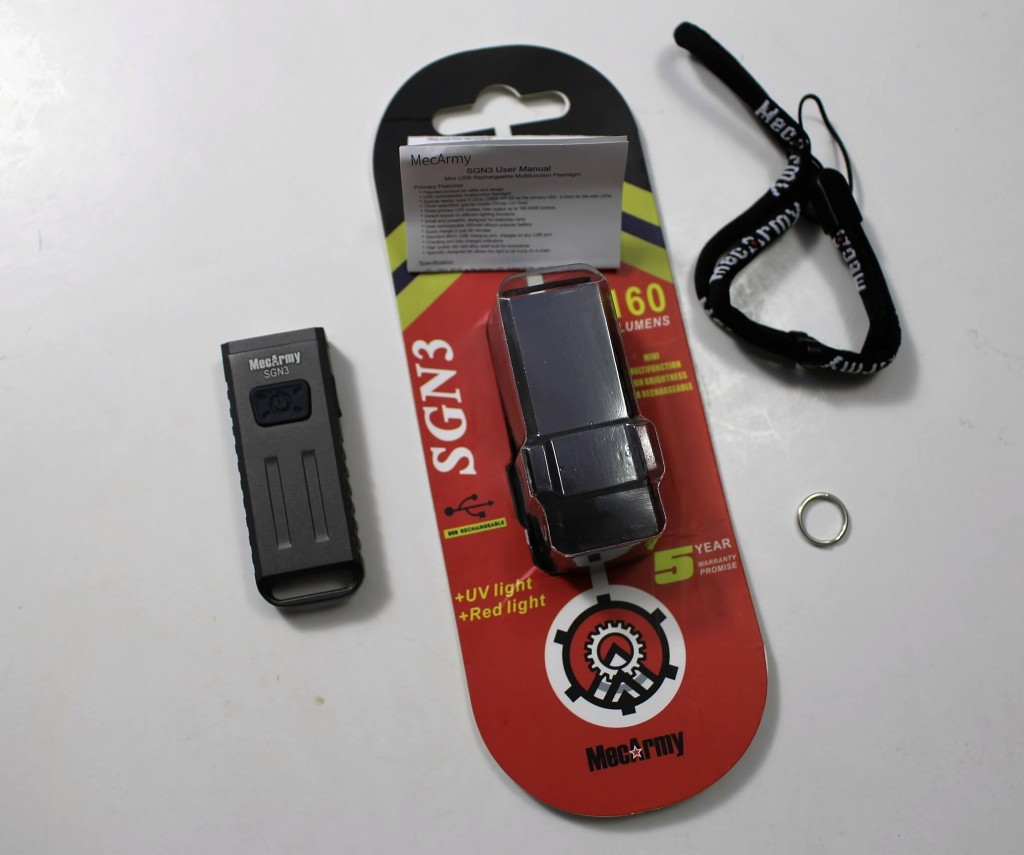 Very Impressive Specs
At just under 2½" long (and a quarter inch thick) the SGN3 is perfect anywhere. From the photo below, you can see that the SGN3 isn't much larger than a finger-nail clipper!
The battery is an internal 280mAh lithium polymer. You will never once need to gain access to it.
The SGN3 has not one, but THREE LED's!
At its core, (and in the center) is a white, CREE XP-G2 LED. From this, there are three general lighting modes. Low, medium and high. On low, it gives you 5 lumens. Medium offers 50 lumens, and high is 160!
On high mode it offers continuous light for 1 hour. Low should run for about 13 hours.
The two secondary LED's are unique in themselves. The far left LED is a UV (ultra violet) light, and the one on the right is RED!
The red LED also has a "flashing" feature.
The SGN3 is tough — and manufactured from a quality die cast alloy.
Show Me Your LED's!
The three LED's all work independently of each other.
Basic Operating Procedure
It took me a few minutes to get the modes figured out, but once I did, it makes perfect sense.
Click the big switch and the light will activate on medium. If you click it again with a few seconds, low mode will be activated. If you leave it on for a little bit longer, and give the switch a quick click, it'll turn off.
From off, press and hold the switch. This will cycle through the main LED and the two alternate LED's. You may stop on any of them for constant illumination in that mode.
If you desire the red LED to flash, you'll need to be in the red mode, then by giving the switch a very fast press, it will activate red flashing.
Keep in mind that during the "cycling" procedure, only medium mode on the main LED will illuminate. If you want high or low, you'll need to stop on medium, and click to the other modes. "High" can be reached quickly from medium, by double-clicking the switch.
Once you start clicking through the modes, it begins to make sense.
The manual says there IS a memory mode. But (strangely or not) I haven't been able to have it turn on in anything other than "medium" from the off position.
Let's Charge the Battery 
By pulling back the "skin flap" on the right side of the unit, the USB charging port will be exposed. Once you plug a micro USB cable into it, an indicator light beneath the switch will light up in red. As you can see from accompanying photo, the indicator turns green when the charge has completed.
It takes about 90 minutes to completely charge the battery…from a depleted state. The manual states that once the battery gets very low, the UV light will cease to work. From my own tests, the internal circuit charges at roughly 140mA.
Let's Look at Some Beam Shots
My Thoughts Are My Own
These days, there are many different types of key chain flashlights available. I find the MecArmy SGN3 to be quite unique in its design, shape and performance. Never before have I seen one that featured not one, but THREE LED's! Even if you think the UV and red LED's are for show and tell only, it's a very different kind of key chain light. Having low, medium and high in a light of this size is very useful, and very cool!
I'm recommending the MecArmy SGN3 for convenience and versatility.
The SGN3 was kindly provided for review by my friends at GearBest!
P.S….. Once you're there, use this code at checkout to sweeten the deal! GBLED2016
Please follow Lightsngear and like us: