In case you haven't noticed, key chain flashlights are getting bolder, and brighter! And I have proof of that statement right here! This is the new MecArmy SGN5, a key chain light which also subs as a mini defense tool!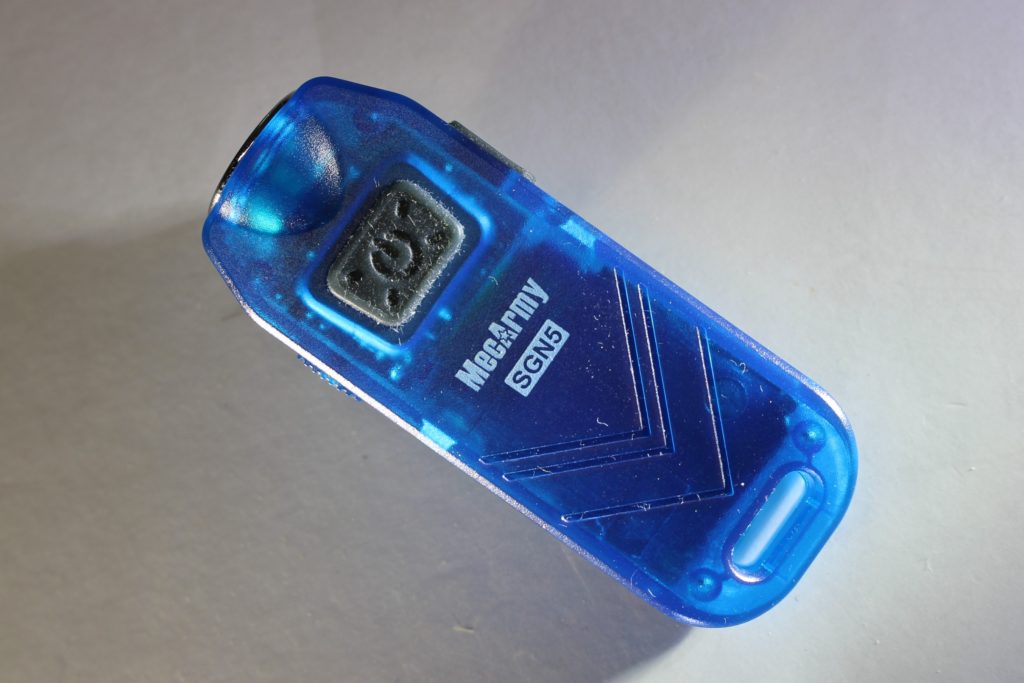 This is only my second MecArmy light. The first, was their SGN3, which itself chartered new territory. With the SGN5 they've kicked it up a notch… and made it brighter too.
Teeny Tiny Package
So within the tiny MecArmy box, you'll find the SGN5, a USB charging cable, a lanyard, two key ring attachments, and the user manual.
Specifications
Obviously it's very small;
Length; 2.6″
Width; 1″
Thickness; 0.5″
And of course it doesn't weigh much; 24.5 grams.
The LED is a Cree XP-G2 S3, which produces a nice, reasonably wide circle of white light.
Its self-contained power source, is a 300mAh rechargeable lithium polymer battery, which if drained to the point when the flashlight tells you it's time to charge it, will take about one hour to complete its mission.
Maximum beam distance is tested at 80 meters (87 yards).
It's impact resistant to 1.5 meters.
It's waterproof to IPX-4 — meaning it can be splashed with water from any direction for up to five minutes.
It comes in THREE different colors.
Two of its Best Features Are…
…the fact that it's USB rechargeable, AND, that it's equipped with a 115dB siren! I believe this is the first of its kind  😛
Modes, Output and Runtime
The MecArmy SGN5 has four regular lighting modes. Low, medium, high, and turbo. It also has strobe and SOS!
Low; 3 lumens — 42 hours
Medium; 28 lumens — 350 minutes
High; 118 lumens — 65 minutes
Turbo; (big jump!) 560 lumens — 45 minutes
Want to Know How it Works?
There's one switch on the light. A basic press turns it on in low beam, and a second press turns it off. Once on… press and hold the switch to advance to medium. Do the same for high and turbo.
Here's what you can do with the SGN5 when it's already off;
One click for "instant" low
TWO clicks (like on a mouse) will activate turbo
THREE clicks activate strobe
Press and HOLD for instant (and temporary) access to turbo; it's only on for as long as you hold the swtch
There's NO mode memory on the SGN5. To use either medium or high mode, you must cycle from low.
The SIREN!
Perhaps the most unique feature of the SGN5 is the 115dB siren. To switch it on, flick the switch that's located on the left spine of the light. As the siren "chirps" strobe is also activated simultaneously… so to an attacker (or just to attract attention) it's a double-whammy! Both elements remain constant until you switch them off.
'Low Battery Warning' Indicator
When the battery voltage lowers to 3.3 volts, a red indicator on the switch will begin flashing. Charge the battery as soon as you can.
Charging the Internal Battery
On the right spine of the light is the USB port. Once connected with the included cable, or one of your own, you'll see a blinking bi-color (red/green) display beneath the main switch. It'll continue doing that until the charge is complete, then it remains solid green.
Taking a Look at the Beam
Pros and Cons to the MecArmy SGN5
There's really nothing NOT to like about the SGN5. I won't recite the tired cliche about it being so bright for its size, but I WILL say for a key chain light, they've incorporated several nice features!
If you're into comparisons, it's a bit thicker (and longer) than the aforementioned SGN3, but there's good reason for that.
Mode changing is easy, and having direct access to strobe and turbo is very much appreciated. Not to mention the ease of charging the battery… virtually anywhere!
Last but not least, it's also VERY affordable!!!
My Special Recommendation
I must say I've never seen a light equipped with a defense mode, that's so uniquely usable before. If I may be so bold as to "pigeon-hole" a particular demographic… the MecArmy SGN5 SHOULD be purchased by (or given to) just about every college-bound female on the face of the Earth! This is not imply that danger lurks on the grounds of every learning institution, but, nervous parents would have their minds more at ease, knowing that THIS sort of security was within a moments reach if necessary.
On a related note, I've ready many a customer review on Amazon, where a mom or dad proudly proclaims that their student is now safe on campus since buying them a "generic" focusing flashlight with "strobe" mode! What's wrong with that you might ask? It's big, bulky, and uses easily-drained AAA batteries. And in addition, turning the light ON, and fumbling to FIND strobe mode is virtually impossible in they're caught in a moment of panic! Meanwhile on the SGN5, they only have to push ONE BUTTON… even if it's already OFF! I rest my case.
To make the MecArmy SGN5 part of YOUR personal defense system, click here to visit its Amazon product page.
Please follow Lightsngear and like us: