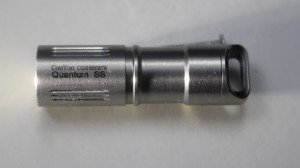 THIS is one COOL flashlight! The CooYoo Quantum SS, is a key chain light that runs circles around most any other key chain light you'll ever use.
Let's Talk Tiny! 
At just a hair over 1½" long, the Quantum SS is one of the smallest key chain flashlights I've seen!
But, with regard to its light output, it's also one of the brightest I've seen. Within the tiny bezel, is a CREE XP-G2 LED. This enables the CooYoo to achieve a low and high setting.
Not Tiny on Output
On high, you'll get 130 lumens, which should run close to 30 minutes. On low, you'll get 8 lumens, for around 6 hours of continuous light.
Simple Packaging 
The CooYoo Quantum SS comes presented in a simple blister card along with a chain that can be attached for easier carrying. Or, just attach it to a key ring.
The Best Part of the CooYoo
So, what surprised me most about the Quantum is that it's probably the smallest rechargeable flashlight I've ever seen!
So, where most key chain flashlights operate on small, hearing-aid type batteries, this one uses a rechargeable Lithium *10180 battery… which is included in the package. The battery is inserted by removing the tail cap.
*I'll be honest, I wasn't familiar with this size battery, so I did a bit of research. There's little markings on it… but nothing helpful. I believe typical capacity for these is around 90mAh. It is also an unprotected battery. I charged it on a hobby charger and it accepted 111mAh. 
There's a micro USB port which is only visible when the bezel is removed. The Quantum doesn't come with a cable, but any micro USB cable will work. (see the photo)
So in order to charge the Quantum, you need to unscrew the bezel. The USB port is revealed. As you can see from the photos, when the USB is plugged in, a small LED lights up in red. The charging shouldn't take more than an hour. When completed, the LED is green.
Twist On, Twist Off
The Quantum SS is so simple. Just twist the bezel. Low mode will be first. Continue twisting and you'll reach high mode. Twist in reverse to turn it off.
Piece by Piece 
So in the accompanying photo, you'll see all the pieces that make up the Quantum. There's the battery, the bezel, the mid-section and the tail cap.
By the way, the Quantum is also water resistant and impact resistant. And, on a flat surface, it'll also tail stand!
A Couple of Beam Shots
The End Result
In my opinion, the CooYoo Quantum SS is the most unique key chain flashlight of its kind. I've not seen one this small, and the fact that it comes with a rechargeable battery, PLUS an internal USB port…is nothing short of amazing.
It's definitely more expensive than your average key chain light, but it's infinitely better. Those little button-size batteries that others require don't last long, and are expensive to replace. Plus, I don't think there are too many key chain lights that offer up to 130 lumens!
Of course if you use the light frequently, the charge will run down quickly if you use it on high a lot. But due to the convenience of charging via a USB, it's quick and easy to connect it to a port wherever you can find one. If you find yourself using the Quantum daily, my advice would be to give it a little charge once a day. That way it would have enough voltage to run on high, a few times each day.
The only downside to the light is the possibility of losing the tiny head each time you charge. If this happened in your car it would be tragic! Try to remember to always put it in a pocket (or some place equally safe) when charging the battery.
The safest and most convenient way of charging the battery, is in the light itself. In my reference above, I used a hobby charger to test the capacity of the battery. Other than for that test, there's no need to charge it "outside" of the flashlight.
If you can see the CooYoo being useful on YOUR key chain… or on someone's else's (as a gift) click here!! 
If you have any questions about this nifty little flashlight, please let me know!
Please follow Lightsngear and like us: