I realize that, "in review order" I just tested a key chain flashlight from MecArmy. Well, not to be over shadowed, Zanflare has entered the world of key chain flashlights too. So today I'm taking a look at the Zanflare F6.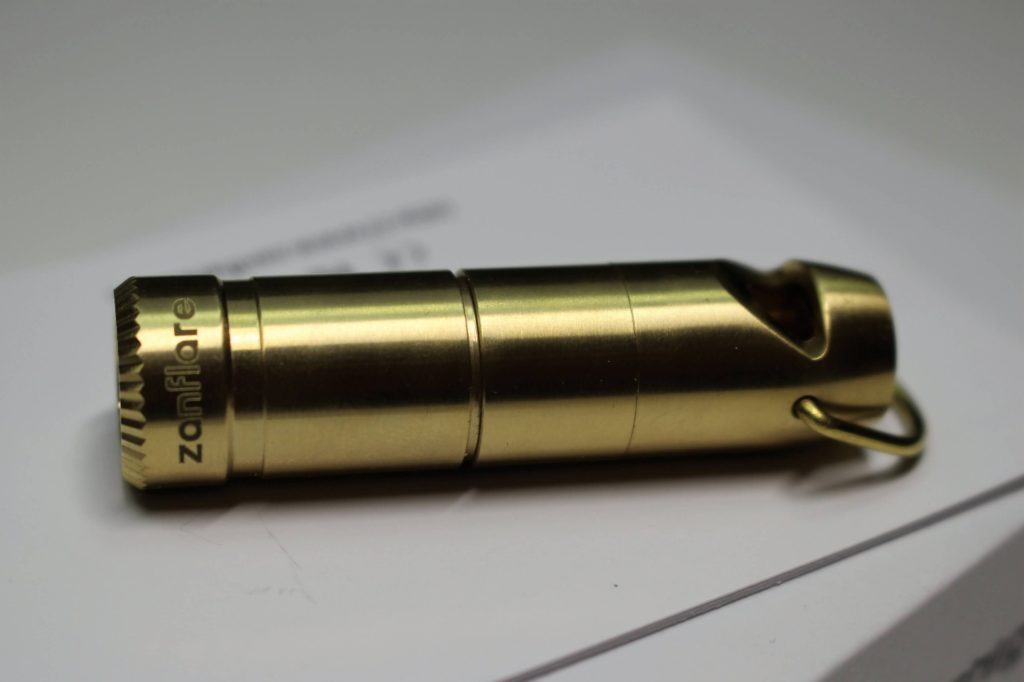 Useful Accessories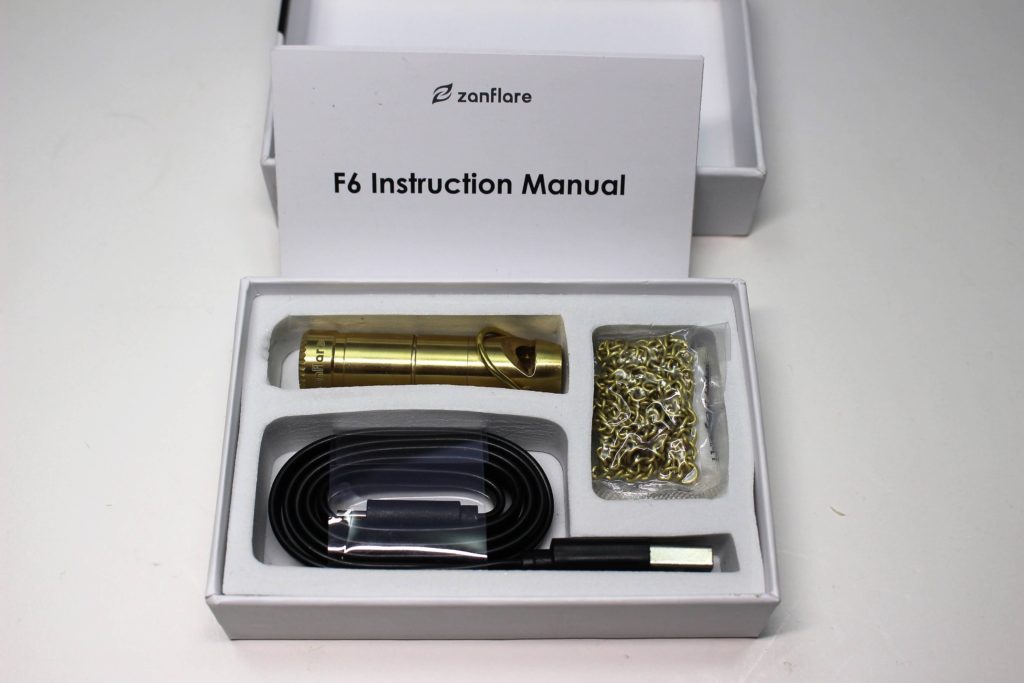 With a tiny flashlight, you get an equally tiny box. Included accessories; a USB charging cable, 2 extra o-rings, a user manual, and a chain for wearing the light around your neck. The most important accessory which they SHOULD'VE included (but didn't), is a 10180 rechargeable battery. If you need one, click here.
Specs and Features
The Zanflare F6 is 2.1″ long and weighs 31.2 grams.
It features a Cree XPG LED for a reasonably wide spot of light. It's a cool white, with the color temperature within the 6000k range.
A high efficiency circuit board delivers constant current to the LED, offering a maximum of four hours runtime on the lowest mode.
It's waterproof to IPX-8, so it should be safe if it were to be submerged for any reason.
It has an internal charging circuit and charges in about one hour.
The base of the flashlight is magnetic, and also serves as a whistle!
Output and Runtime
The Zanflare F6 has three modes; low, medium and high. There are no flashing or emergency modes.
Low; 1.5 lumens for 4 hours
Medium; 15 lumens for 2.5 hours
High; 200 lumens for 18 minutes
The Charging Port 
This is pretty self explanatory. Remove the top portion of the light to reveal the USB port. Once plugged in, you'll get a "red" indicator to show it's charging. When finished, it turns "blue".
Three Separate Pieces 
The Zanflare F6 disassembles into three sections. In the first section the head comes off. Featured in the middle section is the USB port. Section three houses the battery.
There are also three o-rings. Two on the middle section and one on the third.
Operating the Zanflare F6
It's a "twisty". So turning the head activates low. Then it's a simple on/off motion to advance to medium and high. There's no memory, so "low" will always be the first mode you see when you twist it on.
Time for the Beam Pics!
Closing Observations 
The Zanflare F6 is a very simple little key chain flashlight. It offers no "frills" except for perhaps the magnetic tail. The omission of strobe and/or SOS is a tad puzzling. We've come to expect it on most flashlights today, so it seems odd when it isn't available.
The fact that it doubles as a whistle, is …. what you make of it. I tried it, and it wasn't as robust as I expected it to be. It's okay… but just okay. For me (as a germaphobe) I don't want to put my lips to something that I might've dropped on the ground, or that hangs around where my keys do!
Zanflare doesn't include a battery, which seems odd. 10180 batteries aren't something that even your average flashaholic would have lying around! Fortunately they're cheap, and available from frequently-shopped sources such as Amazon.
Its charging circuit works the same as other key chain lights I've tested, and does so predictably.
On the plus side, the beam on high is bright enough to disorient someone in pitch darkness… if you need to. It's also plenty bright enough to see your way from the car to the door. Because runtime isn't sufficient enough, you can't walk the dog with it, or do other things where a standard 18650 battery flashlight would be the obvious choice.
The F6 was supplied by GearBest! Please pay them a visit for your opportunity to own your own Zanflare F6.
Please follow Lightsngear and like us: