Soonfire flashlights have been around for awhile. I've heard of them… but never had the chance to test one out, until now. So for me, the Soonfire VS37GT is a first!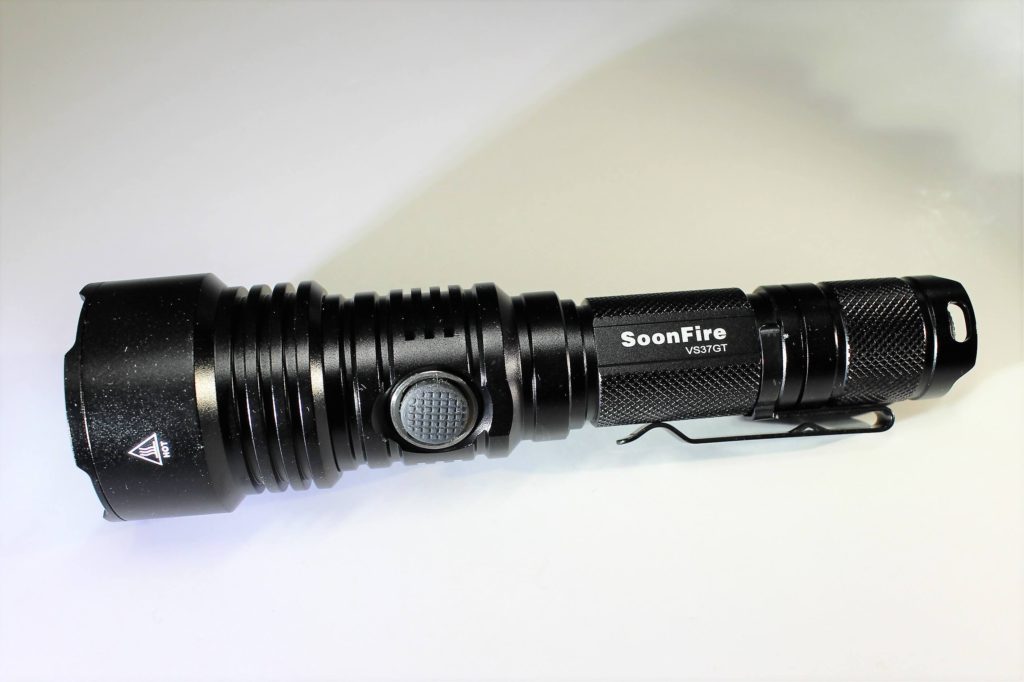 Check it Out
The flashlight comes in a rather substantial box, along with some pretty good accessories. You get a belt holster, a lanyard, spare o-rings, a spare USB-port cover, a micro USB charging cable, a Soonfire 18650 battery, and a user manual! Not shabby at all  😀
Soonfire Stats 
LED; Cree XM-L2 U3
Maximum output; 1060 lumens
Weight; 231 grams including the battery
Length; 169mm (6.65 inches)
Waterproof to 2 meters (IPX-8)
Impact resistant to 1 meter
Beam distance; 376 meters (411 yards)
Main Features
Constant current, drive circuit — to maintain output
Precise control system monitors internal flashlight temperature
Internal USB charging circuit
Toughened glass lens
A deep-set LED and smooth reflector aid in beam distance
Illuminated mode switch indicates battery power
Hard anodized military-grade aluminum
Mode memory memorizes the last mode used
The head of the bezel can be used for striking in an emergency
Battery, Output and Runtime 
As I mentioned earlier, Soonfire includes their own 18650 battery. Since it's a good battery, and not a cheap one, there's no particular reason to use anything else. It can also accept other battery types, such as rechargeable 16340's and 18350's… but of course the charging function of the light, will only charge a single 18650.
Modes are as follows;
Shimmery (ultra-low) 8 lumens — 319 hours
Low – 60 lumens — 51 hours
Medium – 200 lumens — 13.5 hours
High – 500 lumens — 3 hrs, 55 mins
Ultra high (turbo) – 1060 lumens — 2 hrs, 15 mins
plus strobe and SOS* 
*Strobe operates at the highest output and uses a variable frequency. SOS uses a lower output.
How to Operate the Soonfire VS37GT
As you've no doubt noticed, there's a tail-switch and a side-switch. Turn it on via a full-click of the tail… then use the side button to change modes. The sequence is lowest to highest, and repeats with continuing clicks. Mode memory always remembers the last mode used.
For tactical use, half-press the tail and you'll have momentary light.
Ultra-high mode is accessible from any of the first four modes by a quick "double-click" of the side switch. A single click from ultra-high, ends up at shimmery again.
I've seen no instance where the highest mode is timed, so that output drops automatically. Although with its internal temperature monitoring, I imagine that will happen if enough heat is generated.
Strobe and SOS are hidden. The manual claims that strobe can be accessed from "off"… but I'm afraid that's not true. While the light is on, press and HOLD the side-switch and strobe will activate. A single click from strobe will activate SOS. Strangely, when SOS is engaged, the output drops, and appears to be in low mode. Strobe however, activates in ultra-high.
If you're in SOS and wish to return to a constant mode, press and hold the side-switch. If you single-click, it will return to the last regular mode used, but if you single-click a second time, it will activate strobe all over again.
The Battery Indicator
Each time the Soonfire VS37GT is switched on, a blue light beneath the side-button illuminates. If the battery is strong, the light remains constant. When the battery voltage drops to below 70%, the blue indicator will blink. When voltage drops below 50%, a red light replaces the blue one. Then at 20% or below, the red indicator blinks.
As you may of suspected, these are the same illuminations you'll see when using the USB port to charge the battery.
The Internal Charging Circuit
Connect the included micro USB cable to the port on the light, and the blue switch indicator will appear. The battery isn't charging though until you turn the light ON via the tail-switch. Once you do that, the indicator will flash in red… and continue until charging is finished. When the switch light turns solid blue, you know it's complete.
Remember to click the tail-switch (to turn the light off) after disconnecting the USB. The light won't be ON… but the blue indicator will be. So if you don't want to start draining the battery right away… switch it off completely.
Checking the Beam
Thoughts and Comments
The Soonfire VS37GT reminds me of other flashlights of this type. Namely the Klarus XT12GT. It's a good all around, solid, tactical light. It's not small by any means, although you have a deep enough pocket, the clip is positioned close enough to the end, so very little protrudes from your pocket 

 Keep in mind the head is 1.8″ wide, and the lower portion of the barrel is 0.9″.
The inclusion of the 18650 battery is appreciated. When my package arrived, the battery voltage was below 3 volts!! This is highly unusual. Most batteries arrive at 3.6 volts. There was no tab on the end of it to prevent a connection during transport, and it wasn't ON either, so I'm not sure how that occurred. I charged the battery in the MiBoxer C2 charger, and was pleased to see it took just over 3400mAh! I concluded that the battery IS of good quality!
The Soonfire VS37GT is available with "Prime" on Amazon. You can visit its product page by clicking here! 
Please follow Lightsngear and like us: