I've had a few "firsts" lately! From my recent review of a Soonfire flashlight, to today, as I'm now taking a detailed look at the new Thorfire TG06S.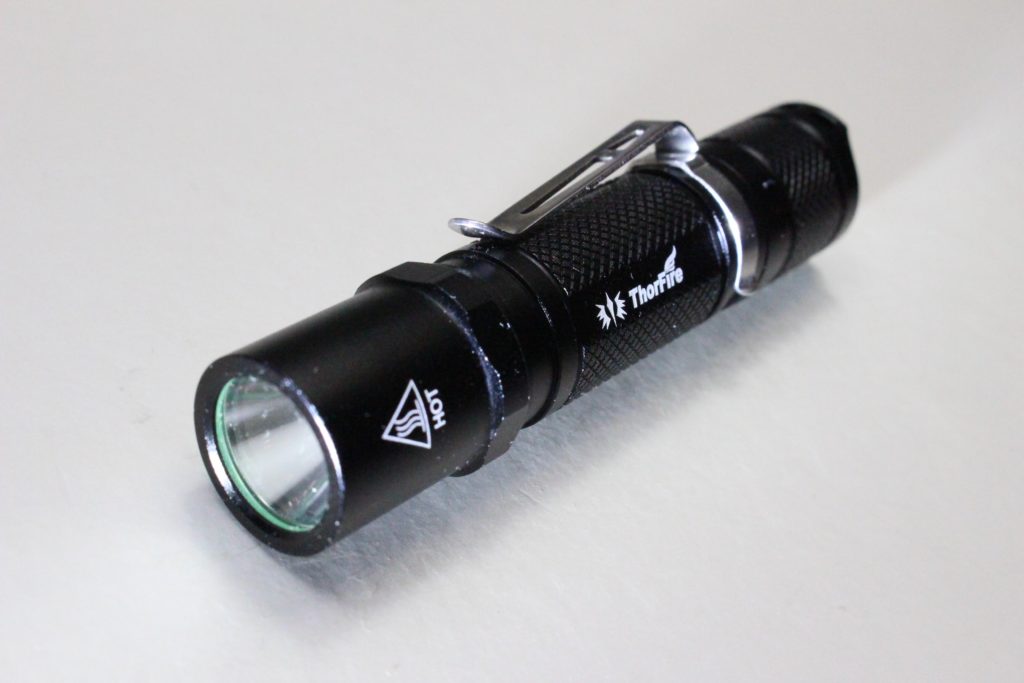 Good Things in Small Boxes?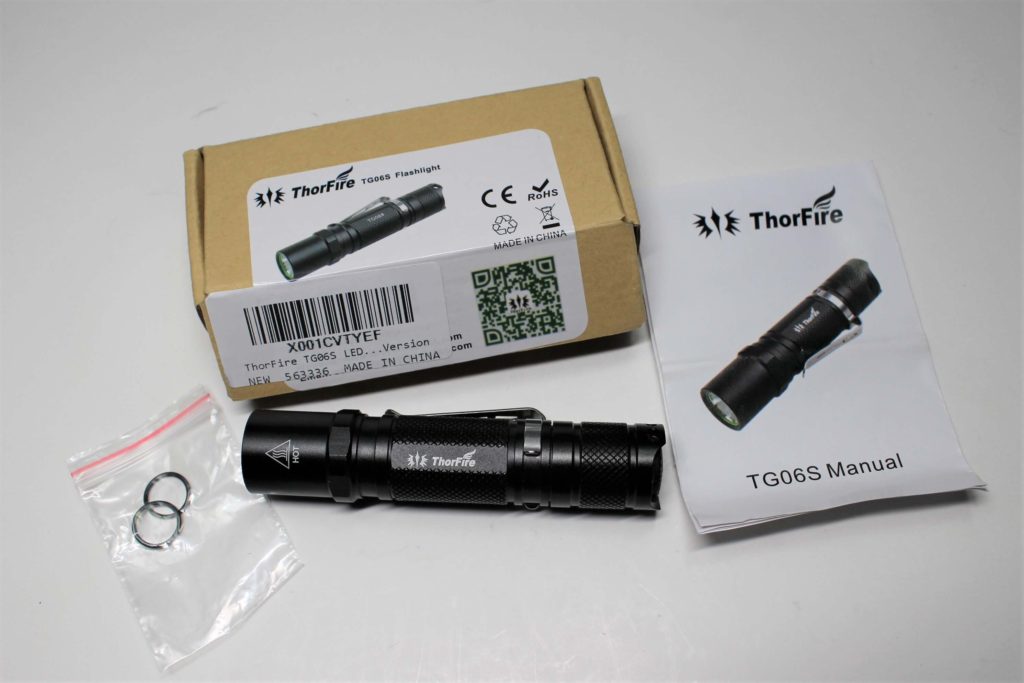 Well, perhaps that's for YOU to decide!
But, what you get here, is a tiny flashlight, a user manual, and a some spare o-rings.
Features 
The TG06S uses a Cree XP-G2 R5 LED, which along with a smooth reflector, makes for a nice white beam with uniform coverage. There are a couple of faint "rings" around the perimeter, but nothing that distracts.
As for weight, it's only 61.7 grams with a battery, and the length is a mere 3.8″
The body is standard aircraft-grade aluminum.
Beam distance is measured at 100 meters.
It's impact resistant to 1 meter, and waterproof to IPX-8 (2 meters underwater).
It has a low battery voltage warning, which causes the light to "flash" repeatedly (kn high mode) when the battery voltage gets close to 3 volts. If you ignore it (but I don't think you will) the light will eventually shut off.
Battery, Output and Runtime 
So a 14500 Lithium-ion is the preferred power source. With that, you'll get 500 lumens on high. Medium is 200, low is 50, and moonlight is a standard 1 lumen. Runtime ranges from 72 hours on moonlight, to 35 minutes on high.
Some single AA lights are particular about the size of lithium battery they'll accept. That's because sometimes the interior of the tube is the EXACT size of the average battery. When a lithium cell has a protection circuit added to it, that adds a couple of millimeters to the length, making it too long for the tail cap to screw down all the way. That is NOT the case with the Thorfire! The tube has a little more wriggle room making it possible for different length 14500's to fit easily.
Now, if you prefer to use either a disposable AA or a rechargeable NiMH, your high output plummets to 150 lumens. Medium is then 80, low is 20, and moonlight is 0.5 lumens. Runtime on "high" actually INcreases to 55 minutes, and on moonlight it'll run for an impressive 120 hours!
There's also strobe mode too; which operates on the maximum output.
Operating Your Thorfire TG06S 
Nothing complicated here folks, just a simple little flashlight.
Click the power switch, and "high" output is activated. To advance to medium, low and moonlight… give it a soft (half) press. For strobe, it needs a "double" half-press, from any mode. Then another half-press returns it to the last mode it was in.
There's also a low-battery indicator which causes the output to perform a steady "blink".
This will of course not occur if you're using a AA.
A timed step-down occurs if left on in "high". After about three minutes, it bumps down to medium. This only happens when using a 14500.
There's NO mode memory. It defaults to "high", so that's where it'll be when you switch it on. The sequence is highest to lowest.
The Thorfire Beam Shot Gallery
In Conclusion
The Thorfire TG06S is a great little flashlight for everyday carry! With the pocket clip, it'll attach to anything and with four output modes, it's sure to be useful for most situations. It's a handy tool for women, both young and not so young… to carry in their purse's, pockets, backpacks etc… especially if they go out after dark.
A few other points to make note of;
There's no memory, but switching is fast
It tail-stands… but needs a very flat surface to do so without being wobbly
It has no SOS mode, but hopefully strobe will attract enough attention if you need it to
The TG06S is reasonably priced, and is available on Amazon. Click here for its product page.
Please follow Lightsngear and like us: