From Lumintop – the folks that brought us the Brass Prince flashlight – here's something pretty unique! It's the new multi-colored (stainless steel) Lumintop Elfin.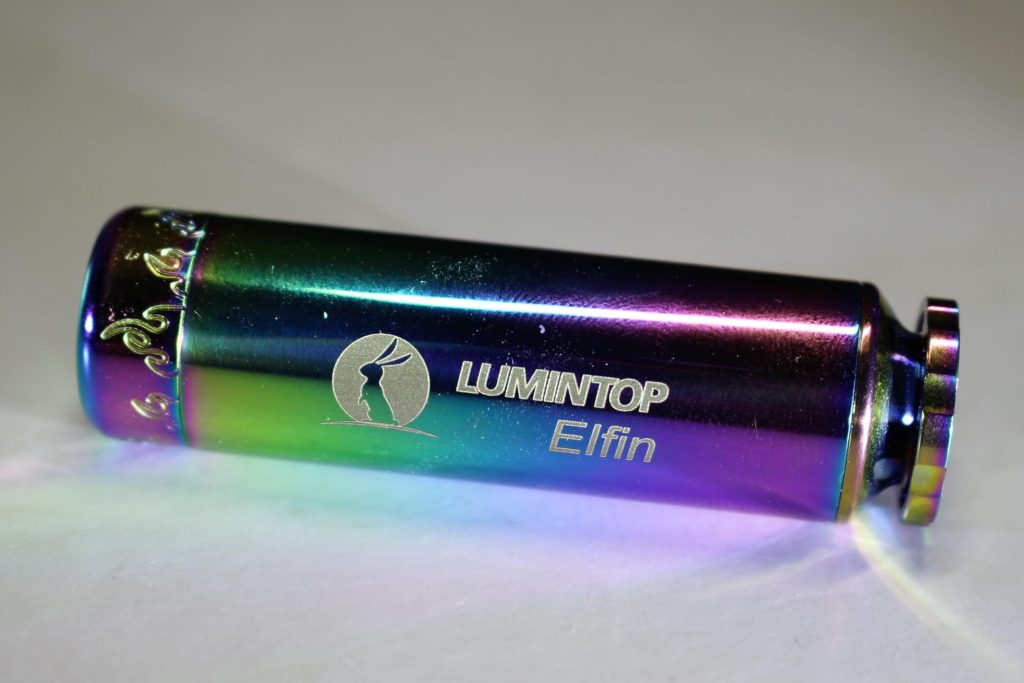 Elfin Package and Accessories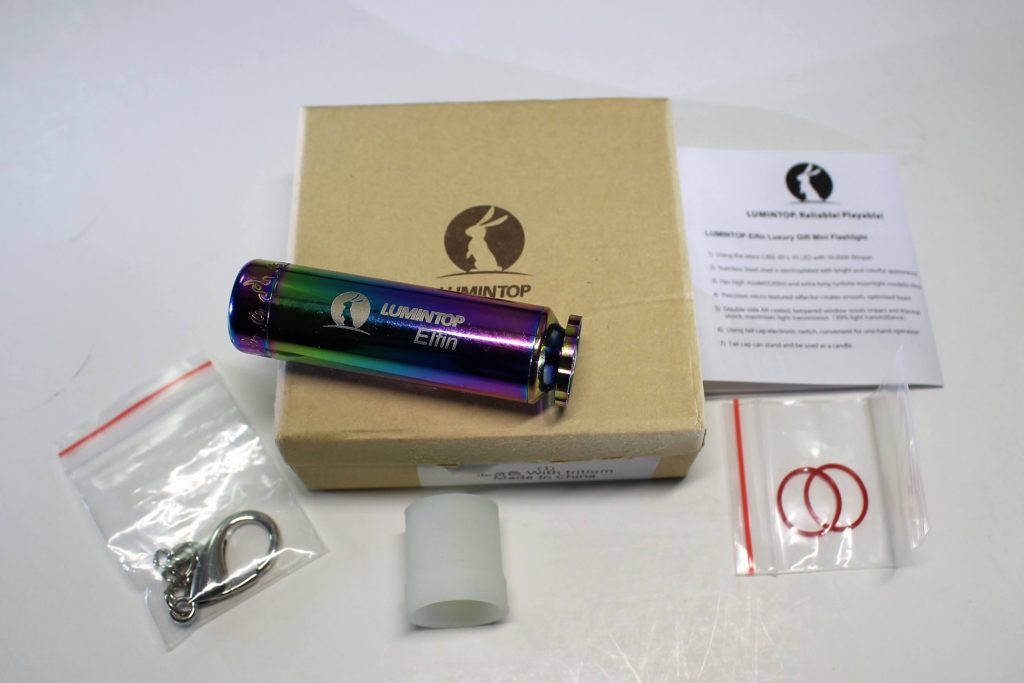 So, in a small brown box, no larger than one that might contain a pair of earrings, comes a mini flashlight and some worthwhile accessories. They include two o-rings, a key-chain attachment, a user manual, and a small (cap-shaped) diffuser which glows in the dark once light passes through it  🙂
Specs and Features
At just 2.55″ long, the Elfin is pretty small. Weight-wise, it has a bit of heft… no doubt due to the stainless steel body… at 1.54oz.
The LED is a CREE XP-L V5, but the beam it produces is very "floody" because of the orange-peel reflector.
Other notable features;
Beam distance; 87 meters (285 ft)
Working voltage; 2v – 4.2v
Waterproof; IPX-8 (submersible)
Impact resistant; 1.5 meters
AR coated glass lens resists shocks
Tail-stands for use as a candle
Monitors internal heat and adjusts beam accordingly
Modes, Beam Intensity and Battery 
Moonlight — 0.5 lumens
Low — 15 lumens
Medium — 100 lumens
High* — 520 lumens (2 mins) > 320 lumens
High mode features an automatic step-down after 2 minutes… to avoid LED damage due to excessive heat. 
The Lumintop Elfin runs on ONE battery. Either a disposable CR123, or a rechargeable 16340. When one of these batteries is the power source, I ALWAYS recommend a 16340. They save money, and have just a liiiiiiittle more voltage  😮
Operating the Lumintop Elfin 
There's a button-switch on the tail, which also illuminates after the light has been on. Just press it, and the light will come on in low mode. To change modes, you need to turn it on and off in a quick uniform action. Unlike many flashlights, there's no automatic scrolling. It needs to be physically turned OFF and ON for each mode advance. "Low to high" is the first sequence, then moonlight is added the second time. If you pause at any time, then turn it off, it defaults to "low" the next time. There's NO mode memory or flashing modes.
If you need "moonlight" right away, you still need to turn it on in low, then "click through" to "high" first. It's a bit of a nuisance, but I think that's why they made low, not much higher than moonlight, so that it might suffice when you only need a small amount of light.
Let's Check Out the Beam!
Thinking About the Lumintop Elfin
This is a cool little flashlight. I think though it's made on style over anything else. To me, it looks like a 60's, Woodstock-era flower-power key-chain tool! Is that bad? – No. It's just different. Kudos to Lumintop for making a little flashlight like this that doesn't look like most every other type of light, of the same size.
Functionally, it's not bad. If you like simple… then the Elfin SCREAMS simplicity! With no special modes, or special presses of the switch, anyone can learn how to use it in less than a minute.
High mode ramps automatically after two minutes, to a lower-level between medium and high. This may sound annoying, but it's not. Yes, on high it's pretty bright! But, after the decline, you really won't notice much of a difference. If any. It's also good, because the very top of the light gets REALLY hot after those two minutes!
One thing that IS nice, is the inclusion of the diffuser. It's also cool that it glows a warm lime-green after the slight is shut off.
The Lumintop Elfin was supplied by GearBest for test and review. Like it? Then visit them for a competitive price!
Please follow Lightsngear and like us: