Lumintop has taken a popular flashlight design, of late, and put upon it their own individual spin. The result; the Lumintop SD Mini.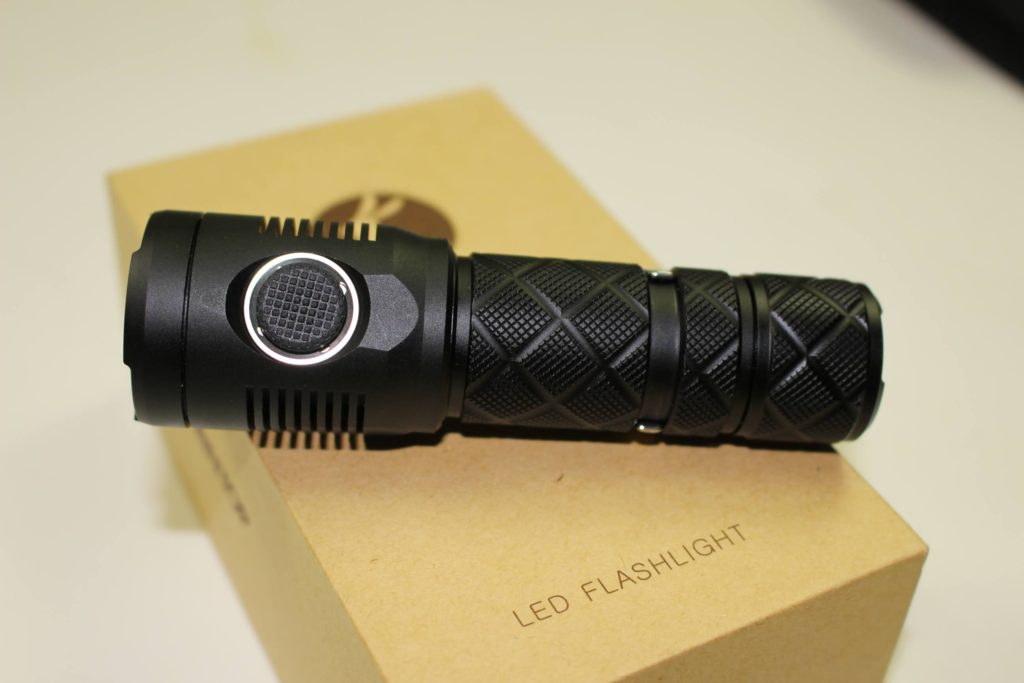 I say "popular flashlight design" because visually, it compares favorably to the Nitecore MH20. Side by side, you may also see similarities with the Nitenumen NE01, or perhaps even the U11 from Manker. But since imitation is the sincerest form of flattery, then we'll take it as a way of complementing something successful. Take special note of the aggressive (and quite attractive) knurling covering the tube.
The Package 
So, the SD Mini comes in the usual unpretentious, recycled brown, Lumintop box. The flashlight is nestled in a foam cutout and underneath are a host of well conceived accessories.
Now, one particular accessory is included ONLY if you buy from the link I've provided at the conclusion of this review. THAT would be a Lumintop 3400mAh (protected) 18650 battery. The other accessories, which are standard to everyone, are a nylon belt holster, a USB charging cable, a bright orange adjustable lanyard, a spare o-ring, and a spare USB cover. A (removable) pocket clip, as you can see, is already attached.
The Main Stats 
Size & Weight; The SD Mini weighs 135g (with an 18650 battery). It's 4.2″ long and 1.2″ wide (at the head).
Battery; It operates on (1) 3.7v, 18650. Or, (2) 3.7v, 16340, or (2) 3.7v 18350.
*LED; A Cree XP-L HI. Beam distance tested at 300 meters.
*Modes & Output; Low – 36 lumens (36 hrs); Medium – 270 lumens (5.25 hrs); High – 425 lumens (3 hrs); Turbo – 920 lumens (2 hrs). There's also Strobe, SOS, and Aviation (location beacon) mode
*The LED is also available in a Cree XM-L2 (U2) version.
*The output levels of the XM-L2 (U2) version are as follows; 
50 lumens; 320 lumens; 489 lumens; 1000 lumens
The Other Stats 
Made from aerospace aluminum alloy with an anti-scratch TypeIII military grade hard-anodized finish

Features an ultra-precise reflector to throw the beam farther

It has a scratch resistant tempered-glass lens which resists impacts and maximizes light transmission

Includes an integrated micro USB charging port and is 100% rechargeable

It has a temperature regulation system which adjusts the output according to its internal temperature

Its memory function recalls the last mode used

It is impact resistant to 1.5 meters

It's also waterproof to 2 meters
Operating the Lumintop SD Mini 
With just one switch, the SD Mini is easy to operate. From OFF, just give it one standard click. Once it's on, each click to advance the modes. Low>medium>high>turbo is the order. To shut it off, hold the switch for two seconds. Like with most good flashlights, the flashing modes are hidden. Too see them, the light must be OFF. So from OFF, press and hold switch for three seconds. Strobe will activate. A single click will advance to SOS and then to aviation (location beacon) mode. To turn it off from there, you must press and hold. And that's it.
Let's Shed Some Light
Charging the Battery 
With an 18650 battery in the light, just connect the included micro USB cable to the internal port. A GREEN LED will illuminate and "blink" during the charging process. When finished, the LED goes solid. I ran a voltage test while charging, and at the beginning, got a solid 700mA of charging current. After a short while, it lowered to a stable 590mA. 
The internal charging circuit will only work with an 18650.
What's Good And Not So Good 
The Lumintop SD Mini has no "instant access" to any constant lighting modes. So, unlike the MH20 which it mimics, you cannot go to either the lowest-low or turbo at will. It DOES however remember the last mode. 
As far as strobe is concerned, I can see where if you HAD to use it for self-defense…(and because seconds may count)…it's annoying that it can only be accessed while the light is turned OFF. If you're approached in the dark — and the light is already on — having to hold the switch and turn it off, THEN, hold the switch again for another three seconds to activate strobe, COULD be a game changer! On the other hand, turbo is mighty bright…and faster to access. 
On the plus side; the light is small and easily carry-able. The green LED beneath the power switch doubles as a low-battery indicator, and a charging indicator as well. 
A possible Amazon purchase link to the Lumintop SD Mini is right here! 
Please follow Lightsngear and like us: