In a previous Sofirn review, I spoke well of the SP32, an easy to operate 18650 flashlight. This time, I'm looking at the much smaller Sofirn SP10A… a definitive EDC flashlight defining the term without hesitation.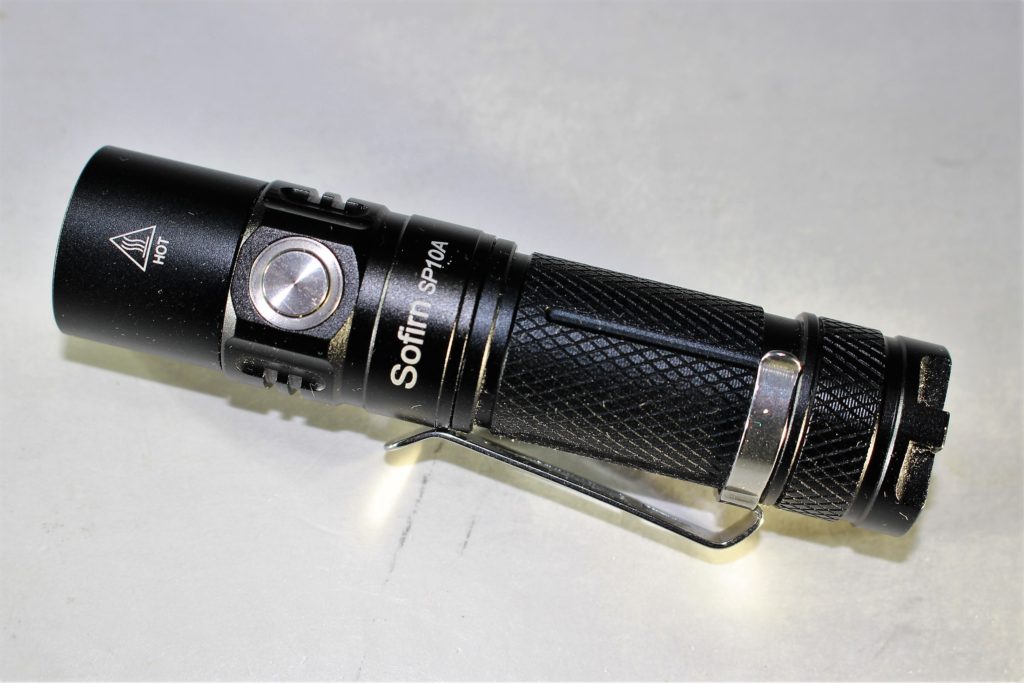 Nondescript Packaging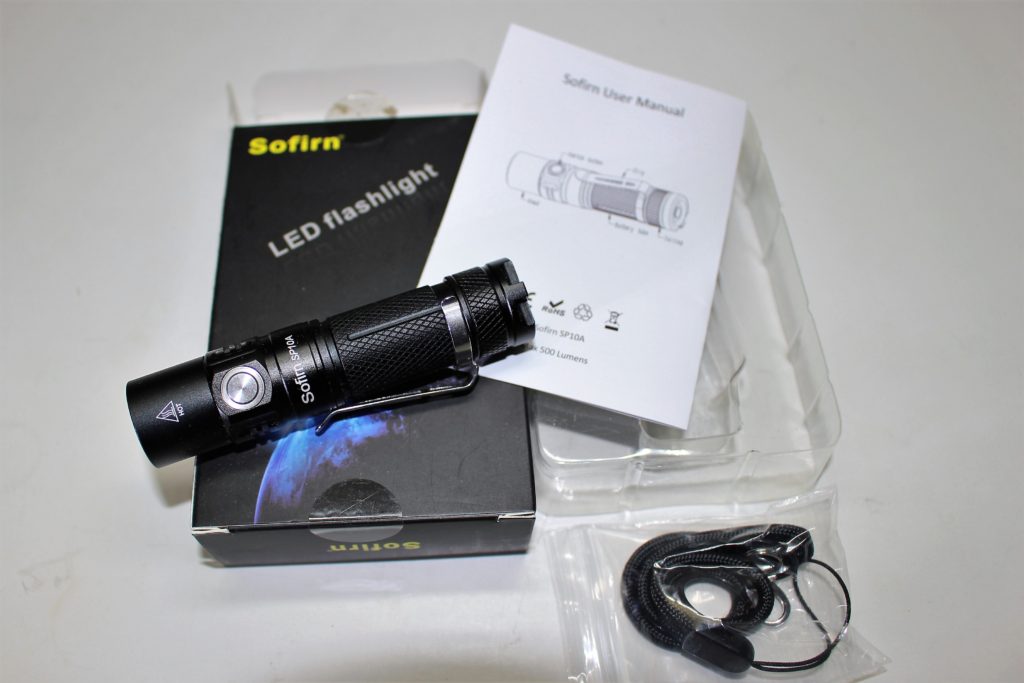 So in a very unassuming presentation, the SP10A comes in a small box with "LED Flashlight" written across the front. The light comes with a pocket clip attached and a small packet containing a lanyard and a key chain clasp. 
Of Featured Interest 
Length; 3.4″

Width; 0.8″

Weight; (w/battery) 2 oz/57 g

LED; XP-G2 S4 (NW – neutral-white)

Beam Distance; 80 meters

Impact Resistant; 1 meter

Water Resistant; IP68m (okay to use in the rain)

Made from T6061 Aluminum-alloy

TypeIII Hard-anodized, anti-scratch body

Toughened scratch-resistant glass lens

Mode memory to recall last mode used
Battery, Modes and Output
Just one battery; either standard AA alkaline, rechargeable NiMH, or 14500 rechargeable lithium-ion. 
Three simple modes, Low – Medium – High, plus Strobe. The differences in output between using a standard battery and a lithium cell are described below. 
When using an alkaline (or NiMH) battery; 
Low – 5 lumens
Medium – 50 lumens
High – 270 lumens
Strobe – 270 lumens
When Using a 14500 battery;
Low – 10 lumens
Medium – 89 lumens
High – 500 lumens
Strobe – 500 lumens
Low Battery Indicator
As voltage tumbles below 2.8 the output of the light will blink to indicate a charge is necessary.
Operating Your Sofirn SP10A
For those with any sort of experience with LED lights, the SP10A is a piece of cake! 
From OFF, a holding press turns it on, and a quick press changes modes. Low, medium, high is the obvious sequence. For 'strobe' you need to double click, either while OFF or in another mode. A single click switches it off.
Beams Away!
"WYSIWYG"
The Sofirn SP10A is a simple, and very inexpensive pocket flashlight. Because it's a basic light, it offers none of the "extras" that a higher-priced light does. Mode memory is its most advanced feature. But, for someone who only needs basic lighting, and which can operate on a AA battery… it's almost perfect! 
Output is pretty decent for a light of its size. In my comparison beamshot photos, you can see where I've placed  two pics side by side, each on high mode, depicting an NiMH battery versus a lithium-ion. Unless you look REALLY carefully, the differences aren't that noticeable, and would be the same with an alkaline battery too. But of course if the light is going to be used a lot, it pays to power it with the rechargeable type. 
Here's Your Chance
If the Sofirn SP10A looks like YOUR kind of flashlight, then be sure to visit their Amazon product page, where ownership is just a click away! 
Please follow Lightsngear and like us: