This has been an anticipated flashlight! With the release of the Olight M2R Warrior, Olight has again etched its mark in the flashlight community.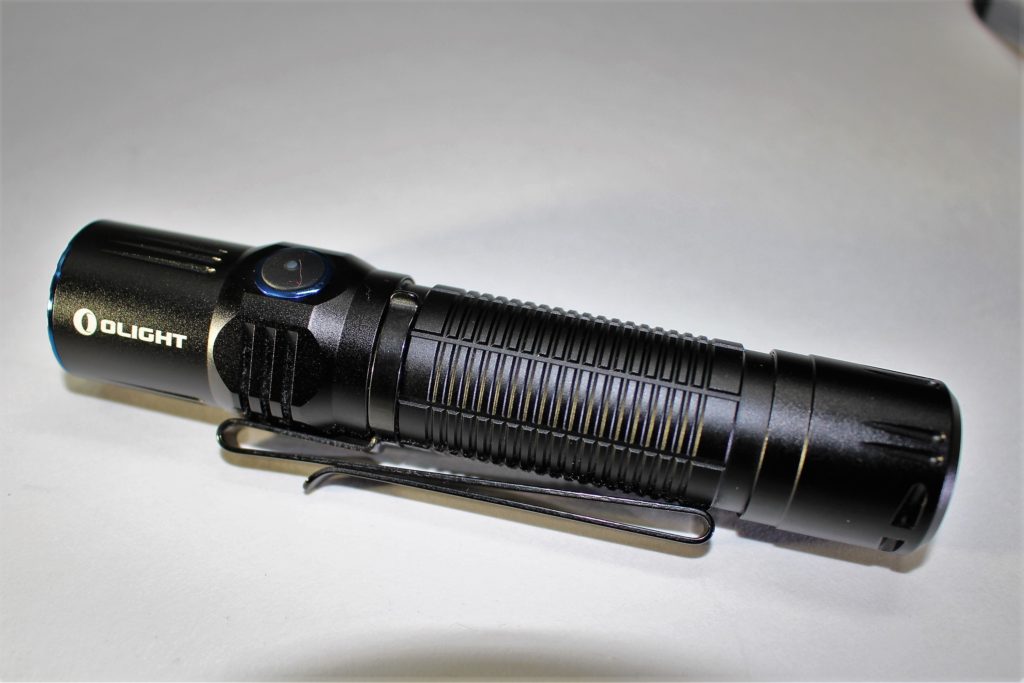 Packaging Done Right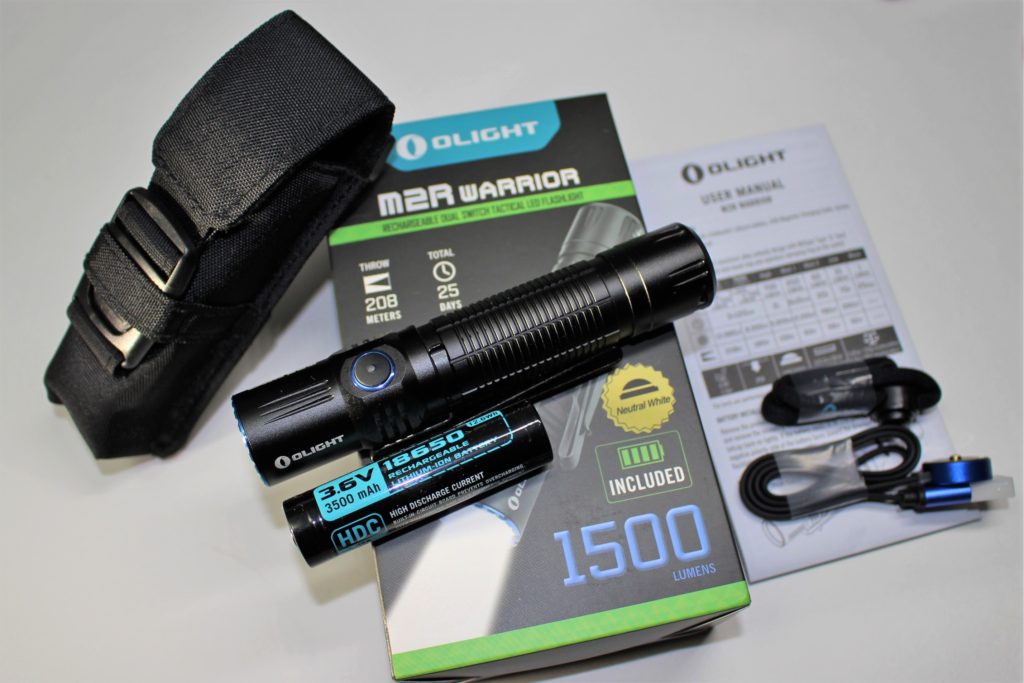 I found the packaging on a few of Olight's previous lights to be somewhat challenging. They put a lot INTO them and I'm sure it's not an easy task. But with the M2R, they finally got it right! The contents are nicely arranged into various sections, and it was actually a JOY to unbox! 
Nice Accessories
So, within this user-friendly package, the M2R Warrior is accompanied by a user manual, a magnetic USB charging cable, a belt holster, an adjustable lanyard, a reversible pocket clip, and a high-drain, 3500mAh, 18650 rechargeable lithium battery.  😛  😀 
LED, Modes and Output
The LED is a Cree XHP35. It sits at the base of an orange-peel reflector which broadens the beam-pattern for nice uniformity. The M2R is available in TWO different LED tints. THIS is the "neutral-white" version. The other choice (as you may of guessed) is "cool-white". 
There are five regular modes; (plus Strobe)
Moonlight; 1 lumen

Low; 15 lumens

Medium 1; 60 lumens

Medium 2; 250 lumens

High; 700 lumens
….. plus TURBO; 1500 lumens**
** This output is offered only when using either the supplied battery, or another high-drain 18650 of 6A or more.
** Turbo provides THREE minutes of continuous use — before stepping down to "high" output. Once on high, you can expect approximately TWO HOURS of continuous light. 
Specifications 
Weight; 148 g (including the Olight battery)

Length; 5.1″

Impact Resistant; 1.5 meters

Waterproof to IPX-8 — submersible

Beam Distance; 208 meters

Battery; 1 – 18650* (included) 
* Other acceptable batteries would be those that comes in pairs; 2 – CR123's, 2 – 16340's, or 2 – 18350. But there's really no reason to use any of these, since the M2R comes with its own 18650 battery. And of course the internal charging system only works with a one-battery configuration anyway. 
Olight M2R Features 
A crenelated bezel allows the light to be used as a striking tool

Features a side switch and a tactical tail switch

Aside from momentary or constant turbo from the standard operation mode, the light also features an enhanced tactical mode for one click instant access to strobe.

The side switch has a "braille" marker to locate it easier in the dark 

Mode Memory recalls the last mode used

An internal USB charging circuit safely charges an 18650 battery

A "low battery indicator" will alert you when voltage is low

"Lock-out" mode prevents accidental activation

Magnetic tail cap 
Operating Your Olight M2R Warrior
First off, make certain the battery is in the flashlight with the positive end toward the cap.
There are two switches, side and tail. The side switch covers basic operation. The tail is strictly for tactical use. 
So for instant light, click the main switch. The same click turns it off. To change modes, press and hold while it's on. Low to high is the regular sequence.
Moonlight is hidden, and is only available by pressing and HOLDING the switch while the light is off. If it's turned OFF while on moonlight, memory will recall it. 
Turbo is also hidden, and is accessible by either double-clicking from HIGH, or performing TWO double-clicks from any other mode.  
What bears mentioning again however, is that in order for Turbo to work, you MUST use a "high-drain" cell!! Using a cheap battery will be counterproductive.
Strobe is the third hidden mode, and is only accessible through the main switch by clicking THREE times, either from OFF, or while ON. 
Now, the tail switch. Its purpose is to offer tactical (momentary) light (Turbo mode) and continuous light of either Strobe or Turbo. It's YOUR choice as to which one it displays. The switch works by either pressing softly (for momentary) or "deeply" for constant light. A soft press produces Turbo mode whichever way you have it set. The "deep" (locking) press is where you can choose between Strobe or Turbo. 
There are two methods for which to set the tactical switch. Method 1 is the easiest. Deep press the switch, and HOLD it, while clicking the MAIN switch at the same time. This will toggle between Strobe and Turbo. Release the tail switch for the one you want. With method 2, you need to turn the light on, and cycle through the modes THREE TIMES. After the third cycle, the light will alternatively flash between Strobe and Turbo. Turn it off when it flashes the one you want. Check the tail switch afterwards to see if your choice was accepted. I believe the factory default is Turbo. At least that's how mine came. 
Awe Come On, Show Me Your Beam!
Clicking each pic produces a FULL size image!
Whoops! I'd Better Charge the Battery Soon!
Low Battery Voltage Indicator
So, as battery voltage drops, the indicator within the center of the main switch will turn red. This may only be brief, so if you don't notice it, you might miss it! But if you do, no worries. Because a few minutes later, it will appear again… and THIS time, the main LED will begin flashing on and off, once every seven seconds. The red indicator remains solid through this process. Charge it soon, or you'll be left with NO light at all. 
One thing I noticed, the switch indicator isn't terribly bright unless it's viewed from a "left" angle! 
Charging 
Charging the battery in the Olight M2R is simple. Snap the charging "cap" to the tail of the light, and connect the other end to a USB source. The tiny indicator on the cord of the charging cap will be red. It'll turn green when the charge is complete.
Unlike the previous Olight models which use magnetic charging, the M2R can charge ANY 18650 battery! Before, it would only work with THEIR battery. Here, they've made it less proprietary.
Just My Opinion
The Olight M2R Warrior is an awesome flashlight! They did an excellent job on the overall design. The tactical tail is something new for Olight, and if you're "into" tactical lights, or require them for professional duty, then this particular design should be very pleasing. 
As usual, Olight assembles some nice accessories, and this time, getting it opened didn't require scissors and a chisel! The holster lacks Velcro, and replaces it with a quick-release buckle! Quite inventive  😀  Inclusion of the high-drain 18650 is another great addition! And it's nice that the charging system works with all battery brands now… not just theirs.  
During my tests of the Turbo mode – as stated, it drops to High after being left on for a bit. But to the naked eye, it's not very noticeable. It appears to be a very gradual decline which is only detectable with a light meter. 
There's also a lock-out feature, which is reachable by pressing and holding for "moonlight", then waiting an additional second for the light to turn off. If you try to switch it on when locked, all you'll get is the indicator displaying red for a few seconds. Reverse the procedure to un-lock. 
It's also nice that it comes in two tints! Remember, my version is neutral-white.
An omitted feature I wish it DID have, is a voltage indicator beneath the switch to let you know battery status each time it's switched on.  
Just My Recommendation
The Olight M2R Warrior was supplied by my friends at Olight. If it appeals to you, but you want to check the price first, here are some options. 
Visit the Olight store on eBay by clicking here.
If you want to visit the Olight M2R page on Amazon, click here!
Was this review helpful? Let me know! Questions about the flashlight? Then please let me know  😀 
Please follow Lightsngear and like us: