So far, I've been very pleased with the MiBoxer chargers that I've used and reviewed. Today, (with relevance to the day you're reading this) I'm examining the new MiBoxer C4-12 charger, which has the ability to charge at twice the power of their previous chargers.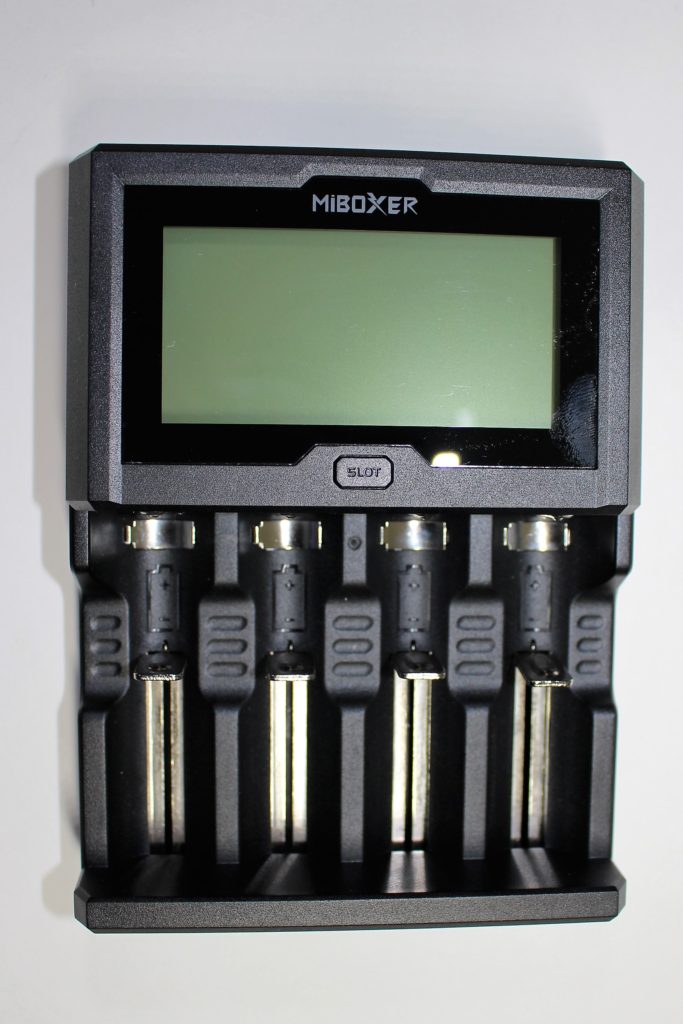 Everything's There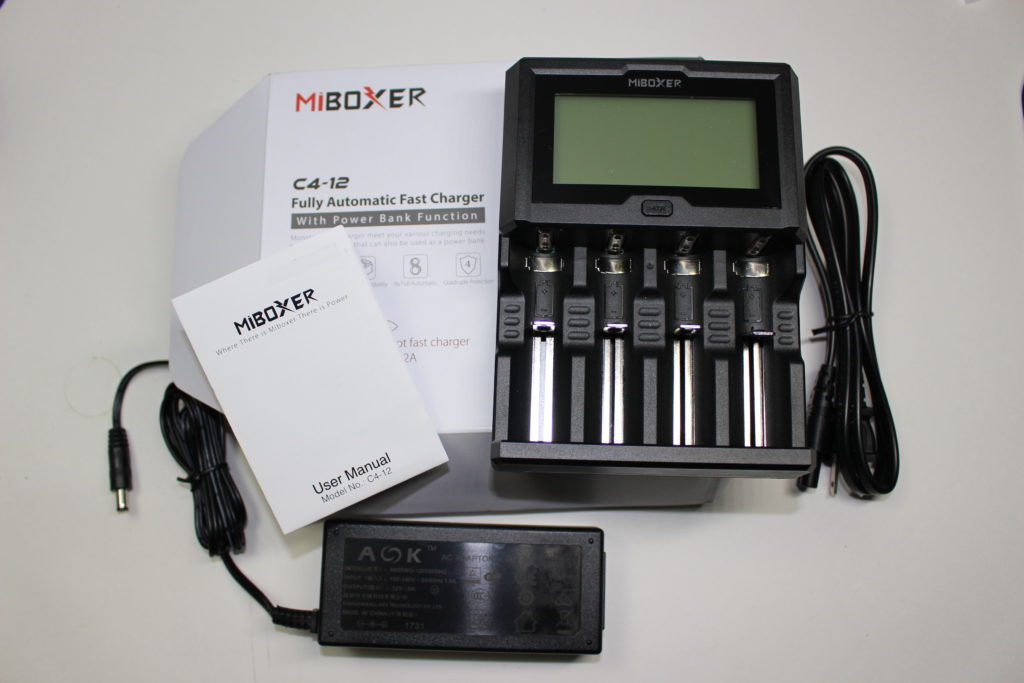 So in the picture you can see that along with the C4-12, is a user manual and two sections of the power adapter, which with an output of 5A, is responsible for a faster charge than most other units are capable of. The only thing they don't include, is a USB cable.
Features of the MiBoxer C4-12
Battery chargers of the 21st Century have become extremely intelligent. And although I'm not responsible for the ingenuity behind this charger, I'd have to say it's no exception. 
Noteworthy features of the C4-12 include; 
Compatible with most Li-ion, NiMH & NiCD rechargeable batteries

Charges a myriad of lithium batteries (IMR/INR/ICR) including the most popular sizes; 16340 / 18350 / 14500 / 18650 / 26650 

Large slots can accommodate 26650 cells comfortably

Includes a powerbank option to charge other external devices

Fast-charging with a maximum output of 3A

Automatic and manual selection of battery current

Monitors battery temperature to ensure safe charging

Easy to read display shows all aspects of charging process

Restores "zero volt" lithium batteries 
C4-12 Parameters 
Size; (in inches) 4.75 x 6

Weight; 10.66 oz

Input voltage; DC 12v/5A

Output voltage; 4.20 (Li-ion) 1.48v (NiMH)

Output current; 4@ 3A (Li-ion) 4@ 1A (NiMH)

USB output; DC 5v/1A

Not compatible with LiFePO4 cells
Everything You Need to Know 
The LCD display is your "at a glance" information center! Once one or more batteries are placed in the bays, you'll get instant knowledge of the following;
Battery temperature

Current voltage

Per slot icon showing an "active" charge

Indicates which type of battery is in which bay

Shows battery resistance

Displays percentage of charge 

Shows elapsed charging time

Indicates current "mAh" in real time

Displays total "mAh" when complete
Using Your MiBoxer C4-12
Place anywhere from one to four batteries into the bays, and watch the C4-12 spring to life! It will be obvious as to which bay the information on the display is referring to, since "C" (followed by the corresponding slot 1) is seen next to one of the "flashing" bolt icons. For example; "C1". 
Press the "SLOT" button to toggle through each active bay. Certain information automatically toggles as the progress goes along. 
The C4-12 sets the charging current automatically, based upon the type of battery and its total capacity. Through the course of the charge it will fluctuate, starting low and usually getting higher with time. Sometimes, particularly with a large battery like the 26650, the rise will be quick. It's with THIS type of battery that its 3A charging limit, is possible. With smaller lithium cells, it's recommended to allow the unit to set its own current! 
When the charge is finished, "FULL" toggles with accumulated capacity on the display, and the percentage reads 100%. 
PLEASE CLICK ON THE IMAGES BELOW TO VIEW THEM FULL SIZE! 
Please note from the image above with the arrows, that the "battery voltage" display toggles between voltage, amps, and resistance.
Setting Current Manually
Overriding the automatic current is easy, but as I stated earlier, I wouldn't recommend it for lower-capacity batteries. 
After a battery is inserted, or even while it's already charging… press and hold "slot" for about three seconds. The "current" readout will flash. Release the button and press it again… until the level of amps that you want is displayed and flashing. 
The choices for an NiMH/NiCD battery are;
0.1 – 0.2 – 0.3 – 0.4 …. all the way up to 1.0
For a Li-ion, the increments are as follows;
0.1 – 0.2 – 0.3 – 0.5 – 0.8 – 1.0 – 1.5 – 2.0 – 2.5 – 3.0
MiBoxer Recommends…
MiBoxer recommends using the included adapter. But since it includes two sections, it might be a tad bulky sometimes. For that you can use any 12v adapter as long as the plug is the same. The only difference will probably be that it won't be able to charge at 3A. 
The MiBoxer C4-12… In My Opinion
It's a very good charger and has a lot of useful features. If you're trying to compare this to other MiBoxer models, it's a bit different from their C2-4000, which is more of an analyzer and adds a discharge function. And it's VERY different from their other 4-bay unit, the "first" C4. 
The C4-12 takes good care of the batteries it's given. It monitors the internal temperature, and should it rise to 60°C, the current will be reduced to prevent battery damage. Going a step further, if the temp rises to 70°C … it'll stop charging and "Err" will appear in the display. 
The powerbank function is cool, and works with any large capacity lithium cell placed in slot 4… and a USB cable. And just to be clear, it doesn't require an AC connection. 
Recommendation
I'm recommending the MiBoxer C4-12, and am confident that you'll be pleased with the performance. 
To get one…. just click here and you'll be transported to its product page on Amazon.
Please follow Lightsngear and like us: