Jetbeam flashlights have always been good quality, and I thought it was high time to take a look at what they've been releasing lately. So today, I present the Jetbeam E40R.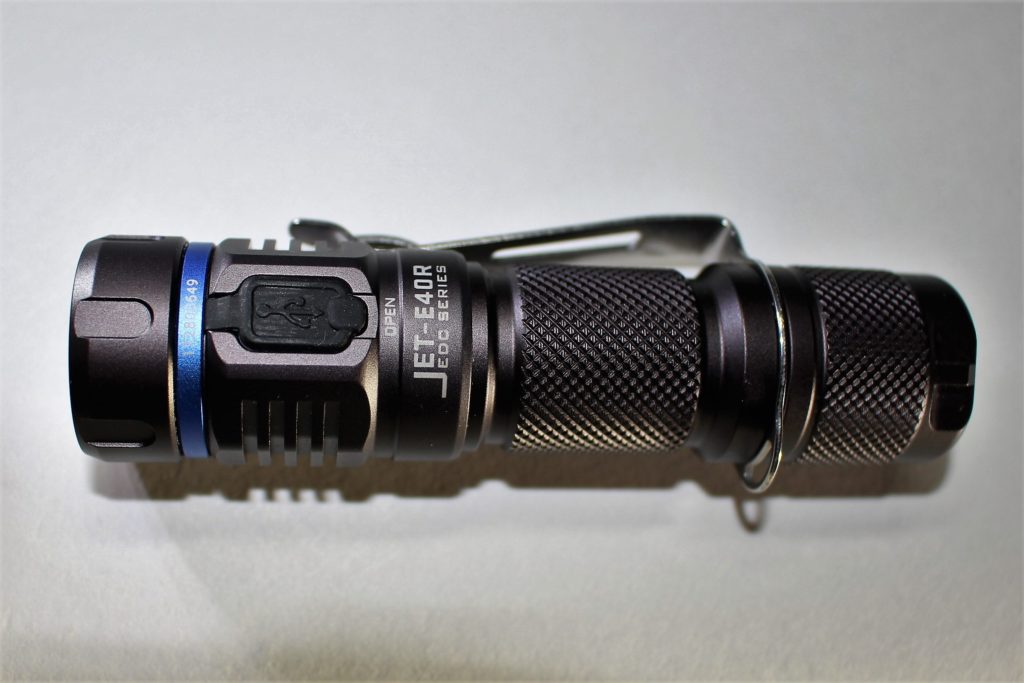 Here's What You Get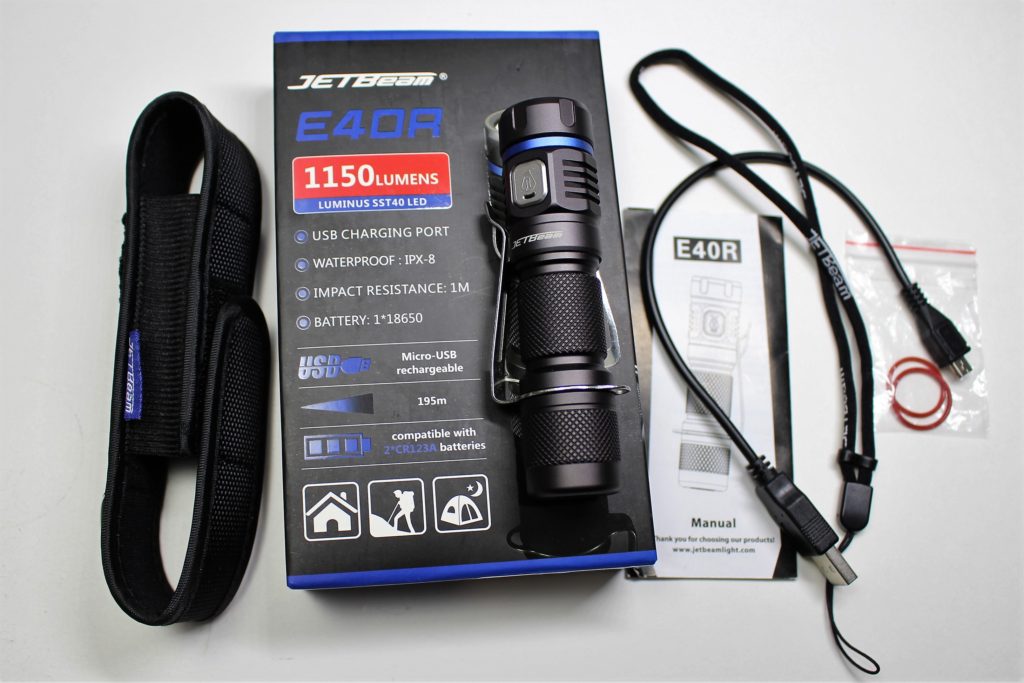 It has good packaging, and a nice assortment of extras. Included, is a manual, a belt holster, a lanyard, a micro USB cable, two spare o-rings, a pocket clip, and a 2600mAh 18650 rechargeable battery. Not too bad  🙂 
Specifications 
LED, not Cree… but instead, a Luminus SST-40

Length; 4.2″

Weight; 3.9 oz w/battery

Lens; Coated scratch-resistant mineral glass

Body; Aero-grade aluminum & TypeIII hard anodized

Battery; 1 – 18650 (included) or two; CR123, or two; rechargeable 16340
Features
Waterproof to IPX-8

Impact resistant to 1 meter

Has mode memory

Beam distance to 195 meters

Illuminated power switch

Low battery warning

Micro USB rechargeable

Uses digital constant current circuit
Modes and Output 
So, there are four regular modes, and one emergency mode. 
High; 1150 lumens for 2 hrs

Medium; 310 lumens for 4.5 hours

Low; 35 lumens for 50 hours

Ultra-low; 3 lumens for 270 hours

Strobe; 1150
The sequence on the E40R is the opposite of most lights, going from highest to lowest. 
Using the Jetbeam E40R
Place a battery into the light, positive end up. As the picture demonstrates, the battery protrudes from the end a fair amount. If when tightening the cap, it feels like it could tighten further, but won't, then the battery is probably too long. Obviously if it is, it won't turn on. A slightly shorter battery would be required. 
The side switch, as you might already have guessed, is the only means of operation.
A holding press turns it on. And it's a LONG press! Three and a half seconds… which is twice as along as most. Of course once on, mode memory will ensure you get the last mode used. Turning it off requires the same lengthy press. In between that, short presses change the mode. 
For strobe, it needs a double-click, which can either be activated from OFF, or ON. In fact, if waiting the few seconds to switch on is too much, you can quicken the process by TRIPLE-clicking from off! For a split second you'll get strobe, but ultimately you'll be on the last most used, and you'll have gotten there quicker than if you pressed and held!  
Beams Away!
USB Charging
Charging the Jetbeam E40R is as simple as any other rechargeable light. Just peel back the USB cover and connect the micro cable. You'll know it's charging when the little green "dash" at the base of the switch is "blinking". It'll turn solid when the charge is complete. 
Um… Your Battery's Getting Low!
So if you're using the light and little green dash starts to blink, this means the battery is getting low. If you ignore it, the output will dramatically drop after a short time, and the blinking green 'dash' will blink at a faster rate.
If you're using a protected cell, or the Jetbeam one, it should shut off before getting too low in voltage.
I'm SO Thoughtful 🙂 
The Jetbeam E40R is a nice, easy to use, reliable flashlight. 
Its SST-40 LED projects a quality beam with good color temperature. At close range it has a defined "spot"and a smooth, less-intense corona. The throw distance is good, and the orange peel reflector keeps it well balanced. 
The manual doesn't indicate if it performs a step-down when running on 'high'. So, I did my own test, but only let it run about six minutes. I expected the head to get moderately warm, which it did. And after a few minutes, the output DID drop a bit. But it was slow and gradual. I suspect if you're using it intensely (outside) you won't even notice the dip. 
As I say it's a simple flashlight. Ultra-low isn't quite as low as those that have "moonlight", but it's sure to be low enough when you don't need much light. It doesn't offer a few of the "bells" that others do, such as 'instant' ultra-low or high, but that's okay. 
One thing worth mentioning, is the pocket clip, which is loose inside the box. To attach it is easy, because it just fits over the bottom like putting a ring on a finger. The thing is, it needs to go to the back of the threads, but WILL NOT pass over the o-ring! So, if want to use the clip, you'll need to remove the o-ring first… slide the clip on, then replace the o-ring. If you don't care if the light is waterproof, then leave the ring off!
My Recommendation
The Jetbeam E40R was courtesy of GearBest. Want one for yourself? Then click here and make it happen!
Please follow Lightsngear and like us: